Naval Air Station Jacksonville
The area where the St. John's River meets the Atlantic Ocean is where you'll find the heart of Jacksonville, Florida. The beach and golf are two very popular things to do in the area, as TPC Sawgrass and Neptune Beach top almost every "must do" in Jacksonville list.
Jacksonville sits between two Navy installations, Naval Air Station Jacksonville and Naval Station Mayport. From the city center, NAS Jax is about 10 miles to the southwest. NS Mayport is about 20 miles due east. With two installations so close to each other, families can live on either installation or somewhere in between and still have easy access to the military resources. They could also easily blend in with the locals and feel at home on the beach and in the downtown areas.
As the largest navy installation in the Southeast, NAS Jacksonville is also the third biggest navy installation in the country, which is why you will probably run into friends from long ago on your tour there. NAS JAX is a master Air and industrial base and home to aviation training and anti-submarine warfare. With over 17,000 military and civilians working on the installation, there are over 34,000 family members in the area. Hello, military town.
Read More
Off-Base Neighborhoods
Traffic is always a concern in larger cities and should be considered when looking at housing options. With unpredictable work schedules, overnight duties, and time out to sea, living a little farther away may not affect your daily commute enough to be a problem.
Some of the popular areas to live nearby Naval Air Station Jacksonville include Northwoods, Coastal Oaks, and Carriage Crossing. Make sure to check out the reviews on these neighborhoods.
On Base Housing
NAS Jacksonville and NS Mayport housing are both managed by Balfour Beatty. It is a mix of older and newer neighborhoods. As is common in older military housing, some of these houses are smaller than what you would find out in town. However, the convenience of living on the installation often makes up for it.
NAS Jacksonville has two neighborhoods on base. Patriots Point is 3-4 bedrooms, eligible for all enlisted ranks, and for officers O1- O5. River Oaks is located near the golf club. It has 3-5 bedroom homes, for E7- E9 or O1- O7.
Schools
There are three schools located on board NAS Jacksonville. Each belongs to Duval County Public Schools. They are Venetia Elementary, J.E.B. Stuart Middle School, and Robert E. Lee High School. Bus transportation is available through the county.
Students living off base will typically attend Duval County Public schools, which is a large school district with many different school options.
Cost of Living and BAH
NAS Jacksonville BAH is moderate, and it has increased in recent years to match the rising home values. NAS Jacksonville BAH varies depending on rank and whether or not you have dependents. To determine your BAH at NAS Jacksonville, use our BAH calculator.
BAH Calculator
Housing Costs
The marketing in Jacksonville is increasing at an average of 4.8%, with some areas, including Spring Park, increasing even more. Buying may be a good option if you are stationed here long enough or are looking for a rental property as an investment. In 2018, the average rental for an apartment increased by 11%, bringing the average for a two-bedroom apartment to $1,248, which is doable for most families. However, when it comes to renting a home, the prices are all over the place, varying due to location, size, etc.
Weather
You probably don't need a refresher on how awesome Florida weather is, but here it is in a nutshell: it's awesome! Sunny days, occasional rainstorms, warm weather year-round. Oh, and hurricanes in the summer and fall. And the unusually cold weather in the winter. Just don't complain about the weather to your friend living up North, who really don't want to hear about the temperature in Jacksonville, Florida.
Base Amenities
The MWR at NAS Jax boasts some great options. From golf and fishing to bowling and bingo, there is something for everyone. Learn to sail or canoe, rent a stand-up paddleboard or surfboard and explore the St. Johns River – all without leaving the base. There are monthly 5k runs and a sauna in the Base Gym. And, the commissary is open every single day!
You can also utilize the Tickets & Travel Office to get discounted tickets to local attractions, cruises, and hotels. If you can't find something there, check out what GovX may have available in the area.
Area Attractions
THE JACKSONVILLE FLORIDA BEACHES: While the Emerald Coast and Pensacola's beaches are some of the most beautiful in the country, the Jacksonville, Florida beaches give them a run for their money. Ponte Vedra Beach, home to the golf world, is calmer than some of the "Spring Break friendly" places, while Jacksonville beach is the quintessential vacation-style beach area. Shops, restaurants, boardwalks, and surfing make this a much-see place. St. Augustine's beaches are a great place for a family adventure and the only place you can drive your car on the beach.
SPORTS: The sporting scene in Jacksonville goes way beyond the Jaguars, thankfully. There's a minor league baseball team, the Jacksonville Suns, which can improve any summer evening. The Sharks bring indoor football to a whole new level. You may be able to snag some tickets to the Players Tour (golf – for those who aren't fans), and the Daytona 500 is only a quick hour away. Each January, the TaxSlayer Bowl is held in Jacksonville (and tickets are infinitely easier to get for military families), and when the Georgia Bulldogs head to visit the Florida Gators, the entire city loves football.
RIVERSIDE ARTS MARKET: Each and every Saturday, the Riverside Arts Market features local artists, farmers, and other creatives as they show off their wares and sell their products from 10 am to 3 pm. Fresh produce is a huge draw for locals, and this venue accepts WIC, EBT, and SNAP! There's morning yoga starting at 9 am, and this family-friendly event will be full of strollers, bikes, and toddlers. Each week about 4,000 people head down to the area under the Fuller Warren Bridge.
Food and Drink
COFFEE: Skip the Starbucks and head to Bold Bean Coffee on Stockton Street or Hendrick's and order a spiced chocolate latte or a honey latte with almond milk. Chamblin's Uptown is a beautiful place to grab a cup of coffee and wander through the bookstore. Cinnamon apple cider sure sounds good while sitting outside reading your new book.
RESTAURANTS: Food is fuel, for the mind, body, and soul. Finding a solid date night restaurant, one for ladies' night out, and the one you can take your toddler to on a rough deployment day is hard. Here are some suggestions. The Metro Diner has been voted the best breakfast in JAX since 2006. They've also been featured on Diners, Drive-Ins, and Dives. Go ahead, order the meatloaf plate or maybe the Pittsburg Steak salad. Or both.
Another great breakfast idea is Maple Street Biscuit Company. With at least half a dozen locations in Jacksonville (and some in other excellent places!), you won't want to miss out. They serve good food, with fun names like The Squawking Goat and The Sticky Maple, with a great attitude. Make sure you get there early in the weekend, though; they're closed on Sundays. And, for date night or something a little fancier, try Copeland's of New Orleans.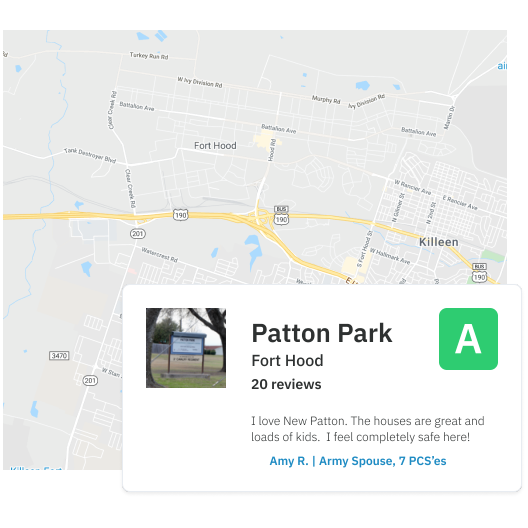 Research Your Area Before Your Move
Discover area guides and trusted reviews by and for the military and veteran community for local neighborhoods, base housing, moving companies, lenders, schools, and more.
Access Review