Fort Riley
Nestled in Kansas' Flint Hills region, just east of center, Fort Riley is home to the 1st Infantry Division. Also known as the "Fighting First" and, more notably the "Big Red One," this well-known and prestigious unit has seen the earliest stages of battle in almost every major conflict since WWI. Naturally, being selected as first in the fight doesn't come without hard work. When you're stationed at Fort Riley, you can expect a lot of training, but you can also expect to enjoy the perks of the area. Though many think that Fort Riley is in the middle of nowhere, there's actually tons to do, great places to eat, and the Mid-West lifestyle will quickly grow on you.
Read More
Off-Base Neighborhoods
There are three cities right outside of Fort Riley, Kansas that most people live in; Junction City, Ogden, and Manhattan. JC and Ogden are located immediately outside the gates. The commute is typically less than 5 minutes to get to the gate. And no, despite the rumors, these are not dangerous cities. Every city has its bad parts, but there's plenty of great communities in both JC and Ogden. Manhattan, though a little further out, is home to Kansas State University and includes many of the activities and restaurants in the area. The commute from Manhattan typically takes about 10-15 minutes from doorstep to gate, with an additional 10-15 minutes of driving once on post to get to work. It might seem like a long commute, and you will most likely be unable to go home after PT or for lunch, but it makes for a great escape from military life.
Due to the higher restrictions and fees for pets, many people are unable to find houses for rent off post and choose to buy a home instead. Apartment living is also common, but be advised that the closer you get to Manhattan's center, the more outdated the apartments become. Though this is not the case for all apartment complexes, it is important to keep in mind that the demographics of Manhattan include a large population of college students who cannot afford higher-end apartments and landlords, therefore, don't feel the need to renovate.
Want to know more about your Fort Riley housing options? Read trusted reviews from military service members and families just like yours for free at this link on the PCSgrades website. You can also click on the banner below.
On Base Housing
There are, of course, you can enjoy the same perks living in Fort Riley on-post housing that you do at any duty station. Fort Riley has five housing communities that are managed by Corvias Military Living. Housing perks vary from community to community, so be aware that some may not have the amenities you were expecting (i.e. garage or basement).
The other great thing about on-post housing at Fort Riley is that your yard work is free! Basic yard maintenance and snow shoveling are included. Lastly, Fort Riley on-post housing is significantly more pet-friendly than what you'll find off post. Though there are some breed restrictions for dogs, you pay a much lower pet deposit, and you can also rent a fence from Corvias that will be set up in your backyard. There are, of course, the same awesome perks to living on post at Fort Riley as with every duty station.
Schools
Fort Riley has six elementary schools and a middle school on post. They are operated by the Geary County Public School District. High school students are bussed to Junction City High School. Students can request to attend a school outside of their district, but permission is usually only granted when space is available.
Cost of Living and BAH
BAH for Fort Riley is incredibly low. Service members without dependents will only be in triple-digit BAH rates! The good news is that the cost of living is also incredibly low, so it is possible to find a variety of options to rent or to buy, even with a low BAH. Fort Riley BAH varies depending on rank and whether or not you have dependents. To determine your BAH at Fort Riley, use our BAH calculator.
BAH Calculator
Housing Costs
The cost of living is low in Kansas and the median home cost is around $161,000 which is much lower than the national average. Despite low BAH for Fort Riley, the home prices make buying an attractive possibility. However, most families at Fort Riley buy in Manhattan, Kansas which is more pricey with a median home cost at around $250,000.
Weather
Let's go ahead and address the elephant in the room: TORNADOES! Yes, Kansas is tornado country. Weather will go from beautifully sunny one minute to darkness and ominous silence the next minute. It's eerie but beautiful to witness. Do your research ahead of time to figure out where the nearest tornado shelters are near your home.
Winters can be pretty miserable due to the wind chill, and they typically alternate from year to year with heavy to light snowfall. Summers can be hot and humid, but to be honest, if you're from or have ever been stationed in the South, the humidity won't seem like much.
Area Attractions
You simply cannot be stationed at Fort Riley, Kansas without knowing about Aggieville. You'll hear this term a lot, as it refers to the six square blocks of college bars and restaurants outside of KSU in Manhattan. Whether it's The Nothing Festival (a festival for no gosh-darn reason), or Fake Patty's Day (St. Patrick's Day on a day that ain't St. Patrick's Day), there's always something going on in Aggieville. By far the most exciting events are the football games; Don't leave Fort Riley without attending at least one KSU game!
Other notable events include Kickin' Country Stampede, a major country music festival held annually at Tuttle Creek that draws big names and big crowds, and the Independence Day celebration in Wamego; arguably the best fireworks show in Kansas.
Consider taking a trip to one of the following locations if you're feeling the need to skip town for a little bit.
KONZA PRAIRIE (20 MINUTES): This gorgeous nature preserve may only be a few minutes away, but its beauty and serenity make you feel far from civilization. With several different trails, you can spend an hour or two enjoying a nice hike and potentially spot some bison along the trail.
LAWRENCE, KS (1 HOUR, 15 MINUTES): Truly a hidden gem in Kansas, this small town is home to KSU's rival, the University of Kansas. There's lots of great antiquing and window shopping, and don't forget to bring your pup! Lawrence is incredibly pet-friendly. Grab lunch at Ramen Bowls for your umami fix.
ABILENE, KS (30 MINUTES): There's so much to do in this wonderful, historic town! Home to President Eisenhower, you can take a tour of his childhood home while visiting the famous Eisenhower Museum and Presidential Library. Of course, a visit to Abilene would be incomplete without testing out the fried chicken at the Brookeville Hotel!
KANSAS CITY, MO (2 HOURS): You can't be stationed at Fort Riley without at least one visit to KC! Though you can enjoy a day or even an afternoon here, I'd highly recommend making a whole weekend of it. Visit the National WWI Museum, catch a Kansas City Royals game, go shopping and try some of the region's best BBQ! (Psst…my favorite is Joe's. Their original location is at a gas station, but trust me, the long line is totally worth it).
TOPEKA (1 HOUR): Spend the day walking around the state's capitol! Art and history buffs will love Topeka as there are several museums. The State Capitol building is gorgeous and is well worth a quick tour. If nothing else, at least visit Row House for a fancy and luxurious dinner; perfect for an anniversary or special occasion.
WAMEGO (45 MINUTES): As mentioned previously, Wamego has an awesome Independence Day celebration! I was able to see the fireworks from a hilltop near my house in Manhattan. I can't imagine how incredible the experience would be up close. Additionally, this town is home to the Wizard of Oz Museum and Oz Winery. When in Kansas, right?
Food and Drink
Do you like potatoes? Well, if you're in Kansas, you can find some form of potato on just about every dish. It's like the pimento cheese of the Mid-West. Aside from this regional favorite, there are actually tons of great dining options near Fort Riley. Take a trip to Aggieville or downtown Manhattan. You'll find yourself dizzy with options, and that's not even taking chain restaurants into consideration.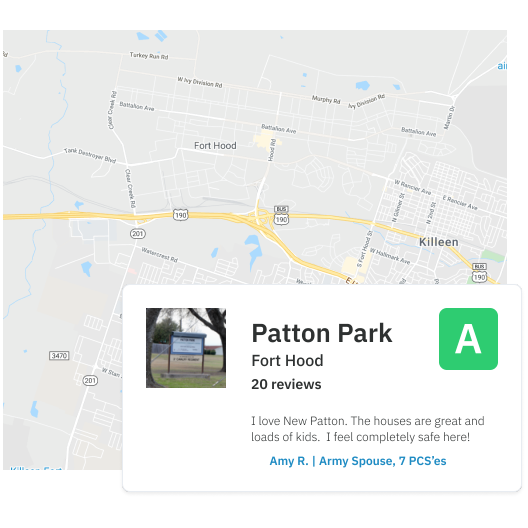 Research Your Area Before Your Move
Discover area guides and trusted reviews by and for the military and veteran community for local neighborhoods, base housing, moving companies, lenders, schools, and more.
Access Review