Walter Reed National Military Medical Center (Naval Support Activity Bethesda)
In 2011, the Walter Reed National Military Medical Center, in Bethesda, Maryland, became the combined location of the former Walter Reed Army Medical Center and the National Naval Medical Center, Bethesda. Historically, Walter Reed Army Medical Center opened in 1909. The location now employs medical professionals from the Army, Navy, and Air Force gathered under the umbrella of Naval Support Activity Bethsda (NSAB). NSAB has over 12,000 active duty and civilian employees. This is one of the largest medical centers serving the Capitol region. It is also the location of one of the country's primary Wounded Warrior centers, serving those wounded overseas. Walter Reed is referred to as the Flagship of Navy Medicine. Their motto is, "Where Our Nation Heals Its Heroes." The campus includes the Walter Reed Army Institute of Research (the DoD's largest research laboratory), the Uniformed Services University of Health Sciences, the Armed Forces Radiology Institute, and the Armed Forces Institute of Pathology. WRNMMC provides medical assistance to veterans and military families stationed in Maryland, Washington, D.C., and Northern Virginia. Each year, the facility assists with over 1,000 births and more than 28,000 ER visits.
Read More
Off Base Neighborhoods
Bethesda, Maryland is located in Montgomery County, just northwest of Washington, D.C. It's a very affluent and educated area-- one of the best-educated cities in the country! Because of its proximity to the capitol, housing costs are high, and apartments or condos are more common than single-family homes. Even if you drive from a nearby county, be prepared for sticker shock, especially in Northern Virginia. The D.C. area contains 7 of the country's top 10 richest counties.
When searching nearby neighborhoods, calculate the commute times during rush hour. Traffic around the Beltway (495) is notorious and will test your patience. If you are using public transportation, Bethesda is located on the Red Line of the D.C. metro, which extends northwest into Rockville, Maryland.
Within Bethesda, Parkview is one of the more affordable areas with split levels and ramblers built in the 1950's. Fort Sumner and Mohican Hills are the most expensive neighborhoods in Bethesda, with home prices averaging over $1 million.
On Base Housing
There is no on-base housing for those stationed at Walter Reed. There is military housing available at the nearby bases of Fort Meade, Fort Detrick, Fort Belvoir (Virginia), Joint Base Andrews, and Bolling AFB. None of these bases are particularly close to WRNNMC, so check your commute times before applying for on-base housing.
Schools
There are no DoD schools at Walter Reed. There are many different school districts available in the Washington, D.C. area to include public charter schools, private schools, and homeschooling options depending on where you find housing. A School Liason Officer can answer specific questions about the area. Local public school districts in Montgomery County, MD, and Prince Georges County, MD, as well as those in northern Virginia, are also very highly rated.
Cost of Living and BAH
Your BAH is probably higher than your last duty station, but your cost of living will be higher also. Bethesda has a high cost of living-- 45% above the national average. Not surprisingly, Washington D.C., the Maryland suburbs, and Northern Virginia all have an expensive housing market. Walter Reed BAH for enlisted begins at $2,061 for an E1 without dependents and goes up to $3,225. Officer BAH at Walter Reed ranges from $2,490 to $3,600.
BAH Calculator
Housing Costs
Home prices in Bethesda are high, because of its close proximity to Washington, D.C. Even before the pandemic housing bubble in 2021, median home prices in Bethesda were $877,000-- well above the national average. Sales prices have increased by about 10% since the pandemic. The average listing price per square foot is $375.
Weather
What can you expect as far as weather? In true East Coast fashion, you can expect mostly two seasons, winter and summer, with a sprinkling of spring and fall. Warm and humid summers will keep you at the beach or pool. There is minimal snow, though you can expect a few good snowstorms every winter. The good news is that you are in the perfect location to experience a stunning East Coast fall with some of the most beautiful leaf changing seasons in the area!
Base Amenities
Naval Support Activity Bethesda includes a Fitness Center with classes and a swimming pool. In the Medical Center, there is an active MWR (Morale, Welfare, and Recreation) office which runs a bowling center and CDC. The Fleet and Family Center runs classes and activities for service members and families. There is a new Navy Exchange (NEX). There is no Commissary, but there is a Quick Mart.
Area Attractions
Music festivals, delicious seafood, and outlet shopping are just some of the highlights of being assigned to Walter Reed. Of course, being stationed just outside of Washington, D.C., you have easy access to all the culture and museums of our nation's capitol. But there are also numerous interesting activities in the Maryland area.
THE NAVAL CRYPTOLOGIC MUSEUM: located near the NSA houses artifacts that showcase the history of the cryptography profession. It is the first public museum in the intelligence community.
DOCTOR MUDD HOUSE MUSEUM: The details surrounding the assassination of President Lincoln has always interested history buffs. If you've heard the phrase, "His name is mud" then you should probably learn about Dr. Mudd, a man involved in the assassination but to what extent is up for debate. Visit his home and learn his story.
FORT MCHENRY: Visit the famous Fort where Francis Scott Key reportedly witnessed the scene that inspired the Star Spangled Banner. Spend the day at Fort McHenry learning about the founding and building of our nation and the part that American statesman James McHenry played. McHenry was a Scots-Irish immigrant and surgeon-soldier. He served as a delegate to the Continental Congress from Maryland and was a signer of the United States Constitution.
FORT WASHINGTON PARK: Fort Washington was constructed to protect the river entrance to Washington, D.C. Bring a picnic lunch, check the schedule of events and catch a re-enactment and learn about the history of the Fort and the part it played through WWII.
NATIONAL AQUARIUM: Named one of the best aquariums in the country by the Travel Channel, experience the National Aquarium's favorite resident – the 3-legged giant turtle! Don't miss the 4D Shark experience and the enormous multi-floor aquariums. It is an incredible experience and worth the trip!
MARYLAND SCIENCE CENTER: The Maryland Academy of Sciences is Maryland's oldest scientific institution, as well as one of the oldest in the nation. Built in 1747, it is now known as the Maryland Science Center and contains 14 exhibits with each one containing many interactive components. The Maryland Science Center is a truly hands-on experience for kids and adults alike. Learn about dinosaurs, the human body, space, and even woodworking!
RIPLEY'S BELIEVE IT OR NOT: 8000 sq feet of oddities awaits you in Baltimore's Ripley's Believe It Or Not, including shrunken heads, piano stairs, a giant T-Rex made of pop tart wrappers, and an incredible light and mirror maze. Baltimore's Ripley's does not disappoint!
HISTORIC SHIPS OF BALTIMORE: Located within walking distance of each other in Baltimore's Harbor, are four historic ships that are worth the visit. You can see the USS Constellation which dates back to the 1700s, a U.S. Coast Guard Cutter, a WWII submarine and one of the last lightships to remain active.
EVENTS AND FESTIVALS: The area is also home to some regular events and festivals that draw quite a crowd. The Preakness, one of the nation's largest, single day, sporting events; the Ocean City Air Show; Annapolis Art Week; County Fairs; crab feasts; the Renaissance Festival of Maryland; and so much more. Visit the Maryland Tourism page to read about all the special events and festivals.
Food and Drink
You're in Maryland, the land of blue crabs and crab feasts! It may be intimidating to learn how to pick crabs, but it's part of the summer social life in Maryland. Restaurants serve crab in everything from crab cakes to crab dip and crab soup (which comes in either a vegetable base or a creamy version.)
Walter Reed is also close enough to D.C. so you can indulge in any ethnic dish or fancy specialty your heart desires.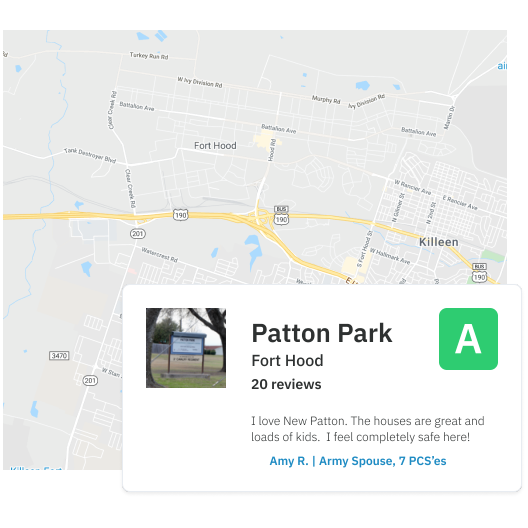 Research your area before your move
Discover area guides and trusted reviews by and for the military and veteran community for local neighborhoods, base housing, moving companies, lenders, schools, and more.
Join for free
PCSgrades and Realogy Military Rewards
For over 30 years Realogy's nationwide network of A-Team agents has served the military and veteran community with 95% of their customers, just like you, recommending their agent and the program. PCSgrades is proud to offer Realogy Military Rewards.
Get Started