Naval Station Norfolk
Located in the Southeastern corner of Virginia on the Atlantic coastline, Naval Station Norfolk is the largest naval installation in the world based on support population (per Military One Source). The base supports 75 ships and 134 aircraft alongside 14 piers and 11 aircraft hangars.
When you PCS to NS Norfolk, you'll discover a very large community of active duty, retirees, family members and dependents, Reservists, and DoD civilians also stationed there. The military-friendly area extends to the nearby Hampton Roads region that also includes Williamsburg, Newport News, Hampton, Portsmouth, Virginia Beach, Chesapeake, and Suffolk.
Read More
Off-Base Neighborhoods
The Norfolk area has an incredible mixture of neighborhoods and schools. Military families recommend the off-base neighborhoods of Granby, Riverpoint, and Ghent. All have top ratings for safety, which is important in this area. The Chelsea district in West Ghent is safe for walking or biking and has a number of new restaurants and local breweries. Realtor.com recommends the neighborhoods of East Ocean View, Bayview, and Park Place, where you will find quality schools and rising home values. Traffic will play a major factor in your commute times, so check live traffic apps at the appropriate time of day before choosing an off-base neighborhood. Morning rush hour traffic times are typically between 6:00 am-9:00 am ET. Afternoon/Evening rush hour traffic times are typically between 4:00 pm-7:00 pm ET. Norfolk: 25 mins (up to 40 mins during rush hour) Portsmouth: 25 mins (up to 50 mins during rush hour) Chesapeake: 30 mins (up to 50 mins during rush hour) Virginia Beach: 35 mins (up to 50 MINS during rush hour) Suffolk: 45 mins (up to 70 mins during rush hour)
On Base Housing
On-base housing at NS Norfolk is managed by Lincoln Military Housing. There are 10 housing communities on base, ranging from two-story townhomes to single-level duplexes. The home style is determined by the service member's rank and family size. Neighborhood amenities may include a fenced yard, washer/dryer hookups, and an additional storage shed. The community features sport courts, lap pool, parks, picnic areas, and more.
Schools
There are no Department of Defense Dependents Schools (DoDDS) or private schools aboard NS Norfolk. Military students living on or off base will attend the Norfolk Public Schools, which include 37 Elementary Schools, 9 Middle Schools, and 5 High Schools. Military students living one or more miles away will have access to school bus transportation.
Operation Thrive provides a full-time Military Student Transition Consultant ® MSTC® to help military families moving to NS Norfolk.
Families can also contact a School Liaison Officer (SLO) or learn about support services from a Military Family Life Counselors (MFLC).
Cost of Living and BAH
Norfolk, VA BAH has a slightly higher cost of living than many other places in the country. If you are coming from Northern Virginia or Southern California, you may find the home prices pleasantly low. But if you're coming from most other bases, you will see a BAH increase to match the slightly higher cost of living.
Naval Station Norfolk BAH varies depending on rank and whether or not you have dependents. To determine your BAH at Naval Station Norfolk, use our BAH calculator.
BAH Calculator
Housing Costs
Median Home Price is about $230,000 (according to Zillow); RealtorDotCom states: "There are 75 neighborhoods in Norfolk. North Shore has a median listing price of $439.9K, making it the most expensive neighborhood. Huntersville is the most affordable neighborhood, with a median listing price of $142.5K."
Weather
You will definitely get to experience four seasons while stationed in Norfolk, VA. In Norfolk, the summers are hot and muggy, while the winters are very cold and windy. It doesn't snow often, but expect a few snowstorms each winter. Over the course of the year, the temperature typically varies from 34°F to 88°F. The good news-- it is rarely below 22°F or above 95°F.
Base Amenities
On-base amenities at NS Norfolk include: The Fleet and Family Support Center Youth Center and Teen Program (both in the same building) Willoughby Child Development Center: child development programs for children ages six weeks to five years. The CDC is accredited by the DoD, but often has a long waitlist. The Commissary is open from 0900-1900 every day of the week. Thursdays they are open until 2000. The Norfolk Navy Exchange (NEX) is open 1000-1900 Monday-Saturday, and 1000-1800 on Sunday. The base has 2 indoor pools and one outdoor pool, 3 fitness centers/gyms. Norfolk Outdoor Recreation manages two parks/picnic areas (available for reservation), one Marina, and two RV/Boat locations that can store campers, jet-skis, boats, campers, etc. Each location has 24/7 access. MWR at Norfolk runs an auto skills center, bowling alley, MWR tickets & travel, base theater, etc.
Area Attractions
You will discover many things to do near NS Norfolk! Whether you are looking for family-friendly activities, or unique places to show your out-of-town visitors, this is a great base to start a bucket list. These attractions are popular among military families in the area around Norfolk, VA: - Stroll along the downtown waterfront on the banks of the Elizabeth River, - Norfolk Waterside Marketplace offers retail shops and dining, - Virginia Aquarium and Marine Science Center, - Virginia Zoological Park, - Chrysler Museum, - Norfolk Botanical Gardens, - Hampton Roads Naval Museum, - Children's Museum of Virginia - VA Beach (which has miles and miles of beaches)
Have a toddler or preschooler? Make sure to check out the local chapter of Tiny Troops Soccer to help your little one PCS with fun, soccer, and friends!
Food and Drink
Downtown Norfolk local favorites include: - Uncle Al's: Known for their hot-dogs, which you can order the way they are made nearly every way across the US….also sandwiches. - aLatte Cafe: this local coffee place roasts whole bean coffee and serves up some amazing ice-cream - The Stockpot: healthy style comfort food. They have "Norfolk Ramen Night" every Wednesday - Jack Brown's Beer & Burger Joint: simple, basic burgers made with 100% all-natural Wagyu beef.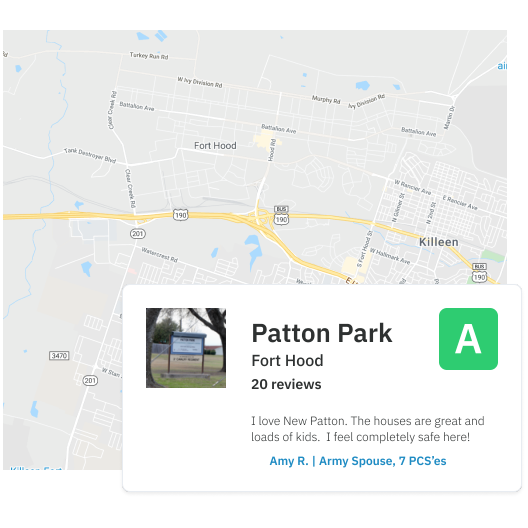 Research Your Area Before Your Move
Discover area guides and trusted reviews by and for the military and veteran community for local neighborhoods, base housing, moving companies, lenders, schools, and more.
Access Review