Naval Station Newport
Naval Station Newport is a US Navy base located on Aquidneck Island in the city of Newport and the town of Middletown, Rhode Island. Naval Station Newport is home to the prestigious Naval War College and the Naval Justice School. While the installation has an average of 11,000 personnel, their annual throughput of students is 17,000. Newport, RI is about 30 minutes to Providence, RI and about 2 hours from Boston, MA.
Read More
Off-Base Neighborhoods
For those that want to live off base and even outside of Newport itself, popular towns include Middletown, Portsmouth, Bristol, and Pawcatuck. The high BAH in this area is in line with average housing costs, so many families opt for making a real estate investment.
On Base Housing
NAVSTA Newport Homes are managed by Balfour Beatty Communities. There are 2 on-base neighborhood which are only available for O6 and above: Coasters Harbor Island and Naval Hospital. Coasters Harbor Island has 3-6 bedrooms with up to 3.5 baths. Naval Hospital homes have 5 Bedrooms and 3.5 baths. There are six other housing communities available in surrounding neighborhoods throughout the island.
The other military housing available around the island are for all ranks and rates with 2 to 5 bedrooms available. Some are single family homes or townhomes.
Schools
There are no schools for children on base at Naval Station Newport. Military children living on or off base can attend either RI public or private schools in the area. Most families enroll in either the Newport Public Schools, Middletown Public Schools, or Portsmouth Public Schools. Across the bridge on the next island are the Jamestown Public Schools. Military kids can apply for the Youth Sponsorship program to help them adjust after moving to Newport from another military installation.
Cost of Living and BAH
The cost of living in Newport, RI is higher than the national average. This area is popular with both military personnel and tourists. Naval Station Newport BAH varies depending on rank and whether or not you have dependents. To determine your BAH at Naval Station Newport, use our BAH calculator.
BAH Calculator
Housing Costs
Average housing costs around Naval Station Newport are higher than average because the area is popular and has so many students seeking housing every year. The average home value in Newport is $531,581. The median list price per square foot is $410. The average rent price per month for a 3-bedroom is $2,300.
Weather
Rhode Island has all four seasons. It gets hot in the summer, and very cold in the winter. Some years there is a lot of snow, some years there is only a little snow. There are often Nor'Easters in the winter (a large storm with winds and heavy rain or snow) and Hurricanes in the summer. There are rainy days year round, with an average of 4 inches of rain falling each month, with just slightly less in the summer months.
Base Amenities
On base there is a Newport Main Navy Exchange, Newport NS Commissary, Package Store (for Liquor and Tobacco products), and Navy Exchange Gas Station. The John H. Chafee Fitness Center has classes, weights, cardio, basketball courts, saunas, showers, and a pool. There is the Naval Health Clinic New England on base for office visits and testing, but you have to go to a hospital in Newport for emergencies.
Area Attractions
Things to see and do: Castle Hill Lighthouse, Newport Mansions, Downtown Newport, Beaver Tail State Park, Fort Adams and Ocean Avenue. In the Fall you can visit the Cranberry Bogs. Eastern Rhode Island: Blithewold Mansion, Gardens, and Arboretum, Colt State Park, Audubon Society of RI Environmental Education Center, Newport Vineyards Day Trips: Boston, Salem MA to learn about the witch trials, visit Plymouth Rock, Paul Revere House and walk the Freedom Trail, The USS Constitution Museum, Mystic Aquarium https://www.milspousenewport.org/off-the-record is a detailed book to allow a newcomer to the area to have a resources they need to hit the ground running. All items listed in the book are reviewed each year by military spouses in the area.
Food and Drink
Rhode Island and right over the border in Massachusetts is full of amazing foods. Enjoy fresh Lobster Rolls, Quahogs (stuffed Clams), Clam Cakes, and Patti's Pierogis just to name a few. Checkout Dinners, Drive-in and Dives and there will be a LONG list of restaurants to visit.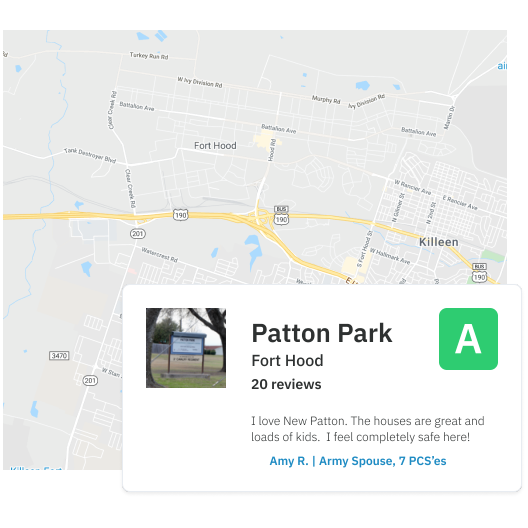 Research Your Area Before Your Move
Discover area guides and trusted reviews by and for the military and veteran community for local neighborhoods, base housing, moving companies, lenders, schools, and more.
Access Review