Naval Station Everett
Naval Station Everett is located on the Northwest side of Puget Sound, about 25 miles north of Seattle. Directly west, on an island in Puget Sound, is NAS Whidbey Island. Established in 1994 and one of the most modern, NS Everett's mission is to provide support to Naval and Coast Guard Forces. Everett is a smaller station but is home to six Naval Ships and two Coast Guard Ships.
Read More
Off-Base Neighborhoods
You always have the option to use your BAH and purchase a home off base. But first--do your research. Washington State is among the most expensive states in which to buy a home. Median prices are a little over $450,000, and the general cost of living is high as well. Seattle is by far higher than towns like Spokane or Tacoma so it might be a wise move to buy well outside of the city of Seattle. The price of homes in Everett or Whidbey Island are slightly higher than the median home cost in Washington state, but not nearly as high as Seattle.
On Base Housing
Public/ Private Venture Housing managed by Hunt Companies serves as the primary housing at Everett, much like at Whidbey Island. The new Constitution Park is military housing located 15 minutes east of NS Everett. It offers families 3 and 4-bedroom layouts, all with at least 2,000 square feet of space. The neighborhood includes a fitness center.
If there is a long waiting list, consider applying for housing at the other military bases in the area. There are several within an easy commute of NS Everett, including NAS Whidbey Island and NB Kitsap. Joint Base Lewis-McChord is south of Seattle, in Tacoma, which would be a long commute.
Schools
Washington state is ranked 19th in the country for elementary schools, but 2nd in the country for higher education. Military families have a number of districts from which to choose. Unlike some areas of the U.S., districts in Washington State do not necessarily coincide with local city, town, or county boundaries. There are no school on base, so military families at NS Everett have a wide selection of school districts to choose from, depending where they live.
Cost of Living and BAH
NS Everett BAH is high, to match the high cost of living in Washington state. BAH for NS Everett varies depending on rank and whether or not you have dependents. To determine your BAH at NS Everett, use our BAH calculator.
BAH Calculator
Housing Costs
The median home value in Everett has increased in the past year, and is now $453,000. The median list price per square foot is $279. The median rent price in Everett is $1,850. So if you search, you can find options to use your BAH to rent or buy a home.
Weather
It's absolutely beautiful in the Pacific Northwest, and it's entirely due to rain. That being said, summers are too short and best spent outside, exploring the local area and events. While not the wettest place in the US, western Washington is the only area in the lower 48 that has over 100 inches of rain a year.
Like most of the country, the coldest months are December through February, with temperatures hovering just above freezing overnight and reaching into the mid-40s during the day. During the summer, temperatures get into the 70s during the day, and the precipitation reduces. June through September are green, relatively dry, and warm.
Base Amenities
NS Everett is small, so the on-base amenities are limited. There is the Seismos Fitness Center, a Navy Exchange (NEX), and a gas station. However, you are able to use the resources on nearby bases NAS Whidbey Island or NB Kitsap, or even Joint Base Lewis-McChord, which is south of Seattle, in Tacoma. Whidbey Island has a Commissary, the Oak Harbor Health Clinic, the Convergence Zone (which has bowling and indoor games), an MWR center, a base theater, and an R.V. park overlooking the beach.
Area Attractions
Due to the diversity of the region, almost everything is available here: mountains, hot springs, microbreweries, music, big cities, and college towns.
One of the favorites is Mt. Rainier, the famous snow-capped summit that you can sometimes see through the clouds. Additionally, the Emerald City of Seattle is a progressive and artsy city, home to a 7-ton bronze statue of Lenin and a giant troll under a bridge.
Enjoy Whidbey Island's two veteran-owned wineries, Holmes Harbor Cellars, and Comforts of Whidbey Winery.
Enjoy the history in Steilacoom, it's the oldest incorporated city in Washington, established in 1854!
If soaking up history doesn't sound like fun to you schedule some family (or solo) time at the beach or enjoy a 20-minute ferry ride to Anderson Island.
Tacoma: Take off on the light rail and visit the Museum of Glass, the Museum of Art, or the Museum of History located in downtown Tacoma or root for the home team at a Ranier baseball game at Rainer Stadium.
Seattle: There is so much to see and do in Seattle and it's only about an hour away. Spend your day exploring the birthplace of coffee culture and grunge and make sure to visit the famous Pikes Place Market or head to the waterfront to ride the Great Wheel or visit the Seattle Aquarium.
Mount Rainier is an active volcano that stands a whopping 14,410 feet above sea level. The Mountain and surrounding National Park makes for a perfect get-a-way with activities for everyone. Spend the day hiking, sledding, and snowboarding! Pay tribute at the Mount Rainier National Park Valor Memorial.
Canada! That's right, Canada. Visit our northern neighbors easily by taking an Amtrak train to downtown Vancouver or riding the Clipper ferry from Seattle to Victoria B.C.
Food and Drink
The Pacific Northwest is noted for their seafood, specifically crab and salmon. Aside from seafood, seasonal fruits and veggies are also included in popular regional dishes. Food trucks and carts have become wildly popular in urban areas, serving up fast and fresh option that allows residents to grab a quick lunch or dinner. The area also has a huge craft beer and coffee culture even outside of Seattle, home of Starbucks, and the region is a leader in the industry with many shops roasting their own beans.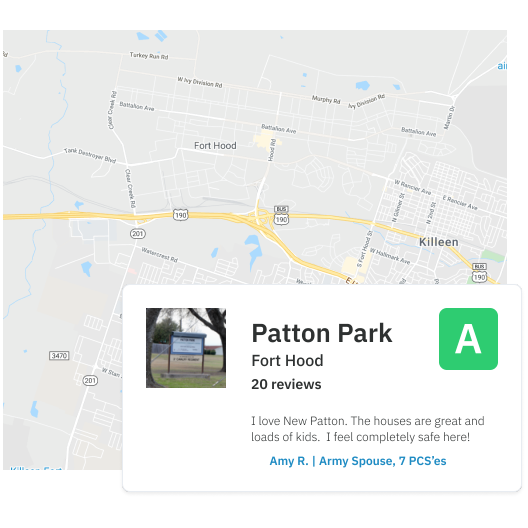 Research Your Area Before Your Move
Discover area guides and trusted reviews by and for the military and veteran community for local neighborhoods, base housing, moving companies, lenders, schools, and more.
Access Review