Naval Base Pearl Harbor (Joint Base Pearl Harbor-Hickam)
Joint Base Pearl Harbor-Hickam is designated a National Historic Landmark for its role in the World War II Pacific campaign. The Naval Station merged with Hickam Air Force Base in 2010 to create the new Joint Base. It is located just 8 miles from Honolulu, Hawaii, on the island of O'ahu. Home to the Pacific Command, 15th Wing, Pacific Air Forces headquarters and the Hawaii Air National Guard, JBPHH is a sprawling complex that includes military families from many branches. The Naval Station is the main repair center for submarines in the Pacific, and is also the headquarters for NCTAMS (Naval Computer and Telecommunications Area Master Station) Pacific, the world's largest communication station.
Pearl Harbor has a flat terrain, wonderful for walking and biking. There are open playgrounds located throughout the base. Behind Wright Brothers Cafe, there is a paved path which runs along the Pearl Harbor channel, where you can often see ships and submarines coming and going. Just down the road from Wright Brothers is Hickam Harbor Beach. The southeast corner of Hickam backs up to Honolulu International Airport.
Hawaii is considered an overseas duty station, even though you are still on US soil. You will rate an OCONUS move, and will receive additional COLA pay while you are here. All service members in Hawaii rate COLA to accommodate the high cost of living. Gas, groceries, cars, and also car insurance all cost more here. Car registration is offered for the military at only $25/year, and you get to keep the pretty Hawaii tag after you move away. Amazon Prime is an excellent option to mitigate shipping costs and usually takes 5-9 days to reach Hawaii. And from experience, order the Christmas presents you want delivered to the island by December 1 to accommodate seasonal shipping delays.
Read More
Off-Base Neighborhoods
One of the great things about Hawaii is being able to live just about anywhere and still have a [semi] reasonable commute to a military installation. Popular areas to live off base include Leeward (West) Side, Ewa Beach, Kapolei, Central, Mililani, Wahiawa, Salt Lake, Windward (East) Side, Kailua, Kaneohe, and Hawaii Kai.
Most homes in the Honolulu area, especially downtown are older homes and original to O'ahu. Built in the 40s- 70s and without AC. Newer construction is found at Ewa by Gentry, however Ewa Beach still remains with the older homes. Ko Olina has condos built in the 90s to 2000s. O'ahu is not known for having upscale homes unless you are on the North Shore. Waikiki is the multi-million dollar beach front properties in the tourist districts. 80% of homes do come with Solar Power because electricity is so expensive, but most of the AC are window units. Yards are scarce and home buying is a bit of an art. If you're looking for land, there are stipulations in place to stay true to Native Hawaiians.
On Base Housing
Pearl Harbor military housing is called Ohana Navy Communities, and is managed by Hunt Military Communities. There are 24 neighborhoods in various locations on and around the installation. The Ohana Navy Housing has a wide variety of home types and floor plans. Most of the homes are townhomes or duplexes from 2 to 5 bedrooms. Please note that there is often a lengthy waiting list for housing. We recommend contacting the housing office to be placed on the waitlist the moment your family is in receipt of hard copy orders.
Schools
There is one school, Hickam Elementary, located on base. Public schools are part of the Hawaii Department of Education. If you have school-age children, a great place to start in finding a school is to contact the School Liaison Officer for your respective branch. The SLO can assist in getting your child registered. Hawaii does not have any DoD schools, but there are many public, private, and charter schools to choose from, as well as a large homeschooling community on the island. Just a heads up: most schools and childcare centers require a negative Tuberculosis test to enroll. 
Cost of Living and BAH
The BAH for Hawaii tends to be on the high side, similar to the Washington D.C. area. Island living, in general, tends to be pricey because everything has to be shipped in. Hawaii is considered an OCONUS assignment. Military Families will also receive a Cost of Living Allowance (COLA).
The median sales price for a single-family home on O'ahu in 2021 was $1,050,000-- a new record! BAH in Hawaii varies depending on rank and whether or not you have dependents. To determine your BAH at Naval Base Pearl Harbor, use our BAH calculator.
BAH Calculator
Housing Costs
Hawaii has one of the highest tax rates in the country, at 5.3%. However, the property tax rate is at 0.27%, one of the lowest rates in the country. The median sales price of a single-family home on O'ahu is $1,050,000, which is a new record high. Whether you rent or buy, remember that energy bills will be higher in Hawaii than in most places, even with only moderate use of air conditioning.
Weather
Trade winds keep the average temperature in Hawaii at around 85 degrees throughout the year. The landscape across the island, however, varies significantly depending on location. On the Leeward (West) side of O'ahu, you will find a drier, more desert-like environment, while the Windward (East) side is home to the lush Ko'olau Mountains. Much of central O'ahu is farmland, and the North Shore consists of a rocky shoreline with higher surf. Many popular surfing competitions are held there. Winter is usually around 78 degrees, while summer hovers around 85 degrees.
It rains virtually every day, but not usually for longer than 15 min or so. Island dwellers refer to this as "liquid sunshine". It's rarely (if ever) a downpour, and is what contributes to the tropical climate of the islands. If it does rain harder, the leeward side of the island (where JBPHH resides) usually takes the brunt of this while the windward side is typically spared.
Noteworthy: Very few homes off base have central a/c.
Base Amenities
All of the military bases in Hawaii have the usual amenities: Commissary, Exchange, gym, community pool, etc. The Pearl Harbor Commissary is located adjacent to the NEX. It is open every day, Mon-Sun from 0900-2100. The AMC Terminal at Hickam offers Space A flights back to mainland USA. It is more difficult to arrange than a traditional airline ticket, but Space A can be an affordable way for military families to travel.
MWR is very active at Pearl Harbor, with numerous programs for service members and families. Samples of their available activities at Pearl Harbor include the Makai Recreation Center, 2 Marinas (Hickam Harbor and Rainbow Bay Marina), several beaches: (Hickam Beach, Honeymoon Beach, Nimitz Beach, and White Plains Beach), the Auto Skills center, 2 Theaters, a library, Information Tickets & Tours (ITT), and Outdoor Rec for beach equipment rentals, pavilion rentals, beach cottages, and more.
Area Attractions
HIKING: Hawaii boasts AMAZING hiking. Trails range from the paved and stroller-friendly (but steep!) Makapu'u trail on the eastern end of the island, to lush and tropical trails in Manoa Valley, to the dormant Koko Head and Diamond Head volcano crater trails.
WATERSPORTS: Kayaking, paddle boarding, snorkeling, spearfishing, and diving are just a few ways to enjoy the warm water and 271 days of sunshine per year.
BEACHES: Kailua's beaches are almost as crowded as the more touristy Waikiki, and traffic is an issue everywhere. Be aware, the deep ocean currents can be extremely strong even near shore. Many beaches also experience shore break. Search "Sandy's Beach" on Youtube to get a glimpse of the power of the ocean here. Parents with little children may want to check out the lagoons at Ko'olina for gentler waters. SURFING: Surfing is the signature sport of Hawaii. Duke Kahanamoku and Eddie Aikau are local legends and surf icons. Surf lessons are available around the island. If you want to get into surfing, there is no shame in purchasing a $100 eight-foot foam board from Costco. Pros on the North Shore, water patrol, and surf school students all surf them with joy. Surf competitions are community events for surfers of all ages and skill levels.
TOURS: The Macadamia Nut Farm does the Ali'i tour which is a small tour of the farm along with teaching others about the Samoan Culture and a lot is centered around the Coconut Tree. The nearby Kualoa Ranch has a tour more befitting a crash course for "Survivor" contestants than a farm tour. It is both educational and entertaining. Your host will highlight various film locations on the property as you ride on crew buses used in the original "Jurassic Park." They also have ATV tours, zip lining and horse back riding. 
LUAUS: Grand luaus are available on the leeward side of the island, the Polynesian Cultural Center on the North Shore, and also Sea Life Park on the east end. The Hale Koa luau in Waikiki is a less costly, shorter luau option open to service members, retirees, and their guests.
TAKE A RIDE: The North Shore is the most rural part of the island. Ted's Bakery near Pipeline is worth the stop on your drive along the Seven Mile Miracle. Waves can reach 40 feet during the winter months. Helemano Farms in Wahaiwa grows sustainable Norfolk pines for cutting at Christmas.
INTER-ISLAND TRAVEL: Island hopping is not as cheap as one might think, but prices begin at $30 per ticket with Southwest. The other islands are all unique. Volcanoes Park on the Big Island is a place to behold, and military members can rent cabins at the park. Also, don't forget to register for your free National Park military pass so your $25 vehicle admission will be waived.
Food and Drink
Food is also essential to Hawaiian culture. School cafeterias serve local favorites like kalua pork, haupia (coconut) pudding, and poi (pureed taro root). Poke (raw, marinated tuna), shave ice (don't call it "shaved" ice), and Spam musubi (Spam and rice wrapped in seaweed) can be found in every corner store. Loco Moco is a popular Hawaii dish made of rice, burger patty, gravy and fried eggs.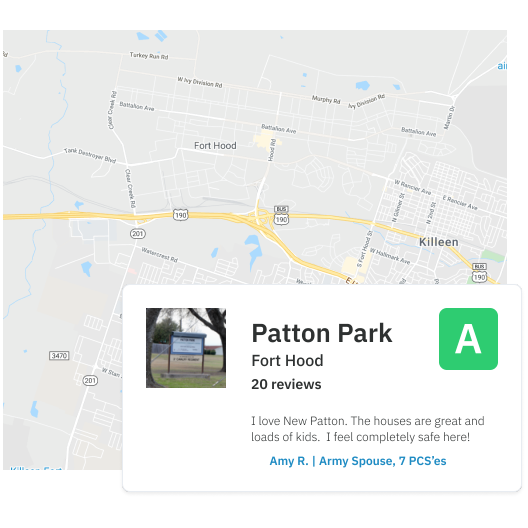 Research Your Area Before Your Move
Discover area guides and trusted reviews by and for the military and veteran community for local neighborhoods, base housing, moving companies, lenders, schools, and more.
Access Review