Naval Amphibious Base Coronado
Naval Amphibious Base Coronado is located at the southern end of Coronado Island. Coronado sits in the San Diego Harbor, and access to the mainland is over the 1.5 mile-long Coronado Bridge. The island of Coronado has two military bases, separated by the quaint civilian town of Coronado. Naval Air Station North Island, referred to as NASNI, is at the north end of the island. In the San Diego area, you will find a large presence of active duty and retired military families. The largest base in the area is the main naval base at 32nd street. Others include the Point Loma Submarine Base and the MCAS Miramar. There is also the Navy Medical Center Balboa, located on the mainland next to Balboa Park. Military housing is scattered throughout the area, and you can use the amenities on any of the military bases.
Read More
Off Base Neighborhoods
Most military families cannot afford to rent or buy on the island of Coronado. Coronado is a beautiful place to live, but the housing tends to be very expensive. It is a vacation town, full of wealthy families and very fancy homes with ocean views. The BAH for some officer ranks may cover rental prices, but typically families would need to supplement the Coronado rent out of pocket or consider living further away on the mainland.
If you are looking to rent or buy while in San Diego, it is essential to define your priorities. In general, San Diego housing is costly. If you are ok with smaller living spaces (condo, apartment, or townhouse) and enjoy the urban lifestyle, you have a lot of options in fun neighborhoods like downtown, North Park, South Park, and Hillcrest. If you want/need more space, a yard, or a good school district; you will need to move farther out from Central San Diego. People speak highly of the school districts in East Lake and Poway. You can reach NASNI by driving either over the Coronado bridge or from the south by driving up the Silver Strand from Imperial Beach, so check commute times using either route.
Base Housing
Get free, objective reviews from our community on base housing to help make the decision to live on base or off.
Explore Base Housing
On Base Housing
NAB housing is managed by Lincoln Military Housing. Military families can stay in base housing in the Silver Strand neighborhood, just south of the base. These homes are also older and smaller, but you can't beat the commute! There is typically a long waitlist for any housing on Coronado Island because it is so limited and desirable. There are some housing options on base in nearby Point Loma, or on the mainland around the San Diego area. Most families live in base housing communities that are scattered throughout San Diego. These base housing neighborhoods are typically not gated and are surrounded by civilian neighborhoods. Forty-eight communities serve the San Diego area Naval and Marine population and consist of apartments, duplexes, and single-family homes. Most neighborhoods are roughly 30-45 minutes away from the base because of the commute times over the Coronado bridge. While there are definitely some options for Officers, most of the communities are for the Enlisted Ranks and serve E1-E9.
Schools
If you live on the island of Coronado, military children may attend Coronado schools. School placement in Coronado Unified School District (CUSD) is based on where you live. Students living on base at NASNI, the NAB, or Coronado Shores and Village will attend Village Elementary School, Coronado Middle School, and Coronado High School. Students living in the Silver Strand and Coronado Cays neighborhoods will attend Silver Strand Elementary, which is located in their housing area. Middle School and High School students will attend the Coronado schools in town. These are very desirable schools and neighborhoods, so get on waiting lists early if you can.
If you live off the island in the San Diego area, your children will attend San Diego Unified public schools, or the Chula Vista Unified School District to the south. These are very large school districts with a variety of options and performance levels, so research your schools along with your housing areas.
Cost of Living and BAH
You will be amazed by your Coronado BAH rates, but the high BAH doesn't go nearly as far as you would expect due to the very high cost of living on the island. Southern California in general is very expensive, and Coronado is one of the most exclusive and well-maintained towns in the area. Enlisted BAH in Coronado with dependents ranges from $2,694 to $3,348. Officer BAH with dependents at NASNI starts at $2,886 and goes up to $3,882.
BAH Calculator
Housing Costs
Housing on Coronado island is extremely expensive: the average home value is $1,879,785. Yes, you read that right--it's almost $2 million. The median price per square foot on Coronado is $962. The good news is that housing costs on the mainland are somewhat more affordable. It's still Southern California, so there is that "sunshine tax," but the average price per square foot drops to $390. With the median home price of $575,000 in the San Diego area, the local markets are quite a bit higher than the national average.
Weather
The San Diego area boasts a moderate climate with tends to stay around 75 degrees all year long with a small amount of rain. The temperature does cool in the winter and even in the evenings. This means you can save on your electric bill all year long as it's rarely necessary to have an air conditioner aside from July, August, and September when there are many days in the 90s. Even then a portable window unit should suffice. Mostly it is beautiful here year-round, the perfect climate for the outdoor activities that are so popular in the area: bike riding, surfing, and beach bumming.
Base Amenities
Because the San Diego area includes several different military bases, you will find that the resources are often spread out. Military families stationed in the area can attend events or use amenities at any location, including the 32nd Street complex, MCAS Miramar, Coronado NAB, Coronado NAS North Island, and NB Point Loma. There is a large Commissary at 32nd Street with a fresh meat and seafood counter. There is also a smaller Commissary on NAS North Island. There are gyms and swimming pools on each base and a large family gym in Admiral Hartman housing. There is a bowling alley at 32nd Street and North Island, with a Movie Theater nearby each location. The main medical facility for military families in San Diego is the Naval Medical Center in Balboa Park, called either NMCSD or more commonly Balboa Hospital.
Area Attractions
There is seriously so much to do in Southern California. Individuals, couples, and families are all sure to enjoy their time here. From museums to beaches, San Diego has it all. Start in Balboa Park, an open green space near downtown San Diego, where you can find art and history museums, a Shakespeare Theater, a Japanese Garden, and lots of food trucks.
San Diego is sporting some serious military museums and memorials. Among the most popular are the USS Midway Museum, The Flying Leatherneck Aviation Museum, and the San Diego Air & Space Museum. The USS Midway Museum is housed on the USS Midway Aircraft Carrier. One could spend days here exploring history through tours, interactive exhibits, and a wide variety of events and activities. The USS Midway is even host to the virtual exhibition, The Wall of Gratitude, in which you can submit a photo of your Service Hero and have them honored with their brothers and sisters in service. The Flying Leatherneck Aviation Museum is the only Marine Corps Aviation museum in the nation and worth a visit. Admission and parking are free to see all this unique museum has to offer. The San Diego Air & Space Museum offers an extensive collection of air and spacecrafts from all over the world as well as simulators and special interactive activities for the kiddos. Admission is free for active military.
The San Diego area is home to some of the most beautiful beaches in America, 70 miles of beaches to be exact. If you're staying on Coronado, you can visit the Breakers beach outside of the famous Hotel Del Coronado. To the south is Seal Beach where the Navy Seals train. Some local favorites are Mission Beach, La Jolla, and Del Mar. Enjoy surfing, bike-riding, or just some relaxation. All of the beaches offer something a little different and you could spend a while exploring all beach life here has to offer.
If the beaches happen to get boring for the kiddos, there are tons of other things to occupy their time and energy. San Diego is home to the famous San Diego Zoo which you are probably aware of, it's also home to the 100-year-old Birch Aquarium and the San Diego Zoo Safari. Other excellent attractions for families include; Legoland, Belmont Park, Sea World, and Aquatica. Aside from theme parks, favorite activities include whale watching, seeing the sea lions at La Jolla, or catching a baseball game at Petco Park. With so many options in San Diego it's hard to not have a good time while stationed here.
Food and Drink
San Diego Cuisine is diverse and varied and based on fresh ingredients. Taco trucks, burritos, and California pizza are all popular choices, but perhaps the defining dish of San Diego is fish tacos. Served with lime on the side this yummy concoction can be found pretty much everywhere and is a local favorite. Other favorites include Asian cuisine of all sorts and of course fresh seafood. On Coronado, you can go to the famous Coronado Brewing Company for an excellent selection of local favorites, or try any of the other upscale restaurants in town.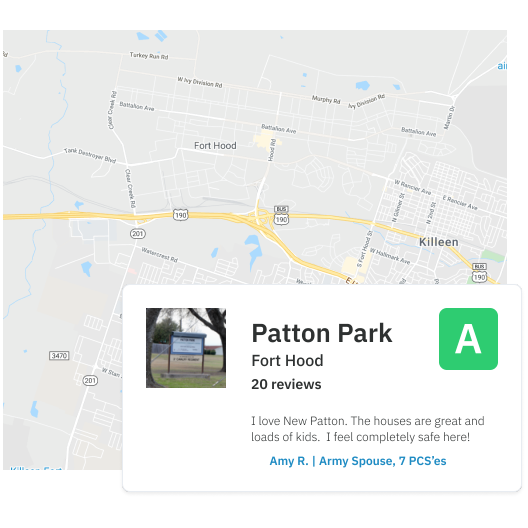 Research your area before your move
Discover area guides and trusted reviews by and for the military and veteran community for local neighborhoods, base housing, moving companies, lenders, schools, and more.
Join for free
PCSgrades and Realogy Military Rewards
For over 30 years Realogy's nationwide network of A-Team agents has served the military and veteran community with 95% of their customers, just like you, recommending their agent and the program. PCSgrades is proud to offer Realogy Military Rewards.
Get Started