Naval Air Station Whidbey Island
Near Oak Harbor, on Whidbey Island, this base boasts a relatively large number of military including active duty, reserves, retirees and their families, a population totaling around 38,000. Like Fairchild AFB, NAS Whidbey Island was also established during WWII and today supports training activities for multiple squadrons and serves as the Center of Excellence for Electronic Combat Warfare Training.
Read More
Off-Base Neighborhoods
Aside from the RPP homes, there is also nearby Oak Harbor with a median home cost of $350,000. This price at this Pacific Northwest military base is slightly higher than the median home cost in Washington state but not nearly as high as Seattle.
On Base Housing
Hunt Military Communities manage Public/Private Venture (PPV) Housing. There are ten neighborhoods and a set of apartments to serve, some on base and some available through a Rental Partnership Program (RPP). This program is designed to help military families find secure and affordable off-base rental communities.
Schools
Washington state is ranked 19th in the country for elementary schools, but 2nd in the country for higher education. Military families have a number of districts from which to choose, so you won't find schools on every Pacific Northwest military base. Unlike some areas of the U.S., districts in Washington State do not necessarily coincide with local city, town, or county boundaries. NAS Whidbey Island is part of the Oak Harbor School district, which includes 5 elementary schools, 2 middle schools, and 1 high school.
Cost of Living and BAH
Washington State is among the most expensive states in which to buy a home. Median prices are a little over $300,000, and the general cost of living is high as well. Seattle is by far higher than towns like Spokane or Tacoma so it might be a wise move to buy well outside of the city of Seattle. Naval Air Station Whidbey Island BAH ranges from $1,173 to $2,193 for enlisted. BAH at Whidbey begins at $1,314 for O1 without dependents and goes up to $2,577 for O7 with dependents.
BAH Calculator
Housing Costs
The housing market on Whidbey Island is very competitive. Houses list at an average price of $244 per square foot, or $375,000 listing price, which is an increase from last year.
Weather
Western Washington is characterized by plenty of rain, pocketed between the mountains and the Puget Sound, but as Washingtonians say, "there's no bad weather, just bad clothing." Seasons are mild, but the green landscape is consistent all year long. Springtime will bring an abundance of blooming flowers. Summer in Washington is the best around with sunshine, blue skies, and temperatures rarely exceeding 85 degrees. Snow makes wintertime in Washington a blast. It may not stick around for long, but while it lasts, everyone enjoys snow sledding, building snowmen, and skiing in the nearby passes. Colorful maple leaves blanket the trees and ground in the Autumn, making for picture-perfect leaf fights.
Base Amenities
The Convergence Zone on NAS Whidbey Island is the place to be for everyone. It has a toddler play area, bowling alley, indoor playground, and gaming systems for kids of all ages. It also has a resource center with fax, copy, and printing services, computers, and Wi-Fi. Billiards, air hockey, and foosball are also available as well as Kegler's Bar & Grill for a night out. There is also a movie theater, running trail, and a campground/beach on base. NASWI is an outdoor lover's dream. Fishing, boating, hiking, and hunting are all available in the area.
Area Attractions
Due to the diversity of the region, almost everything is available here. Mountains, hot springs, microbreweries, music, big cities, and college towns. One of the favorites is Mt. Rainier, the famous snow-capped summit that you can sometimes see through the clouds. Additionally, the Emerald City of Seattle is a progressive and artsy city, home to a 7-ton bronze statue of Lenin and a giant troll under a bridge.
Enjoy Whidbey Island's two veteran-owned wineries, Holmes Harbor Cellars, and Comforts of Whidbey Winery.
Have a toddler or preschooler? Make sure to check out the local chapter of Tiny Troops Soccer to help your little one PCS with fun, soccer, and friends! Enjoy the history in Steilacoom, it's the oldest incorporated city in Washington, established in 1854! If soaking up history doesn't sound like fun to you schedule some family (or solo) time at the beach or enjoy a 20-minute ferry ride to Anderson Island.
Tacoma: Take off on the light rail and visit the Museum of Glass, the Museum of Art, or the Museum of History located in downtown Tacoma or root for the home team at a Ranier baseball game at Rainer Stadium.
There is so much to see and do in Seattle and it's only about an hour away. Spend your day exploring the birthplace of coffee culture and grunge and make sure to visit the famous Pikes Place Market or head to the waterfront to ride the Great Wheel or visit the Seattle Aquarium.
Mount Rainier is an active volcano that stands a whopping 14,410 feet above sea level. The Mountain and surrounding National Park makes for a perfect get-a-way with activities for everyone. Spend the day hiking, sledding, and snowboarding! Pay tribute at the Mount Rainier National Park Valor Memorial.
Canada! That's right Canada. Visit our northern neighbors easily by taking an Amtrak train to downtown Vancouver or riding the Clipper ferry from Seattle to Victoria B.C.
Food and Drink
The Pacific Northwest is noted for their seafood, specifically crab and salmon. Aside from seafood, seasonal fruits and veggies are also included in popular regional dishes. Food trucks and carts have become wildly popular in urban areas, serving up fast and fresh option that allows residents to grab a quick lunch or dinner. The area also has a huge craft beer and coffee culture even outside of Seattle, home of Starbucks, and the region is a leader in the industry with many shops roasting their own beans.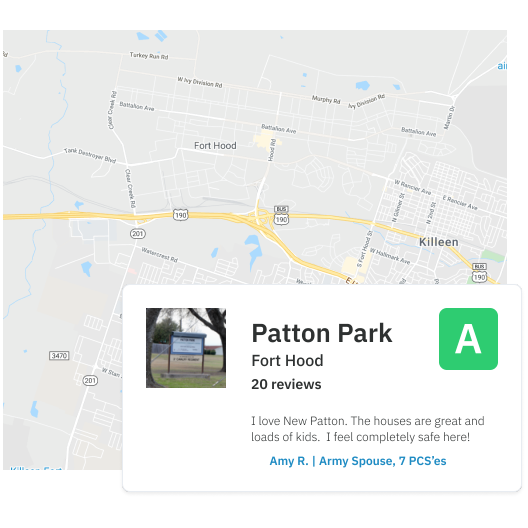 Research Your Area Before Your Move
Discover area guides and trusted reviews by and for the military and veteran community for local neighborhoods, base housing, moving companies, lenders, schools, and more.
Access Review