Naval Air Station Pensacola
Pensacola is the most western city in the Florida panhandle on the border of Florida and Alabama. This beautiful city lies on the Gulf of Mexico and is the oldest European settlement in mainland America. Pensacola is home to the Blue Angels and Naval Aviation. But you're going to find all branches here. (Even the Army!) Families come and go, and often they begin their career here in training and then come back several times before retirement.
Read More
Off-Base Neighborhoods
Most people live outside the back gate, heading towards Perdido, or up north towards Milton, Pace, and Cantonment. While traffic has its moments, overall it's not a bad commute, even if you are driving 20-30 miles away from the installation. Though, on summer weekends, the traffic to and from the beach areas can double that drive time.
On Base Housing
Housing on Corry Station, NAS Pensacola, and Whiting Field are all operated by the same privatized housing company, Balfour Beatty. Service members assigned to this area can choose to live in any of the communities, though most people tend to live off the installation, out in town.
Schools
Escambia County, Florida (where NAS Pensacola is located) is the second-poorest county in the state. This makes education a concern for many parents and pushes them to live off of the installation and utilize school choice whenever possible.
Cost of Living and BAH
NAS Pensacola BAH rates have increased in recent years, to match the rising cost of living in the area. You can use your BAH to find plenty of options to rent or buy in the surrounding area. NAS Pensacola BAH varies depending on rank and whether or not you have dependents. To determine your BAH at NAS Pensacola, use our BAH calculator.
BAH Calculator
Housing Costs
The overall cost of living for the Pensacola area is 8% lower than the national average with the median rent cost at $1,100 and the median home purchase price of $133,100. There is also no state income tax making this an attractive place to purchase.
Weather
Yes, Pensacola is in Florida, but the weather isn't always hot. In the winter, it can get quite cool, but you don't need to worry about snow storms here. Even into October, you'll be running your air conditioner and cherishing the slightly cooler mornings. The humidity, however, is something you'll have to get used to. It's hot, it's sticky, and the summer rain just makes it worse!
Base Amenities
Pensacola base amenities include a Commissary and large Navy Exchange. MWR managed base events at the Base Theater and group exercise classes at the gyms. There are four gyms on base, as well as the NASP jogging trail and the wellness center. MWR also hosts local trips and tours for families.
NAS Pensacola has a golf course and also two marinas, where you can rent equipment or take a class. The base has a CDC and a Youth Center for military kids. The Portside Food Court has some casual dining options, and there are several additional restaurants and cafes scattered across the base.
Area Attractions
Pensacola plays host to two minor league sports teams, the Blue Wahoos (baseball) and the Ice Flyers (hockey). These games are a great place to mingle with the locals and appreciate live sports, at a fraction of the cost. Wanna bring the kids to the Wahoos stadium? Get "standing room only" tickets, bring a blanket, and head out to the grassy hill right field. Hockey kicks off in late October and there are several military appreciation nights with steep discounts, as well as a chance to nominate your hero to drop the puck in center ice for each home game. Show your new hometown pride and cheer on your local Pensacola team!
Downtown Pensacola has something for everyone, restaurants, galleries, ice cream shops, a park, and museums. The T.T. Wentworth Jr. Florida State Museum is one of the history museums that is housed in a three-story building. Close by is the Pensacola Museum of Art and the Pensacola Children's Museum in the Seville Quarter. All tickets purchased, at any of the museums in the group, are valid for seven days, so you can easily view them all. Annual membership is also quite affordable for those who like to revisit.
For those wishing to climb the historic Pensacola Lighthouse, the views are spectacular. Coast Guard history, maritime history, a museum store and the restored 1869 keepers' quarters are included in the available exhibits. It's only 177 steps to the top, and frequently ghost hunts are available for those with an extra sense of adventure.
Pensacola has some of the most beautiful beaches in the country. A favorite among military families is Johnson's Beach, located in Perdido. As a national park, it's free to military families, and the amenities make it a very desirable location. The beach on NAS Pensacola is often the first one families experience, as the Navy Lodge looks right out onto it. The waters are pretty calm and the sand is soft. Pensacola Beach plays hosts to many events throughout the year, which makes it busy but fun.
Pensacola has so much aviation history, that it's impossible to see it all in one day. But those visiting the aviation museum have the best chance. Located on NAS Pensacola, this museum has over 150 restored aircraft that represent the history of Navy, Marine Corps, and Coast Guard aviation. It's huge, with inside exhibits filling the 350,000 square feet and outside exhibits across the 37-acre grounds. On certain weekdays, the Blue Angels practice right over the museum, so special seating is available to view that. And on extra special days, the pilots will come to that area and meet with fans.
For fresh produce, homemade bread, and a great atmosphere, the Palafox Market on Saturdays is the place to be. Grab some coffee at Fosko's Coffee Barre and then stroll through the market. Be sure to stop and listen to the String Farm play and admire the handmade souvenirs that are sprinkled in among the vendors.
Have a toddler or preschooler? Make sure to check out the local chapter of Tiny Troops Soccer to help your little one PCS with fun, soccer, and friends!
Food and Drink
The food in Pensacola is something else. Why not try seafood when you can see the beach from your table in the restaurant? There are some great bars, gastro pubs, burger places, and even fine dining. A popular chain restaurant called The Shrimp Basket is a favorite for weekday lunches. Several beachside restaurants have a contained sand area for kids to play while adults relax with a cocktail. Master's Champion Bubba Watson is a native of the area, which makes Bubba's Sweet Shoppe a great place to visit for fudge or ice cream.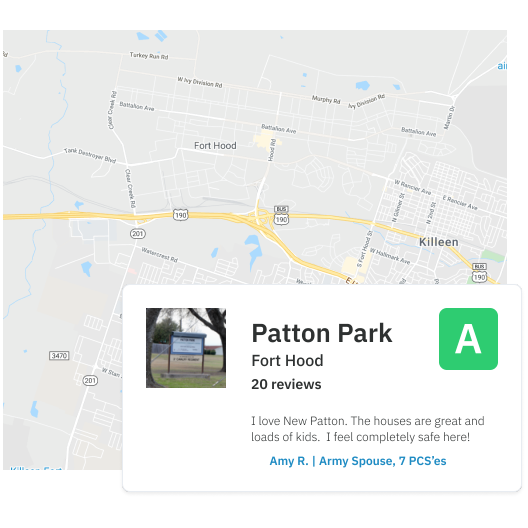 Research Your Area Before Your Move
Discover area guides and trusted reviews by and for the military and veteran community for local neighborhoods, base housing, moving companies, lenders, schools, and more.
Access Review