Naval Air Station Patuxent River
Nestled near the tip of Southern Maryland lies Naval Air Station Patuxent River better known as PAX River, home to Naval Air Systems Command (NAVAIR) and Naval Warfare Center Aircraft Division (NAWCAD), it is called the place where the future of naval aviation begins.
While being in the forefront for naval aviation is NAS Pax River's claim to fame, the area itself holds a unique charm and beauty. With a host of restaurants, chain and independently owned, parks, beaches and lively community, the area known as St. Mary's County is not one to bore. It has the small city with a touch of country charm that appeals to those who love the city and those who feel more at home in the country. It's just over an hour from our nation's capital and two hours from Baltimore.
Read More
Off-Base Neighborhoods
For those looking to live off base, some popular options are:
Glen Forest – right outside of Gate 2 with 2-4 bedrooms

Challenger Estates – 10-15 minute drive from the main base, officer single-family homes, and enlisted duplexes ranging from 3-4 bedrooms

Columbia Colony – Officer housing right behind Target, single-family homes with 3-5 bedrooms about 5-10 min from the main gate.
On Base Housing
Housing is abundant. Owned and operated by Lincoln Military Housing, Pax River has six housing areas in all. The three located on base are:
Lovell Cove – newer with 3-4 bedroom spacious homes

Carpenter Park – historical and renovated, also hosts 3-4 bedrooms

Gold Coast – Officers housing – lies in the heart of the Patuxent River
Schools
Schools are highly rated and are all a part of the St. Mary's County School District, where per their website, "Over 94% of our students graduate ready to take on the challenges of college or careers. With almost 18,000 students, our school system is large enough to offer a wide variety of academic programs and services, yet small enough to maintain an atmosphere of friendliness, helpfulness, and personalized service."
With a host of early childhood education programs, 19 elementary schools, five middle schools, and four high schools, there is room for your children no matter their grade level. There are also abundant extracurricular activities for your students to explore their hobbies and interests.
Cost of Living and BAH
Southern Maryland has a moderate cost of living, since it is not far from the DC metro area. It is more affordable and less developed than Northern Virginia, but still more expensive than many rural military bases. Patuxent River BAH matches the local cost of living. BAH at Patuxent River varies depending on rank and whether or not you have dependents. To determine your BAH at Patuxent River, use our BAH calculator.
BAH Calculator
Housing Costs
The median home price in Patuxent River is $191,800. Average rent for a 3-bedroom apartment is $1,821. Many military families find options to use their BAH to rent or buy off base.
Weather
Maryland experiences the four distinct seasons of fall, winter, spring and summer.
Winters are relatively mild, with an average snowfall for the region of 14 inches, with most of it falling in January and February.
Summers are hot, with high temperatures reaching 87 in July.
Mild temps stick around in September and October, but by Halloween, the fall foliage is in full view with the vivid colors of autumn.
Base Amenities
When you first arrive, you can stay at the pet-friendly Navy Lodge or the Navy Gateway Inn. If those are not available, there are a host of hotels out in town that are military and pet-friendly.
NAS Pax hosts a gorgeous beach along the back end of the base. It also has a beach house that has a private beach as well. The Base also hosts a Navy Exchange (NEX) for service members to take advantage of savings on otherwise high-priced products. For groceries, there is a small commissary.
Area Attractions
Probably the BEST part of St. Mary's County is the parks and beaches! They are plentiful and there is one of each to suit every need.
Lancaster Park located on Willows Road right outside of Gate 2 has two dog parks for both large and small furry family members. Other amenities include a beautiful jogging trail, football fields, basketball hoops and baseball fields. It is also home to the Little League football team the Pax River Raiders!
NAS Pax River has some of the best parks in the area. Many are nestled on the beach on base or in hidden areas. They are all clean and all provide seating areas, grills, and a scenic view. Who knew?!
St. Mary's River State Park is $3 per vehicle. It boasts a long trail that you can walk, ride a bike or horse on, or have access to the water.
Nicoleti Park is $2 per person per day. They also have the option to purchase season passes for the family or single individual. This park is a water fun type that has plenty of spray and fountain fun for the kiddies to enjoy.
There is also Greenwell State Park where admission is on the honor system. It hosts trail rides and a historical home where weddings take place. It is also a favorite spot for those that like to fish and for photographers who enjoy the scenic setting for their clients.
Pointe Lookout Park is the gem of the parks in the area. It sits at the southern tip of Maryland and hosts not only a park, but a fabulous beach as well. There are plenty of spots for fishing, camping, and just all-out family fun. There are 143 wooded campsites and 6 camper cabins available for overnight stays. Did I also mention this park is also a civil war museum? All around the park there are historical markers to educate you on how that area participated in the war. Admission varies and it's on the honor system. Shopping isn't sparse either! While the closest mall is 45 mins away in Waldorf, MD, there are still PLENTY of shops! JC Penny, Belk's, and Kohl's are the major Department stores in the area, along with Target, Wal-Mart, Marshalls, Ross, Best Buy, and a slew of other stores. Weis is coming soon to replace two local Food Lions. There is also a Giant, Aldi, a Harris Teeter, and Shoppers which offers a 10% military discount on total purchases on Mondays and a 15% military discount on Shoppers brand products all other days. DAY TRIPS:
Washington D.C., – 85 miles; 1.5-hour drive: Monuments, Smithsonian, the White House, history comes alive at the Nation's Capitol!

Annapolis, Maryland – 85 miles; 1.5-hour drive: Gorgeous town, quaint restaurants, and the Naval Academy!

Philadelphia, PA – 185 miles; 3.5-hour drive: Make like Rocky and take a run up the steps of the Philadelphia Museum of Art. History comes alive on Independence Mall and at the Liberty Bell and local Philly cuisine is available at the historic Reading Terminal Market.

St. Michael's, Maryland – 112 miles; 2.5-hour drive: Maryland's Eastern Shore features crabs and scenic water views like no other!
Food and Drink
A host of restaurants along the main strip (Three Notch) include: Outback, Applebee's, Texas Roadhouse, and Olive Garden.
There is also the locally owned and loved Linda's café, who makes the BEST breakfast in SoMD, and Bollywood Marsala, a fabulous Indian restaurant that never disappoints.
There are plenty more restaurants in the area to please your palate. Plus, you are in Maryland now, so learn how to pick steamed blue crabs and enjoy them with lots of Old Bay seasoning.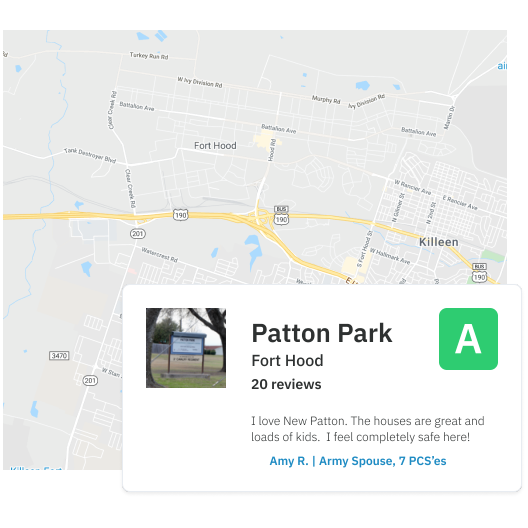 Research Your Area Before Your Move
Discover area guides and trusted reviews by and for the military and veteran community for local neighborhoods, base housing, moving companies, lenders, schools, and more.
Access Review