Naval Air Station Lemoore
Naval Air Station Lemoore is located in the central valley of California. It is about 40 minutes from Fresno or 30-40 minutes from Visalia, CA and about 2 hours from the Central Coast-Pismo Beach area. Established in 1961, the base is surrounded by the agricultural zones of the San Joaquin Valley. The local area has a small home town feel, with parades and good times. For some military families, it is a big adjustment, but others grow to love it. Lemoore is a small town but close enough to larger cities. It is truly a very friendly community and a place to call home. Embrace the small town atmosphere and get involved with the community. There are lots of community events to enjoy and the people here really do care.
Read More
Off Base Neighborhoods
Lemoore is the closest city to the base with single family, multi family, and new construction, along with historic areas. Hanford is about 8 miles from Lemoore--it too has a lot of historic areas, as well as new construction along with single family and multi family homes.
Base Housing
Get free, objective reviews from our community on base housing to help make the decision to live on base or off.
Explore Base Housing
On Base Housing
On base housing at NAS Lemoore is managed by Lincoln Military. They have 1,630 homes in 6 communities on base, all available for E1-E6 families. Stone Park and Reagan Park are open to officers as well. Pets are allowed in base housing, and there are two community swimming pools.
Schools
There are two schools located on base which are part of the Central Union School District; they are Akers Elementary and Neutra Elementary. Base residents attend the Central Union SD for elementary levels and move to the Lemoore Union High School District for secondary education. Bus transportation to Lemoore high schools is provided. There are also three high schools in the Hanford Area for residents that live in that area.
Cost of Living and BAH
NAS Lemoore BAH is very low, due to the low cost of living in the area. The central valley is rural and agricultural, and the base is rather distant from large cities. BAH for enlisted with dependents begins at $1,380 and goes up to $1,743. Lemoore BAH for officers ranges from $1,515 to $2,151. There are numerous ways to use BAH to buy or rent off base.
BAH Calculator
Housing Costs
The average house in Lemoore will cost you in the upper $200,000s. Inventory is so low that homes hit the market and are typically gone within hours to a few days. Prices are climbing for average home prices in Lemoore and Hanford. Rent has gone up in the past two to three years. Apartments with 1-2 bedrooms will now cost you as low as 800 but some are in the 1100-1200 range. Houses are typically above 1,200 to rent if you can find them. The price of gas is the cheapest in Lemoore, even cheaper than on base-expect to pay $.45-1.00 a gallon more in Hanford, even at Costco. Groceries are a little more expensive in Lemoore due to the fact that they only have one major grocer: Save-Mart, and a couple other small town grocery stores. 7-8 miles away you will find a Super Wal-Mart, a Target, and a Food's Co along with a Save-Mart and a couple of Best Buy markets, and of course Hanford has a Costco. To really save a little you will need to travel to Visalia. They have a lot of options including a Winco. Utilities are a little higher than in other states with water being typically $75-125 a month and this includes the sewer and the garbage. We do only have one cable/internet carrier that is Xfinity-Comcast. Overall, property taxes are low.
Weather
NAS Lemoore is in California's central valley, with is hot and dry for the majority of the year. Summers are sweltering, with average temperatures in the upper 80's to lower 90's. Winters are cooler, but not cold enough to snow. There is a slight chance of rain during the winter months, but it is generally just overcast. The windy season in the spring and early summer picks up a lot of dust from the surrounding farmlands, which can irritate allergies and cause some breathing and coughing problems.
Base Amenities
NAS Lemoore has two fitness centers and three pools on base. Like many military bases, they have a Commissary and NEX, plus a bowling alley and movie theater on base with discounted rates for military families. There is a picnic area next to the Spuds Pool. The Liberty Center has activities and trips for single service members. ITT has discounted tickets for tickets and tourism activities. The Fleet and Family Center offers classes, activities, and sports for military families.
Area Attractions
There is a farmer's market weekly in Hanford from late May until the end of September. The Concerts in the park with KJUG Country Radio bring out country hit singers such as Carly Pierce, and Cole Swindell. The Sarah A. Mooney Museum is also located in Lemoore. The beautiful Victorian home was built by one of Lemoore's original pioneer families, Aaron and Sarah Mooney in 1893. Tachi Palace Casino and Coyote Entertainment Center is a place for the whole family with arcades, bowling, and a movie theater. Kelly Slater Wave Park is a surfing wave park created and ran by Kelly Slater. Numerous surf competitions take place As for day trips, It is a must to go head to Sequoia National Park only 1.5 hours away. Fresno is a short drive where you can check out the Forestiere Underground Gardens which is truly a unique place. There is also the Fresno Chaffee Zoo, or you can go skiing at China Peak Mountain Resort. Water skiing at Shaver Lake or picnicking at Yosemite National Park are both local favorites.
Food and Drink
There is all the usual traditional fast food in and around Lemoore such as Taco Bell, Mcdonalds, Jack in the Box, Burger King, Popeyes, KFC, and numerous pizza places. There are also restaurants such as Applebees, Buffalo Wild Wings, Chipotle, and Dickies. In Lemoore, you will find several Mexican restaurants, a couple of sushi restaurants, and a Thai restaurant.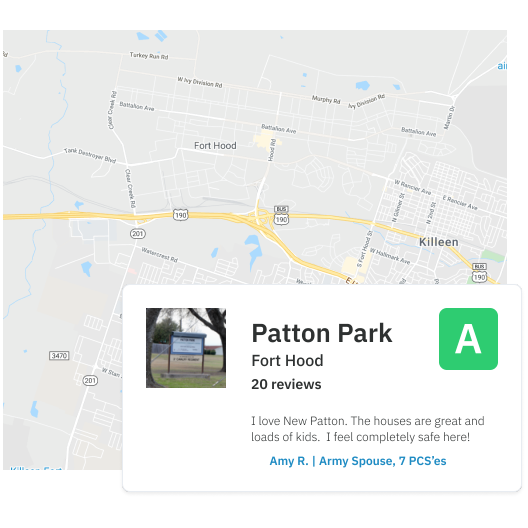 Research your area before your move
Discover area guides and trusted reviews by and for the military and veteran community for local neighborhoods, base housing, moving companies, lenders, schools, and more.
Join for free
PCSgrades and Realogy Military Rewards
For over 30 years Realogy's nationwide network of A-Team agents has served the military and veteran community with 95% of their customers, just like you, recommending their agent and the program. PCSgrades is proud to offer Realogy Military Rewards.
Get Started