Naval Air Station Great Lakes
Naval Air Station (NAS) Great Lakes is located in Illinois, about 45 minutes north of Chicago (without traffic). It is the largest training station for the United States Navy and home to the Naval Recruit Training Command, Naval Training Support Center, and the Navy Recruiting District Chicago. Known as the Quarterdeck of the Navy (and to some the "Great Mistake") this training command post is filled with new recruits and constant training missions. NAS Great Lakes is about 25 minutes from Chicago O'Hare airport, and close to both the Wisconsin and Michigan borders where many people take lake vacations.
NAS Great Lakes is known as the "Quarterdeck of the Navy." With it being the only boot camp for the Navy, it is a place most sailors start their naval journey. It is also one of the Navy's central most training commands. It has a high tempo environment, with companies and sailors training and completing exercise missions. Every year, from April through October, you have the opportunity to tour the Quarterdeck of the Navy via a guided tour. Tours are only for groups in sizes 15 or more. It is perfect for youth groups like Boy Scouts, Girl Scouts, and NJROTC cadets.
Read More
Off-Base Neighborhoods
If you are looking to rent off base, Libertyville is a highly sought-after area. It is only five miles from NAS Great Lakes, and you can find housing that is typically larger than what is provided through base housing. Lake Bluff is also another neighborhood with highly-rated schools that many military families love.
On Base Housing
Hunt Military Community manages military housing located both on the installation and out in the local community. Forrestal Village, Fort Sheridan, and Nimitz Village are all located off base with a maximum of a 20-minute drive to the gate. Forrestal Village and the Nimitz Village housing area off base still offer amenities such as an NEX Mini Mart, MWR services, and fitness centers. Fort Sheridan doesn't have the same amenities, but it is newly constructed. Some houses overlook Lake Michigan making it very appealing. All housing areas offer both officer and enlisted housing.
Glenview and Halsey are located on base at NAS Great Lakes. They offer housing for enlisted families and are located conveniently near the NEX commissary and other amenities such as MWR services.
Crane Community is located at NSA Crane, a short drive from NAS Great Lakes. Houses in this community are charming, renovated farm style homes that are a bit larger than other homes on base. There is both officer and enlisted housing available.
Schools
There are no schools on base, so no matter where you live, military kids will attend local public schools (unless you choose to homeschool or attend private schools.) Illinois law states that children must live within the boundaries of the school they attend, so be sure to match a school search to your housing search.
On base housing areas are zoned for North Chicago School District 187. Fort Sheridan Housing area is zoned for North Shore School District 112 or Highland Park High School district 113.
Cost of Living and BAH
The cost of living around NAS Great Lakes is a bit higher than the national average. NAS Great Lakes BAH varies depending on rank and whether or not you have dependents. To determine your BAH at NAS Great Lakes, use our BAH calculator. If you are in the market to buy a house, it is a great time to do so in or around North Chicago as home appreciation is expected to increase within the next few years. But be mindful of the city ordinance taxes as those are high and can increase your overall cost of living.
BAH Calculator
Housing Costs
If you are looking to buy a home, the median cost is $390,006 which is a hefty price tag for most families. Taxes are heavy in Illinois and can cost anywhere between $4,000 and $18,000 annually.
Weather
When you think of Chicago, you probably think cold and windy. And you'd be right. Temperatures in the winter can dip to minus 20 degrees, making it feel like a polar vortex all winter long. Snowfall is not uncommon, and some winters residents can see a few feet of snow several times per year. On the complete opposite end, however, summers are hot and humid with an average temperature of 86 degrees and 100% humidity in July. Residents of NAS Great Lakes do get some reprieve with spring and fall as temperatures are much more comfortable during those months, and many people venture off to surrounding lakes to beat the heat.
Base Amenities
NAS Great Lakes has one commissary, a Naval Exchange, and several MWR Mini-Marts located both on and off base. There are three child development centers and a youth center. NAS Great Lakes has a field house with outdoor fitness areas, a fully equipped gym, basketball, volleyball, and racquetball courts, as well as a climbing wall. Group classes are also offered.
Entertainment on base is readily available, too! There is a bowling alley, a marina with rentals available, a movie theater, a golf course, and other outdoor recreation rentals available. Live@525 offers live events such as music and comedians. There are several restaurants on base as well including Sam Adams Brew House, Legend's Sports Club, and the Galley.
Area Attractions
There is no shortage of things to do at NAS Great Lakes being so close to downtown Chicago as well as close to both the Wisconsin and Michigan border. It is only a 40-minute drive to Chicago and a little over an hour to both Wisconsin or Michigan, making it easily accessible for a day trip to any of the area attractions.
NATIONAL MUSEUM OF THE AMERICAN SAILOR: Located on base at NAS Great Lakes, the National Museum of the American Sailor is a must when stationed aboard this installation. It provides insight into the history of the Navy. They also have special events like War-Gaming, the SeaPerch Competition, and guided walking tours of NAS Great Lakes.
NAVY PIER: The Navy Pier is in downtown Chicago and is known as a place for fun for the entire family. There are rides, restaurants, and shopping surrounding the area, as well as amazing Naval ships available to tour. You can dine, shop, or even have a water tour of the city here.
SHEDD AQUARIUM: The Shedd Aquarium is located on the shore of Lake Michigan and houses over 32,000 fresh and saltwater animals. There are penguins, sharks, whales, sea turtles, an amazing array of fish and more at this unique and fun aquarium. It is $40 per person ($30 for children) for general admission.
LINCOLN PARK ZOO: Located in downtown Chicago, the Lincoln Park Zoo is free for guests with a $19 fee for parking. It has over 1200 animals, and is a wonderful day activity for families. Be sure to visit in the spring or fall for best views of the animals. Many are kept indoors in the winter, or they don't venture out on hot summer days!
GURNEE MILLS MALL: Looking to do some shopping? Gurnee Mills Mall has hundreds of outlet stores to get your fix. There are over 200 stores, several restaurants, a movie theater, an ice skating rink, miniature golf, and laser tag.
CHICAGO CITYPASS: If you find yourself wanting to visit downtown Chicago regularly while stationed at NAS Great Lakes, you might want to look into getting a Chicago City Pass. With this pass you have access to Shedd Aquarium, the Field Museum, Museum of Science and Industry, 360 CHICAGO, Adler Planetarium and the Art Institute of Chicago. The pass includes special discounts at most attractions and is the best bang for your buck at $75 per pass. ITT sometimes has special rates, so be sure to check there first.
MICHIGAN AND WISCONSIN: At only an hour drive to each state's border, both Michigan and Wisconsin are close enough for quick day trips. Many families flock to Michigan for water activities, hiking, and camping in the summer. Others go to Wisconsin in the winter for snow activities.
Food and Drink
Chicago is the home of deep dish pizza. Once you've tried it, you may never want to go back to floppy pan pizza! You can try a pie almost anywhere in the city, but the best is supposed to be from Lou Malnati's. The other local speciality is the Chicago-style hot dog, which is topped with peppers, onions, and a slice of pickle.
Because Chicago is such a large city, you can find any style of food and your favorite chain restaurants in the area.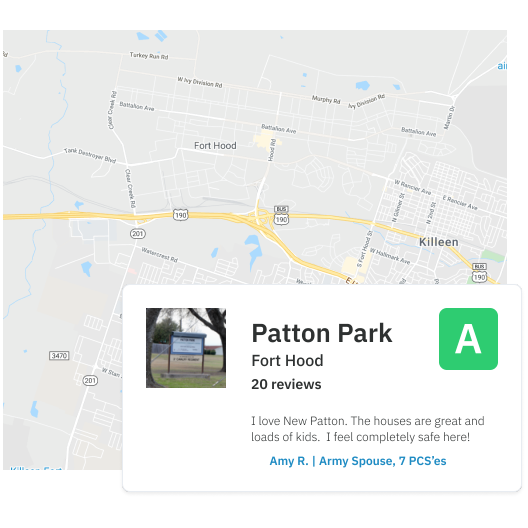 Research Your Area Before Your Move
Discover area guides and trusted reviews by and for the military and veteran community for local neighborhoods, base housing, moving companies, lenders, schools, and more.
Access Review