Naval Air Station Fort Worth (Joint Reserve Base Fort Worth)
NAS Fort Worth Joint Reserve Base (NAS FWJRB) is conveniently located seven miles North/Northwest of downtown Fort Worth. It's about 10 minutes to downtown Fort Worth. The base is 30 miles from Dallas, which is the next major city to the east.
This is a reserve base, so it'a very different from an active duty base, since most of the service members have civilian jobs in the community. This base's runway is shared by Lockheed, a major employer in the area. Fort Worth is a very pro-military area. The community just came together to support a new F-35 conversion of the base, a HUGE contract for keeping the base relevant and for the local community to continue to be a draw for employers.
Get ready to live in a town where military are very appreciated. People are always buying lunch or dinner for our service men and women to thanking them for their service. There are many non-profits who exist only to help with our military families needs, from helping at Christmas for the enlisted folks who may need help to funding Morale and Welfare programs on the base.
Read More
Off-Base Neighborhoods
Fort Worth and the surrounding areas have been in high growth mode for the last few years. Builders are putting up new homes as quickly as they can and selling out communities before they even break ground. On the north side of base, there are established communities of 1940s-1970s era single family housing. These are more toward first time buyer or budget prices in nearby Samson Park and River Oaks. In Eagle Mountain Lake area, you can find homes from the mid $250,000s to over $500,000. The ages of this Marine Creek area average 1980s to new builds. Multiple apartment complexes are available, and range from budget to newer trending active lifestyle with amenity centers and higher quality finishes. On the south end of base, you can find housing in older townhomes and apartments. Going into the Hulen area, there are single family residential properties built between 1950-1990. Downtown, you can find condos and apartments, but the price is significantly higher per square foot. The T&P condos are art deco style built in 1928 and offer a nice variety of amenities.
If you want land, head to the west towards Weatherford. In the surrounding areas, there is still a lot of land to be developed for home needs.
On Base Housing
There is limited on-base housing at FWJRB. The Commander's homes are the historic homes with some houses that were built in the 1950s. Most people live off base, since base housing is so limited, especially for enlisted families.
On base housing is managed by Balfour Beatty. The floor plans include 2, 3, or 4-bedroom layouts. The community includes playgrounds and a basketball court, and it is pet-friendly.
Schools
There is no school on Fort Worth Joint Reserve Base. The school district for those who do live on base is not the most highly rated. Eagle Mountain Sagniaw is the school district that serves the Marine Creek area. Fort Worth ISD serves the remaining nearby area. The surrounding areas school districts all vary in ratings. There are many private school options.
Some of the closer districts have been working on their ratings to draw more people to the area. White Settlement ISD is directly north and historically had low ratings, but the past few years the focus on schools has increased their ratings and this has brought builders and new home buyers and families to their community.
Cost of Living and BAH
Average homes in the area cost $400,000. Home price averages around the base are $280,000- $350,000 for a 3-bedroom, 2-bath built in 1985 or later. The cost of living is lower than the national average. Military families will find it very difficult to find housing that is covered completely by BAH until they are at an E7 or above. BAH for Forth Worth JRB varies depending on rank and whether or not you have dependents. To determine your BAH at Fort Worth, use our BAH calculator.
BAH Calculator
Housing Costs
In the current market conditions, listings are going very quickly. The average is creeping up, with costs for new homes increasing due to supply shortages. The cost of living in North Texas is still affordable compared to the rest of the country. People who move here from out of state always comment they can get much more house and property than where they are moving from. The average home sale is around $300,000 in the surrounding areas of the base. Military families are able to find rentals and sale options, but the choices are fewer.
Both rentals and purchase are in high demand and go quickly. Be prepared for low inventory, bidding wars and wait lists on new construction homes. Before planning to buy, know what you want. The economy is strong and the real estate market moves fast. The market is very competitive and listings are going under contract extremely quickly.
Weather
Weather in Texas is always like a meme: if you don't like the weather, just wait a minute and it will change. There are not really four true seasons, but there is a joke that in Texas you can have all four seasons in one day. Summer is long and very warm, and up to 100 degrees in some weeks. Fall is short. Winter is long, but normally not terribly cold or snowy. Our coldest months are December to February with temperatures landing between 29-59 degrees Fahrenheit on average. Every few years, there are random cold snaps that will drop into the teens at night. Spring is too short. March-June are the most enjoyable outdoor months, with temperatures between 59-90 degrees Fahrenheit.
Spring and Fall can bring tornados to Fort Worth and surrounding areas. The intense thunder and lightening storms can be a new occurrence for people moving here. Be prepared to know where to shelter. There are rainy seasons every 7-10 years that can cause some flooding on the river system and local lakes. There are drought seasons as well. Winter can bring ice and snow, but not for long durations of time. However, Texans have problems driving on snow and ice when we do have winter weather.
Base Amenities
The amenities on the Fort Worth Joint Reserve base include a gym, a commissary, a BX shopping center, a class 6 store, bowling alley, movie theatre, lake access with rentals on boats (prior to COVID), RV and boat storage, indoor pool and a library. There is no real fast food on the base, because right off base you can get anything you could ever want for fast food and other grocery stores and shopping. Base shopping has improved over the years, but the bowling alley and movie theater all are pretty dated.
Area Attractions
Fort Worth and the surrounding areas have many things to do. Nature lovers will enjoy biking the Trinity Trail system, hiking the parks throughout the area, enjoying fishing and water sports on the many local lakes, and hunting during the seasons.
There is great shopping from outlet malls to boutiques and antiques to high end shopping. There is so much entertainment! Fort Worth is the home of the Stock Yards with real cowboys and rodeos, a world famous zoo and several museums. Billy Bobs is a venue for many famous entertainers and occasionally hosts live bull riding on the weekends. There is a wide variety of restaurants and clubs all along Exchange Street and North Main.
Our annual art and food festivals are highly attended. Don't miss the Main Street Art Festival, Oktoberfest, Mayfest, and many other outdoor activities.
Just 20 minutes east of Fort Worth is Arlington, Texas, where you will find the Dallas Cowboys, Texas Rangers, Six Flags parks, and so much more.
Have a toddler or preschooler? Make sure to check out the local chapter of Tiny Troops Soccer to help your little one PCS with fun, soccer, and friends!
Food and Drink
Tex Mex! We have the best Mexican food, period. We also have some of the best Barbeque places, like Angelos. Salsa Limon, and Heim BBQ are both close to base. Get closer to downtown on 7th St and Magnolia and the choices are more varied. Right around base, there are a lot of chain restaurants.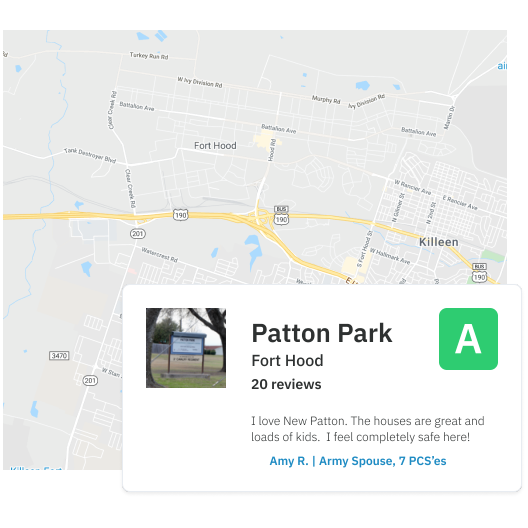 Research Your Area Before Your Move
Discover area guides and trusted reviews by and for the military and veteran community for local neighborhoods, base housing, moving companies, lenders, schools, and more.
Access Review