Dam Neck Training Center Atlantic
Dam Neck Training Center is located in Virginia Beach, VA right on the edge of Sandbridge. There are many military bases nearby, and this area has a large population of active duty military families and retirees. The smaller bases close by are NAS Oceana and Fort Story-Little Creek. Further away is the main base of NS Norfolk. North in the Hampton Roads area is Joint Base Langley-Eustis. Dam Neck is just a 10 minute drive from the oceanfront of Virginia Beach.
There are so many things to do and something for everyone in this area. If you're PCSing from a small city, traffic in the Virginia Beach area can be cumbersome, especially if you are traveling between cities. You must use a network of bridges and tunnels to get around the coastal Virginia area, so living close to work will help eliminate traffic. The good news is that everyone here is friendly and the community respects the military. Dam Neck is one hour from Richmond, VA, and three hours from our nation's capital.
Read More
Off Base Neighborhoods
Right near Dam Neck base there are quite a few single family home communities, the largest being Ocean Lakes (community started in the late 80s/early 90s). About 15 minutes away, you've also got the Hilltop area, which does have apartment buildings, but also plenty of single family home communities (high priced in some areas on the inlets). Chesapeake is about 20-25 minutes away, with some great single family home communities as well. You'll get much more bang for your buck there. If you really want land, Pungo is a great area not far from Dam Neck as well.
Base Housing
Get free, objective reviews from our community on base housing to help make the decision to live on base or off.
Explore Base Housing
On Base Housing
Lincoln Military manages base housing at Oceana and Dam Neck bases. There are five neighborhoods: three for enlisted families, and two for officers. The enlisted housing is considered base housing, even though each neighborhood is located a few miles away from base, in Virginia Beach. Some of the housing is older. Most options are duplex or townhouse-style homes with 2, 3, or 4-bedroom layouts.
Schools
There are no schools on Dam Neck base, but 11 High schools, 14 Middle schools and over 50 elementary schools are located in Virginia Beach alone. 56% of the schools are rated above average and 30% average. All of these schools serve our military community but most are concentrated toward the middle and eastern areas of the city.
Cost of Living and BAH
Unfortunately, the cost of living in Virginia Beach has risen, and Dam Neck BAH has not exactly kept up with it. This area is more affordable than Northern Virginia, but not as affordable as rural Virginia. The current market is very competitive for sales--rentals and listings sometimes go in days. Typically the BAH does not cover both housing and utilities, so do your research and be prepared for out-of-pocket utility payments. Dam Neck Training Center BAH ranges from $1,224 to $2,058 for enlisted. BAH at Dam Neck begins at $1,551 for O1 without dependents and goes up to $2,031 for O7 with dependents.
BAH Calculator
Housing Costs
The average home sales price in Virginia Beach is $267,000, and the market is moving quickly. Your proximity to surrounding cities makes it easier to find a variety of sale options. Single family rentals are much harder to come by but apartments/townhomes are available as well.
Weather
You can expect four seasons in Virginia. There are mild winters and warmer summers. Most years we get a small amount of snow in the winter months. Occasional Tropical storms or hurricanes are common July thru Sept. There are flooding corners in certain areas mainly in low lying areas of Norfolk, Portsmouth, and targeted areas within certain communities.
Base Amenities
Dam Neck is a smaller base, but their gym is relatively updated and they do have a bowling alley. The beach is by far the best amenity. Military families are welcome to use the amenities on other bases in the area as well.
Area Attractions
There is just about everything in Virginia Beach and near Dam Neck: night clubs, family friendly activities, state parks, water activities. You'll discover multiple tourist activities and areas to explore. There are ocean front shops, restaurants, and tourist entertainment in Virginia Beach. Visit the town center for festivals, music and restaurants. There is a Theater for occasional events and Museums throughout the surrounding cities.
These attractions are popular among military families in the area around Dam Neck:
Enjoy the miles of beaches, restaurants, and seaside shops in Virginia Beach.
Visit Norfolk, stroll along the downtown waterfront on the banks of the Elizabeth River, or stop by the Norfolk Waterside Marketplace which offers retail shops and dining.
Virginia Aquarium and Marine Science Center
Virginia Zoological Park
Chrysler Museum
Norfolk Botanical Gardens
Hampton Roads Naval Museum
Children's Museum of Virginia
Colonial Williamsburg is only an hour away offering historical areas and tours. The town of Williamsburg also hosts the Busch Gardens amusement Park.
The Blue Ridge Parkway is 3-4 hours from Fort Story, offering mountain getaways.
North Carolina's Outer banks is just across the boarder 45mins - 1.5 hours.
Public Hunting areas in Virginia are 1-2 hours away.
Food and Drink
Common Areas for popular restaurants include Red Mill, Oceanfront & Town Center. These areas serve a variety of chain restaurants and local favorites. Virginia Beach is a versatile city, serving all types of dishes, so you will find plenty to enjoy.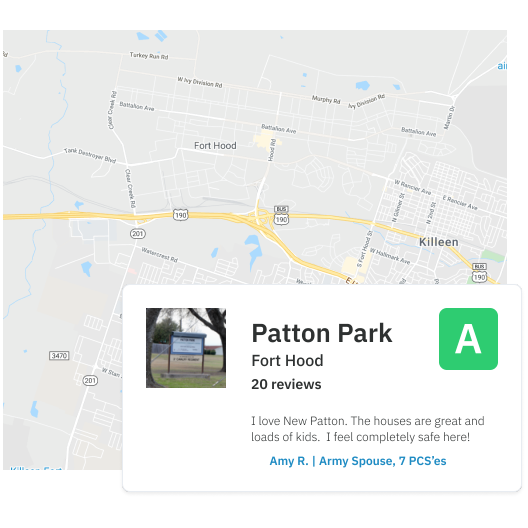 Research your area before your move
Discover area guides and trusted reviews by and for the military and veteran community for local neighborhoods, base housing, moving companies, lenders, schools, and more.
Join for free
PCSgrades and Realogy Military Rewards
For over 30 years Realogy's nationwide network of A-Team agents has served the military and veteran community with 95% of their customers, just like you, recommending their agent and the program. PCSgrades is proud to offer Realogy Military Rewards.
Get Started