Twentynine Palms
Marine Corps Air Ground Control Center (MCAGCC) Twentynine Palms (also 29 Palms) is located in the high desert region of the Mojave Desert, an hour and a half east of I-10 and Palm Springs, California. The site first held a Naval Auxiliary Air Station from 1942 to 1945.
MCAGCC, as a full Marine Corps base, has been in operation since 1949. It is currently one of the largest military training areas in the nation. Yes, it is quite isolated in the desert, but the community it offers cannot be beaten. There is a popular saying about Twentynine Palms, "You cry when you get here, and you cry when you leave." If you come with a positive attitude, you will love your time here!
Read More
Off-Base Neighborhoods
If you are looking to rent or buy off base, many families choose to commute from the neighboring towns of Joshua Tree and Yucca Valley. Though the drive to base can take 20-40 minutes, these towns offer a wider variety of shops, restaurants, and schools compared to the smaller town of Twentynine Palms.
On Base Housing
Lincoln Military Housing is the current provider of military housing at Twentynine Palms. There are nine neighborhoods on base, with one auxiliary housing development 5 miles from the main gate. The wait list and availability of housing tends to vary, so be prepared for a wait! There are temporary housing trailers available for some families while on the wait list.
Schools
Condor Elementary School is located on base at Twentynine Palms, and open to military children who live on or off base. It is also open to the local civilian population, and is considered one of the better schools in the area. 29 Palms Elementary School is located off base, but military families living in 801 housing will attend this school. It is also one of the best elementary schools in the area. The 29 Palms Junior High and High School are both located off base and are the only options in the immediate area. All are part of the Morongo Basin School District, which does offer bussing options.
Cost of Living and BAH
Although Twentynine Palms is located in Southern California, it is far enough inland to have a very low cost of living, especially when compared to coastal cities like Los Angeles or San Diego. Your Twentynine Palms BAH will give you options to rent or buy in the area around base, or to go further out to the more desirable town of Joshua Tree. Twentynine Palms BAH varies depending on rank and whether or not you have dependents. To determine your BAH at Twentynine Palms, use our BAH calculator.
BAH Calculator
Housing Costs
The median Morongo Basin (Twentynine Palms and its surrounding towns) home value is $210,000, with costs fluctuating as you move closer to the larger cities of Desert Hot Springs and Palm Springs. Due to the popularity of the Joshua Tree National Park, home values are expected to continue to rise over the next 12 months. Given the high heat over the summer, electricity costs should be taken into account when considering your home purchase.
Weather
The weather here is exactly what you expect from the desert. The summers will be hot, reaching into the 120's during June, July, and August.
Once you make it through the summer, the winter months offer a nice reprieve from the heat with temperatures in the 60's and 70's. There can even be an occasional taste of winter with temperatures dropping into the 30s and 40s. Many homes off base have swamp coolers which are evaporative cooling devices, instead of the typical central A/C unit. You may require a portable unit for those few hot weeks in July and August.
Base Amenities
MCAGCC has a large MCX with a Starbucks and a cafeteria. There is a commissary as well as two smaller gas stations. The base has two libraries, one of which is a children's branch with an attached indoor playground. Families may be interested in the three separate fitness centers (with workout classes), the bowling alley, and the splash pad. Each neighborhood also offers playgrounds for its residents. There is a large athletic field with a running track.
Area Attractions
The Joshua Tree Farmers' Market runs year-round and offers shoppers a wide selection of vegetables, fruits, prepared foods, and flowers. There is also a large assortment of locally made specialty goods. This market holds an arts and craft fair in both the Spring and Fall. The Farmer's Market runs rain or shine.
The Joshua Tree National Park is just 20 minutes from base. Offering a wide variety of hiking trails, this is a great spot for the avid hiker and novice alike. The park also has many campgrounds available. Active Duty military and dependents are gifted free admission so be sure to stop into the visitor center for your free pass, renewable each year.
Joshua Tree and Yucca Valley both have many thrift and antique stores. Grab a coffee from a local shop and take the afternoon to peruse the shelves. From furniture to records to vintage jewelry, you never know what you might be able to find.
Just 45 minutes from base, take a step back in time and walk the streets of the old west of Pioneertown. This small village has been used in several movies to include 2016's Lazy Eye and hosts festivals throughout the year. Staying for dinner? Grab a table at Pappy and Harriet's for great food and live music. This spot often offers the opportunity for celebrity sightings.
Water in the desert? Yes! Joshua Tree Lake offers a small fishing lake surrounded by both RV and tent camping. From the site, you will be able to see panoramic views of Joshua Tree National Park. Be advised; there are no rentals or food options at the lake. Pack your own equipment and lunch and spend the day by the water.
In May and October of each year, there is a local music festival in Joshua Tree. This family-friendly festival offers a weekend full of children's activities, yoga, food vendors, and art installations. For locals, there is a great opportunity for volunteering.
The Palm Springs Aerial Tramway offers a 10-minute ride up the side of the Chino Canyon on the north edge of Palm Springs. At the top of the mountain, there are two restaurants, a cocktail lounge, an observation deck, and over 50 miles of hiking trails. Each year, they offer free admission through the month of July to active duty and retired service members. Typically, the temperatures will be anywhere from 30 to 40 degrees cooler. This is a great way to take a break from the heat in July.
Another great opportunity to cool down in the summer is with a trip to the Whitewater Preserve just off of Highway 10. The Whitewater River runs year-round. During the summer, free weekend programs are available for children, which include bird watching, catch-and-release fishing, and art projects.
Palm Springs (1.5 hours) When you first arrive in Twentynine Palms, you will often hear people refer to going "down the hill." This applies to the drive down to Palm Springs and its surrounding cities. Palm Springs and Palm Desert are home to the closest Target, Whole Foods, Old Navy, and Trader Joe's. There is also a large mall in Palm Desert. When your shopping is complete, check out the downtown Palm Springs area that is full of delicious restaurants and quaint shops. If you really want to make a trip of it, book a tour of the mid-century modern homes in the area with a pit stop at Elvis' honeymoon home, which is open to tours.
Cabazon(1.5 hours): Cabazon is the home of both the small Cabazon outlets and the large Desert Hills Premium Outlets. This shopping destination has over 150 stores to check out. There is a Starbucks and a cafeteria on location, so there are plenty of options to make a day out of it!
Big Bear Lake (1.75 hours): If you are dreaming of a White Christmas, Big Bear Lake is the spot for you. The winter months blanket the mountain with plenty of snow for skiing and snowboarding. If you are taking the trip in the summer, enjoy several hiking trails, water skiing on the lake, and the local farmers' market.
Lake Arrowhead (2 hours): Located in the San Bernardino National Forest, this is a quaint mountain resort town. A great spot for outdoor activities, Lake Arrowhead has hiking, backpacking, bicycling, and water/snow skiing. There is also a small village with shopping and boat tours of the lake.
San Diego (3 hours): Need a trip to the beach? You are in luck! All that San Diego has to offer is a quick 3-hour trip away. LAS VEGAS (3 HOURS): Through the winding roads of the desert, you can get to Las Vegas in only 3 hours. Many of the units attached to MCAGCC will have their yearly balls in Las Vegas. Be sure to look into all the military discounts available in the city!
Food and Drink
Twentynine Palms offers a glimpse into small-town Southern California life. Beyond the typical chains, there are several locally-owned restaurant options. The small downtown area has had a recent resurgence of businesses as well as a newly formed Farmers' Market.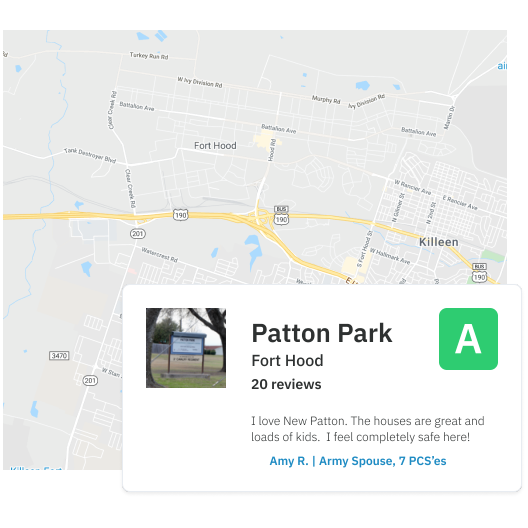 Research Your Area Before Your Move
Discover area guides and trusted reviews by and for the military and veteran community for local neighborhoods, base housing, moving companies, lenders, schools, and more.
Access Review