San Diego Marine Corps Recruit Depot
MCRD (Marine Corps Recruit Depot) San Diego is one of many military bases in the San Diego area. Located off the I-5 next to the San Diego airport, it is one of the lower profile military bases here.
Most people think of San Diego as a Navy town, but its also among the most historic. It was founded in 1921 and by 1923 was fully functional as a Marine training center. It is currently where all the male recruits from West of the Mississippi are sent to undergo the rigorous training process that will allow them to become Marines. (Female recruits train in MCRD Parris Island, SC.)
Read More
Off-Base Neighborhoods
If you are looking to rent or buy while in San Diego, it is essential to define your priorities. In general, San Diego housing is costly. If you are ok with smaller living spaces (I.E., condo, apartment or townhouse) and enjoy the urban lifestyle, you have a lot of options in fun neighborhoods like downtown, North Park, South Park, Coronado, and Hillcrest.
If you want/need more space, a yard, or a good school district; you will need to move farther out from Central San Diego. People speak highly of the school districts in East Lake and Poway. Coronado is a beautiful place to live, but the housing tends to be very expensive. Wherever you choose, check out the commute times before you make your decision: traffic on the I-5 can be a real beast!
On Base Housing
Lincoln Military Housing San Diego is the current provider of military housing. None of it is actually on-base; however, the Point Loma housing area is directly outside of the MCRD gates. There are a variety of housing areas throughout San Diego County. The wait list and availability of housing tends to vary, so be prepared for a wait.
Schools
There are no schools on the MCRD, so military families living here will use the San Diego Unified School District. This is a vast district covering the greater San Diego area.
There are great options for public, private, and charter schools. The California School Choice program lets you apply or a school outside of your housing zone. However, selection is based on available spaces, and families must provide their own transportation. Keep in mind that some local schools follow the year-round school calendar, which means a month-long break in July, December, February, and April instead of a summer vacation.
Other schools use the traditional calendar, so when you are transferring your student, check the school starting and ending dates!
Cost of Living and BAH
You might be in for sticker shock when you move to Southern California. Most military families figure out a way to stretch their BAH and make it work. San Diego Marine Corps Recruit Depot BAH varies depending on rank and whether or not you have dependents. To determine your BAH at San Diego Marine Corps Recruit Depot, use our BAH calculator.
BAH Calculator
Housing Costs
The median San Diego home value is $618,600 which is up 5.1% over the past year. Local real estate experts expect home values to continue to rise over the next 12 months.
Weather
San Diego weather is sunny and 75 degrees. It's hard to complain about the typical San Diego climate. It is perfect weather for folks who love outdoor living.
The temperature cools off a bit in the winter. You might need a light jacket in the evenings (layers are key!), and there are definitely some hotter weeks in the summer (up to the low 90's).
Many homes here were built without air conditioning, so you may require a portable unit for those few hot weeks in July and August.
Base Amenities
The Command Museum is open Monday through Saturday from 8:00 a.m. to 4:00 p.m. Any chapel on base can be reserved for weddings, retirements, or re-enlistments by active duty, reservist, active duty/reservist dependents and retirees.
Families may be interested in the library, the MCX, the fitness center (with workout classes), the bowling alley, and the Marina. The Marina boasts a playground, gazebo and a rental center where paddleboards and kayaks can be taken out on the water for a nominal fee.
Area Attractions
FARMERS MARKETS: Almost every neighborhood in San Diego has a weekly farmers market. This is one of the best spots to buy local produce, sample artisan goods and buy food and drinks from the assembled food carts. The Little Italy Farmer's Market on Saturday is one of the busiest and most fun to meander around.
GO ON A SAFARI: Safari Park is an affiliate of the world-renowned San Diego Zoo. They are both great places to spend a day soaking in the outdoors and checking out all the amazing animals. Military members get in for free and family members can buy discounted tickets at ITT.
HIT THE BEACH: We have gorgeous beaches all throughout San Diego County, from the picturesque coves in La Jolla to the dog beach in Coronado and the surfer's paradise in Imperial Beach. There's plenty of sandy real estate to settle on for a lovely day by the ocean.
FOOD/DRINK FESTIVALS: Taco and Margarita Fest, Beer Fest, and Mac and Cheese Fest are just some of the popular events happening on the regular here in San Diego. Wandering around a waterfront park, listening to live music, drinking margaritas, and sampling tacos from dozens of different restaurants… what could be better than that?
GO HIKING: Sunset Cliffs, Potato Chip Rock, Mission Trails, Cowles Mountain, Cabrillo National Monument: the list of fun, challenging and exciting hikes are endless. Some are dog and kid-friendly; others are more challenging and best for those seeking a workout. You are guaranteed to find some that suit your needs.
BALBOA PARK: Home to miles of trails, historic architecture, a Spanish art village, and many museums, Balboa Park is a must-see while stationed in San Diego. The Botanical gardens are free to visit, as are a varying selection of museums every Tuesday.
SEE A BASEBALL GAME: The Padres call downtown San Diego home, and the Padres Stadium is a great place to catch a game! They have opening day festivals, beer festivals, and kid's days, and frequently show fireworks after their games. They offer discounted tickets for military members, and the local USO often gets tickets donated, so you may be able to catch a game for free! Or you can check for tickets from our friends at GovX.
EAT/SHOP/SEE A MOVIE AT LIBERTY STATION: Liberty Station used to be a Navy base that the city later converted into a shopping center. The area boasts tons of restaurants and a food court with local food vendors, cute shops, a museum, outdoor spaces, and a luxury movie theater with seat-side service.
THEME PARKS— WITHIN 3 HOURS: SeaWorld, Legoland, Knott's Berry Farm, Disney Land, Universal Studios Hollywood—there is no shortage of theme parks to take your kiddos to if you are so inclined! Also, don't underestimate the annual San Diego County Fair for some campy local fun.
EASY DAY TRIPS
CORONADO—20 MINUTES: Tourists flock to Coronado in the summer, but it is also a year-round home for many San Diegans. The beaches on Coronado are beautiful! Many families enjoy bringing their pups to the dog beach for a fun outing. There are also many shops and restaurants worth checking out.
The town hosts many events in the summertime, including Sunday afternoon concerts in the park.
Furthermore, there are two large Navy bases on the island that military families can access. The Naval Air Station North Island has a newer fitness facility with an outdoor pool, as well as a movie theater, Navy Exchange, and food court.
Food and Drink
Tacos are life here in San Diego. People aren't joking about Taco Tuesday when you will find cheap tacos and drink specials at many Mexican restaurants. In general, there is great Mexican food here, but you can find food from every nationality if you look for it. From Brazilian steakhouses to sushi, to trendy vegan eateries, Mediterranean, Laotian, the list goes on. Of course all the typical chains you know and love will be found here too. Fast food aficionados rave about In and Out Burger so make sure to give that a try while here in Cali!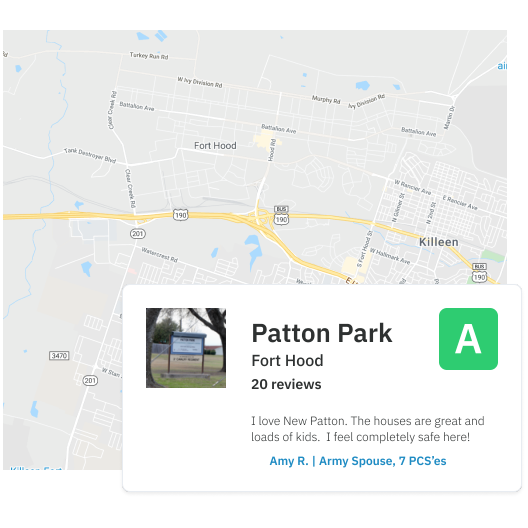 Research Your Area Before Your Move
Discover area guides and trusted reviews by and for the military and veteran community for local neighborhoods, base housing, moving companies, lenders, schools, and more.
Access Review