Parris Island Marine Corps Recruit Depot
MCRD Parris Island is approximately five miles south of the city of Beaufort. Enlisted male Marine recruits living east of the Mississippi River train here. All enlisted female recruits also come here for their initial training.
The nearby Marine Corps Air Station is three miles northwest of downtown Beaufort. It is home to five Marine Corps F/A-18 Hornet fighter-attack squadrons and one F-35B Fleet Replacement Squadron. In 1929, the causeway and a bridge over Archer's Creek were completed. Prior to 1929, a ferry provided all transportation to and from the island.
Marines were first assigned to Parris Island in 1891, in the form of a small security detachment. Twenty-four years later, it was officially designated a Marine Corps Recruit Depot and training was continued from then on.
Read More
Off-Base Neighborhoods
Off-base housing offers a variety of choices including apartments, townhouses, and single-family homes. There is new construction available, as well as homes full of local, historic charm.
On Base Housing
There are a variety of housing options in and around Parris Island. You have the option of living on base, buying or renting in the surrounding community, living in a gated community or in a home with water views. Military housing at Parris Island consists of 260 single family and duplex style homes. Privatized, on-base housing located in three communities is provided by Atlantic Marine Corps Communities at Tri-Command.
Schools
The DoDEA schools on base are for military children living in base housing. There is Elliott Elementary School (K-grade 2) and Bolden Elementary/Middle School (grades 3-8). High school students living on base will attend school in Beaufort County. And families living off base will also attend Beaufort County School district, which has 38 schools. Bus transportation is available.
Cost of Living and BAH
The cost of living along coastal South Carolina is pretty reasonable. Most military families are able to stretch their BAH to cover expenses. Parris Island BAH varies depending on rank and whether or not you have dependents. To determine your BAH at Parris Island, use our BAH calculator.
BAH Calculator
Housing Costs
The median home price in Beaufort is $210,400. Home values have gone up 7.9% over the past year. Real estate experts predict home values will continue to rise another 1.4% this year.
Weather
The summers are hot and oppressive running from May through September. The winters are relatively short, cold, and windy.
Hurricanes are the most significant weather threat in coastal South Carolina. Hurricane season begins June 1 and ends November 30. It is essential to familiarize yourself and your family about what to do if a storm is threatening. The MCRD Parris Island & MCAS Beaufort Hurricane Hotline is 800-343-0639.
Storm Checklist: A minimum of 1 gallon of water per person per day for 3-7 days, 3-7 days of non-perishable food including food for infants and pet food, a first aid kit and any prescribed medication, a flashlight, batteries, battery operated radio, cash, cell phone with solar charger, basic essentials such as: a non-electric can opener, paper plates and plastic utensils, blankets and pillows, toiletries and hygiene items, clothing, toys/books/games for children, important documents such as insurance, medical, and bank records stored in a waterproof container/bag.
Base Amenities
There is a Marine Corps Exchange as well as a Commissary on Parris Island. Military families enjoy spending time at the Parris Island R.V. Park. There are 18 sites with the following amenities: Full hook up for water, sewer, and electricity (electrical hook-up provides 20/30/50 amp plug), bathroom and showers, coin operated laundry, picnic tables at each lot.
The General Gray Marine Warrior Library provides a comprehensive collection of U.S. military history with particular emphasis on the history of the Marine Corps. You can also explore the long and rich legacy of the Marine Corps at the Parris Island Museum. The 10,000-square-foot facility features exhibits which focus on the long and honored history and traditions of the Marine Corps.
Located in the Douglas Visitors' Center, the Java Café serves hot and cold beverages, Starbucks coffee, and grab and go snacks, light sandwiches and pizza on Thursdays. The café is closed on non-grad weeks.
The Legends Golf Course at Parris Island features a par-72 layout. This challenging course is also a scenic course, winding its way along salt marsh wetlands and deep-water creeks.
The MCRD Parris Island Brig & Brew is run by the Single Marine and Sailors program. This historic recreation facility offers a variety of weekly social and outdoor events. Indoor Recreation: 25 TVs with ESPN Game Plan and NFL Ticket, movie theater, two pool tables, Xbox One and PS4 video game consoles, media room with stadium seating, tablets, and printers, free Wi-Fi. Outdoor Recreation: Horseshoe Pits, Cornhole, Volleyball court, BBQ Pit, Bars, Sports and snack bar.
Area Attractions
Those who love history will enjoy their time here in coastal South Carolina. Additionally, the nearby city of Beaufort is known for its antebellum mansions and sweet southern charm. This area was a staging area for both Confederate and Union troops during the Civil War. Civil War era antebellum homes and elegant plantation homes still line Bay Street overlooking the Beaufort River.
The Beaufort Arsenal, home of the Beaufort Volunteer Artillery, was constructed in 1798. After the Civil War, the Arsenal became a place for hosting social events as well as military ceremonies. Horse-drawn carriage rides offer another opportunity to learn about the history of Beaufort.
In addition to the antebellum mansions and sweet southern charm, one of the most recognizable and most beloved local landmarks is the historic Hunting Island Lighthouse. Additionally, it is the only lighthouse in the state where you can climb all the way to the top.
Several big-name movies were filmed in and around Beaufort. Those films include The Prince of Tides, The Big Chill, Forrest Gump, and The Great Santini. A Hollywood Movie Site guide is available at the Beaufort Visitor's Center. The downtown area also offers many great boutiques and locally owned restaurants.
The Port Royal Cypress Wetlands is a bird watcher's paradise. Snowy white egrets, herons, hawks, eagles, owls, falcons, geese, and ducks all call these wetlands home. Kayaking and paddle boarding are also popular outdoor activities.
The Henry C. Chambers Waterfront Park features shopping, art galleries, and lots of dining options. This park is also the site for many of Beaufort's annual festivals and events. Some of the larger events include the Beaufort Shrimp Festival, A Taste of Beaufort, and the Beaufort Water Festival.
Food and Drink
In the Lowcountry of South Carolina, shrimp and grits is a favored southern dish and can be found at pretty much any one of Beaufort's local restaurants. Lowcountry Produce offers a southern breakfast and lunch menu and has a great selection of homemade jams, pickled goodies, fresh produce, and even local art. The Chocolate Tree, a local store, does an all-you-can-eat night once a year in the summer. Locals say it's an event not to be missed!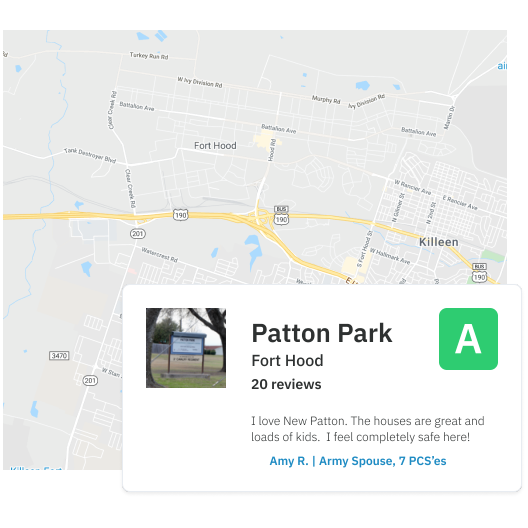 Research Your Area Before Your Move
Discover area guides and trusted reviews by and for the military and veteran community for local neighborhoods, base housing, moving companies, lenders, schools, and more.
Access Review