Marine Corps Base Quantico
Marine Corps Base Quantico is located in northern Virginia and is part of the National Capital Region. The base sits approximately 37 miles south of Washington D.C. and 24 miles north of Fredericksburg. You'll be living along the I-95 corridor, which is one of the busiest and most heavily traffiked highways in the country. Whether you go north towards D.C. or south towards Fredericksburg, avoiding traffic during rush hour will be a major concern here.
Read More
Off-Base Neighborhoods
The options for off-base housing in Northern Virginia can be overwhelming! When searching for a home, make sure to research schools as well as commute times. The areas north of base include Montclair, Southbridge, and Lake Ridge which are located in Prince William County.
Areas south of Quantico to consider are Garrisonville, Stafford, and Fredericksburg. If you have school-age children, consider Stafford and Spotsylvania counties which have excellent school systems. The further north you go the less affordable housing will become. Lorton and Springfield are options in the southern part of Fairfax County, which also has a highly rated school system.
On Base Housing
Base housing on MCB Quantico is managed by Lincoln Military Housing. Lincoln offers more than 1,000 three- and four-bedroom homes within nine communities on Quantico. Neighborhood amenities include swimming pools, playgrounds, basketball courts, and a large 15,000 square foot community center with an Internet café and fitness facility. They also offer 24/7 maintenance and community events throughout the year. There can often be a long waitlist for housing, and many opt to live off base.
Schools
There are two schools located on base at Quantico. One is an elementary school, and the other is a Middle/High school for grades 6-12. Children must live on base to attend. If your family lives off base, your child will attend the local schools in the surrounding counties: Prince William, Stafford, Fredericksburg, Spotsylvania, or Fauquier.
Cost of Living and BAH
Quantico BAH is designed to match the high cost of living in Northern Virginia. Unfortunately, since there are so many officers assigned to the schools and jobs at Quantico, you will see that housing and Commissary prices are adjusted to a mid-level officer BAH. If you are a lower-ranking enlisted or a young officer, you may need to search further from base to find affordable housing. BAH at Quantico varies depending on rank and whether or not you have dependents. To determine your BAH at MCB Quantico, use our BAH calculator.
BAH Calculator
Housing Costs
Your BAH will definitely stretch further in the Quantico area than it will if you live further north in Fairfax County. The median home value in Stafford County is $340,900. Home values for the area surrounding Quantico have gone up 4.0% over the past year and it's expected that home values will continue to rise another 3.3% within the next year.
Weather
There are four distinct seasons in the Northern Virginia area. Winters are relatively mild with an average snowfall of 11 inches at with most falling in January and February. Springtime is beautiful in Virginia! Be sure to take a trip into D.C. to enjoy the cherry blossoms by the Tidal Basin. Summers can be very humid with temperatures rising above 100 on some days in July and August. In September and October, the temperatures become milder, and the leaves start to change. It's a great time to take a drive to the Blue Ridge Mountains to enjoy the fall foliage.
Base Amenities
MCB Quantico amenities include a commissary, MCX, the Inns of the Corps lodging, the Clubs at Quantico and Crossroads Events Center, and the Medal of Honor Golf Course with Mulligan's restaurant. The Barber Physical Activity Center (BPAC) is a 57,000 square foot facility with group exercise rooms, a spin studio, three racquetball courts, weights and machines, a TV and Wi-Fi lounge, a smoothie bar, child care, and saunas.
The base also includes an Auto Skills Center, bowling center, a marina on the Potomac River with over 100 slips, an Olympic size swimming pool with slide and diving boards, REC and ITT services, and a base theater. Medical services are provided through the Naval Health Clinic Quantico with three clinics on base that provides many non-emergency services.
Area Attractions
The National Museum of the Marine Corps is located just outside the gates and has many interactive exhibits and artifacts that pay tribute to the U.S. Marines of the past, present, and future.
The Leesylvania state park is located along the Potomac River in Prince William County. It is the ancestral home of the Lee and Fairfax families and is listed on the National Register of Historic Landmarks. The park offers many land and water activities. It has a fishing pier, playground, boat launch, a snack bar and store, gift shop, and canoe and kayak rentals.
Located along the Occoquan River, the small town of Occoquan has a rich history and boasts many restaurants and shops to enjoy. It also hosts two Arts and Crafts shows a year, one in June and one in September.
One of Northern Virginia's best kept secrets, Prince William Park, offers many hiking trails, bike accessible roads and trails, campgrounds, and over 100 cabins.
Located near the Marine Corps Heritage Museum, the locust shade park has an eight-acre pond and marina with boat rentals, a 400-seat amphitheater with family entertainment in the summer, as well tennis courts, mini-golf, a driving range, and nature trails.
Manassas National Battlefield is a 5,000-acre park that was the scene of two major Civil War battles offers ranger tours throughout the year and living history demonstrations during the summer months.
There are so many things to do in D.C.! Visit the monuments or museums, take a White House or Capitol tour, explore Chinatown or the Eastern Market, the options are limitless. Make sure to check out some of D.C.'s great restaurants while you are there. A visit to D.C. during the Cherry Blossom Festival is a must! Throughout the year there are many free, family-friendly festivals in the nation's capital to enjoy, make sure to check some out!
Located along the Potomac River, Old Town Alexandria is a nationally designated historic district and has over 200 restaurants and shops. Be sure to also visit the Torpedo Factory and enjoy the works of local artists.
Have a toddler or preschooler? Make sure to check out the local chapter of Tiny Troops Soccer to help your little one PCS with fun, soccer, and friends!
Food and Drink
With so many people living in and around Northern Virginia and the D.C. area that are originally from somewhere else, there are many restaurants serving international cuisine. Date night is a great opportunity to explore the flavors of the world by visiting the many restaurants in the area. Regional specialties to the area include blue crabs from Maryland, and peanuts, and country ham from Virginia. Northern Virginia has a large number of wineries that produce every wine that Virginia offers. Be sure to take a trip to wine country!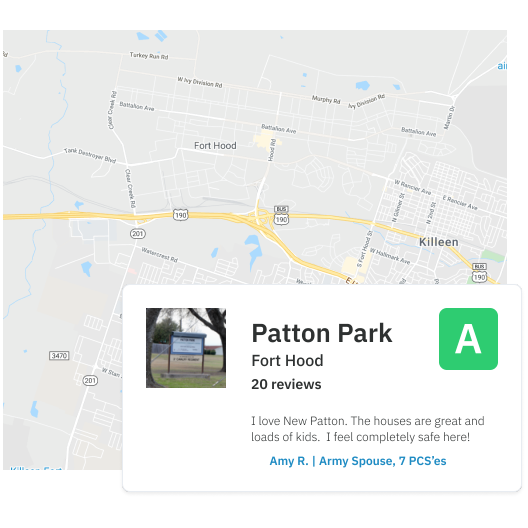 Research Your Area Before Your Move
Discover area guides and trusted reviews by and for the military and veteran community for local neighborhoods, base housing, moving companies, lenders, schools, and more.
Access Review