Marine Corps Base Hawaii
Marine Corps Base Hawaii (MCBH) lies on the northeastern shore of O'ahu situated between the towns Kailua and Kane'ohe. This side of the island is referred to locally as the "windward" side—the windy, rainy, green side of the island. The Ko'olau mountains separate it from the more densely-populated, urban south shore of the island where Honolulu and Waikiki are located.
Read More
Off-Base Neighborhoods
Off-base homes are mostly single-family homes, but set up for extended family/visitors like mother-in-law suites or small apartments as part of the home. Homes range in how old they are, but typically were built between the '50s and '80s.
MCBH boasts generous BAH allowances. Housing is expensive both to rent and to purchase. Note that air conditioning is a luxury that most homes in town do not have. Homes are also more affordable the farther you move away from base and town. It comes at the expense of increased commute times and traffic.
Kailua and Kaneohe are closest to the base, anywhere from 5-20 minutes away.
On Base Housing
Housing aboard MCBH spans all ranks and pay grades and is managed by 'Ohana/Hunt. A few neighborhoods managed by 'Ohana/Hunt for MCBH are also located across the mountain range. All of the homes and floor plans can be found on their website. Playgrounds and sidewalks are abundant because the weather is so lovely much of the year.
Base housing tends to be the best financial decision for many families because you get more square footage for the money. Homes on base also have air conditioning and at a cheaper rate to run.
Schools
Mokapu Elementary (K-6th grade) is located centrally on MCBH. If you to do live on base and want your child to go to a public school off base you have to apply for a geographical exemption from Mokapu Elementary. Other elementary schools by base include Aikahi Elementary, Kailua Elementary, Lanikai Elementary, Kainalu Elementary, Keolu Elementary and Maunawili Elementary.
The ASYMCA offers classes for younger children. The other free offer for Pre-K includes Keolu Elementary in Enchanted Lakes (Kailua, HI).
7th and 8th graders go to Kailua Intermediate School in Kailua, HI. There is a bus option for kids who live on base, which you have to pay for and can be done by quarter or by school year. The same goes for the high school students.
Parents have the option to send kids to Kalaheo High School or Kailua High School. Kalaheo HS is just outside the back gate on Mokapu Rd. There are also several private schools in the areas such as St. Anthony's Catholic School and Le Jardin Academy, Trinity Christian School.
Cost of Living and BAH
The BAH for Hawaii tends to be on the high side, similar to the Washington D.C. area. Island living, in general, tends to be pricey because everything has to be shipped in. The median sales price for a single-family home on O'ahu in 2018 was $800,000.
Marine Corps Base Hawaii BAH varies depending on rank and whether or not you have dependents. To determine your BAH at MCB Hawaii, use our BAH calculator.
BAH Calculator
Housing Costs
Homes are expensive here because we are in Hawaii. Average prices of a 3-bedroom home to purchase is anywhere from $750K and up, but most are closer to $1 million. BAH here often does not cover the cost of a rental off base plus utilities. Also, living off base means you will most likely not have air conditioning.
Electricity is also high on the island. The east side of the island is much cooler than the west side. Homes on the west side are less expensive, but you will have to think about how to keep your home cool and how the cost of electricity will affect your monthly expenses. People who live on the west side also have to deal with a lot more traffic.
Less people live on the Windward/East side, so people here hardly ever hit traffic.
Weather
Trade winds keep the average temperature in Hawaii at around 85 degrees throughout the year. The landscape across the island, however, varies significantly depending on location. On the Leeward (West) side of O'ahu, you will find a drier, more desert-like environment, while the Windward (East) side is home to the lush Ko'olau Mountains. Much of central O'ahu is farmland, and the North Shore consists of a rocky shoreline with higher surf. Many popular surfing competitions are held there.
The winter brings the big waves up to the North Shore of the island and stronger winds. We do have a hurricane season and tsunamis can happen on island as well so we have warnings if that happens. It's good to follow suggestions from the state as far as emergency supplies especially since we are on an island.
Base Amenities
MCBH has a Marine Corps Exchange, Commissary, ANNEX, Medical Clinic, Outdoor Rec/ticket office, bowling alley, UPS store, Subway, Panda Express, GNC, several Marine Marts, Ninja Sushi, Papa Johns, Vape Shop, Game Stop, Staff Club, Golf Course, 2 base gyms, Skate Parks, Playgrounds, Splash Pad, Base Pool, L+L Barbecue, Officers Club, Beaches, Beach Cabins, Beach Cabanas and Marina.
We also have a club for military spouses called Stroller Warriors Running Club, MOPS, and Kickball available. MCBH offers much by way of recreation. You can rent kayaks, surfboards, paddleboards, boats, and fishing gear at the marina.
The aquatics program offers swim lessons, scuba certification, and fantastic junior lifeguard camps. Surfing at Pyramid Rock and North Beach (sometimes called Officer's Beach but is open to all housing residents) is second to none since both beaches face north like the famous surf breaks on the North Shore.
Cabin rentals and camping are also available waterfront on the bayside.
MCBH has a small exchange and the MCBH commissary, but the Navy offers jumbo-sized versions of both on the other side of the island.
This base has an impressive four beaches, in addition to the nearby Sandbar. Accessing MCBH as a visitor, even with a valid military ID, requires either a day pass or an annual paper pass.
Area Attractions
Hawaii boasts AMAZING hiking. Trails range from paved and stroller-friendly (but steep!) Makapu'u trail on the eastern end of the island, to lush and tropical trails in Manoa Valley, to the dormant Koko Head and Diamond Head volcano crater trails.
Kayaking, paddle boarding, snorkeling, spearfishing, and diving are just a few ways to enjoy the warm water and 271 days of sunshine per year.
Kailua's beaches are far less crowded than the more touristy Waikiki. Be aware, the deep ocean currents can be extremely strong even near shore. Many beaches also experience shore break. Search "Sandy's Beach" on youtube to get a glimpse of the power of the ocean here. Parents with little children may want to check out the lagoons at Ko'olina for gentler waters.
Surfing is the signature sport of Hawaii. Duke Kahanamoku and Eddie Aikau are local legends and surf icons. Surf lessons are available around the island. If you want to get into surfing, there is no shame in purchasing a $100 eight-foot foam board from Costco. Pros on the North Shore, water patrol, and surf school students all surf them with joy. Surf competitions are community events for surfers of all ages and skill levels.
The Macadamia nut farm tours near Kualoa Ranch is more befitting a crash course for "Survivor" contestants than a farm tour. It is both educational and entertaining. Your host will highlight various film locations on the property as you ride on crew buses used in the original "Jurassic Park."
Grand luaus are available on the leeward side of the island, the Polynesian Cultural Center on the North Shore, and also Sea Life Park on the east end. The Hale Koa luau in Waikiki is a less costly, shorter luau option open to service members, retirees, and their guests.
The North Shore is the most rural part of the island. However, Ted's Bakery and Sandy's Sandwiches near Pipeline are worth the stop on your drive along the Seven Mile Miracle. Waves can reach 40 feet during the winter months. Helemano Farms in Wahiawa grows sustainable Norfolk pines for cutting at Christmas.
Island hopping is not as cheap as one might think but the other islands are all unique. Volcanoes Park on the Big Island is a place to behold, and military members can rent cabins at the park. Also, don't forget to register for your free National Park military pass so your $25 vehicle admission will be waived.
Have a toddler or preschooler? Make sure to check out the local chapter of Tiny Troops Soccer to help your little one PCS with fun, soccer, and friends!
Food and Drink
Local dishes to eat include Kalua Pork, Poi, Taro bread, Guava, Lilikoi (passion fruit), Poke (raw fish), loco moco, garlic shrimp, spam musubi, malasadas, shave Ice and dole Whip. Expect to see lots of white rice with dishes including breakfast at McDonalds. We don't have $1 value meals here or $5 pizzas from Little Caesar's so expect a little higher prices on certain things.
Haleiwa Joe's in Kaneohe, HI is a must for a nice dinner, with absolutely incredible views. They do not take reservations so I recommend getting there when they open at 4:30 to get on the list, maybe have a cocktail and appetizer, and then be seated for dinner.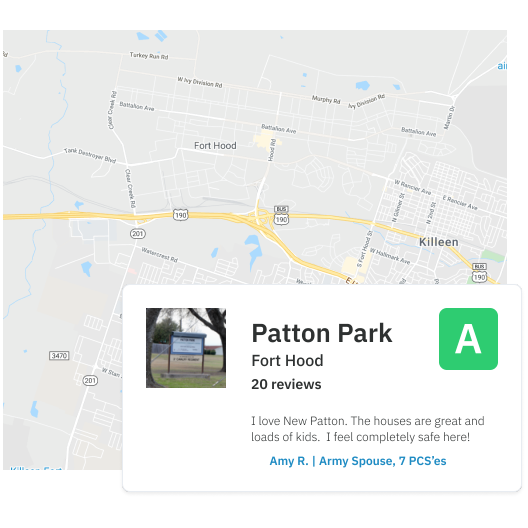 Research Your Area Before Your Move
Discover area guides and trusted reviews by and for the military and veteran community for local neighborhoods, base housing, moving companies, lenders, schools, and more.
Access Review