Marine Corps Base Camp Pendleton
Camp Pendleton is nestled up against the Pacific Ocean, in between Los Angeles and San Diego, and sandwiched between Oceanside to the south, San Clemente to the north, and Fallbrook to the east. The important thing to know about Pendleton is that the base is enormous and extremely spread out. There are only a few roads going past the ranges and training areas, but some have very low speed limits. It can take 45 minutes to drive through base from the north to the south, and about 30 minutes to drive across. Interstate 5 runs the entire length of Camp Pendleton against the Pacific, and Interstate 15 runs alongside the base to the east. I5 and I15 are connected south of the base by highways 76 and 78.
Read More
Off-Base Neighborhoods
Families who choose not to live in base housing often opt to live in the San Clemente, Oceanside, or Fallbrook areas. San Clemente is expensive, but has apartments or condos that work well for young couples. Oceanside is more affordable and casual, with an active tourist vibe. Fallbrook offers more single-family homes with yards because it is inland with more space and a quieter atmosphere.
On Base Housing
There are many housing choices aboard Camp Pendleton through Lincoln Military Housing or Hunt Housing: Wire Mountain, South Mesa, San Onofre, Del Mar, Forster Hills, O'Neill Heights, Pacific View, San Luis Rey, San Mateo, Santa Margarita, Serra Mesa, and Stuart Mesa. Eligibility is determined by rank or GS level. Some neighborhoods have older houses, built in the 1960's, with a small garage. Others are brand new and freshly updated. One downside of living on base is that most of the base housing does not include air conditioning except for EFMP families. The exception is DeLuz Housing, managed by Hunt, which does have AC. It is important to learn where the service member will be working so you can calculate commute times from different areas and use the closest gate.
Schools
Inside Camp Pendleton, you will find what is referred to as 80/20 schools. This means that 80% of the student population is military or DoD related. Twenty percent are civilians from the surrounding area. The schools are held to DoD standards, which often more than exceed the state standards. There are five such elementary schools aboard Camp Pendleton. Middle school and high school students attend schools off base. Off base schools on the south and east sides of base generally, have a lower school rating from Great Schools than those on base and on the north side.
Cost of Living and BAH
Camp Pendleton BAH is calculated by the main gate's zip code, which is in Oceanside, CA. Camp Pendleton BAH varies depending on rank and whether or not you have dependents. To determine your BAH at Camp Pendleton, use our BAH calculator.
BAH Calculator
Housing Costs
The median home cost in San Diego is $575,000 which is well above the national average making it a rather expensive place to buy. Homes to the south and east of the base are generally more affordable than those in Orange County to the north.
Weather
Camp Pendleton boasts a coastal climate, with average low temps dipping into the 40s and highs reaching into the 80s. August and September are the hottest months, with cooler temps starting in November. The "rainy season" is winter, with the average annual rainfall a mere 13 inches. Don't let the lack of rain fool you, though. Due to lack of rain, roads are often incredibly slick when it rains, mostly as a result of oil from vehicles not being sufficiently washed away as would happen in an area with more rainfall. It is not uncommon for experienced drivers to be prone to accidents on roads that are well traveled, including several interstates and major highways in the area.
Base Amenities
Pendleton Naval Hospital – NHCP is a large new facility, completed around 2012, and located on the south side of the installation.
Balboa Medical Center – Balboa is another Naval Hospital located in San Diego and houses some of the most advanced Naval medicine clinics on the west coast. It is the Bethesda equivalent, but with a more updated facility.
Pendleton PX – the Post Exchange aboard Camp Pendleton is relatively new, located near NHCP, and boasts a Dunkin Donuts, among several smaller niche shops. There is a second PX with a food court in the Mainside area on the southeast side of the base.
Pendleton Commissary – there are two commissaries aboard Camp Pendleton, one on the south side of base and one on the north side of base. The commissary on the north side of base is significantly smaller but less busy. The cost of living in California can be high, so many families exclusively shop for groceries on base to save money.
Pendleton Beaches – there are two beaches aboard Camp Pendleton: San Onofre in the north and Del Mar in the south. San Onofre offers beach rentals – cottages, RV sites, and camp sites. Del Mar offers Del Mar Resort, a new facility that advertises villas, campsites, cabanas, palapas, and surf gear available for rent. They also provide services for weddings and other events.
Gyms – there are 13 fitness centers aboard Camp Pendleton. They are located in the 14, 21, 22, 23, 31, 33, 41, 44, 52, 53, and 62 areas, as well as the O'Neill Fitness Center and Paige Fieldhouse located on the main side. Hours vary by facility.
Area Attractions
The Sunset Market is a weekly occurrence in downtown Oceanside year round. People travel from all over to take part in the festivities that include food, entertainment, shopping, and even a family-friendly KidZone. Go during the day for a family-friendly vibe, or return at night for a fun people-watching experience.
The Oceanside Pier is a busy location and a tourist hotspot. It is located in the heart of Oceanside and stretches out into the waves for great views. Ruby's Diner is located at the end, but be prepared for a long wait!
The Pendleton Paintball Park is located aboard the installation on Vandergrift Blvd. This paintball park is open to ages 10 and up, with hours Friday to Sunday, from 0830 – 1700. They take private reservations 7 days a week for groups of 15 or more.
Camp Pendleton Playland is located next to the paintball park. Camp Pendleton Playland features a zip line, laser tag, several bounce houses, and more. It's only open on weekends from 1000 – 1700.
The Marine Memorial Golf Course on Camp Pendleton is near the paintball park. The course is open from 0630 – 1630 during the winter and 0600 – 1800 during the summer. Rates depend on rank.
There are a lot of other things to do around Camp Pendleton, as SoCal is rich in perfect weather. Other places to visit while stationed aboard Camp Pendleton are Knott's Berry Farm (which converts to Knott's Scary Farm for Halloween), Lego Land, and Universal Studios. Of course, Disneyland in nearby Anaheim is always a favorite. In San Diego, families can enjoy Sea World, Padres baseball games, the Zoo and Safari Park, and many different museums. The weather is nearly always perfect for whatever plans you have.
Have a toddler or preschooler? Make sure to check out the local chapter of Tiny Troops Soccer to help your little one PCS with fun, soccer, and friends!
Food and Drink
Californians are all about delicious food, especially fish tacos! You'll find that In-n-Out has die-hard burger fans. Beach Break Cafe is famed as the best breakfast in Oceanside. Chronic Taco is a local favorite. Ruby's Diner serves amazing milkshakes and fish tacos. The Jolly Roger has a great view of the harbor. And Harbor Fish and Chips has delicious fresh food. In San Clemente north of base, you can find fancy date night restaurants for every palate, wine tasting bars, and the family-friendly Pizza Port.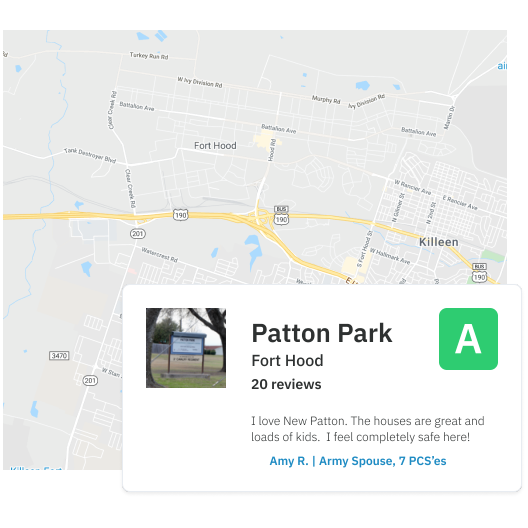 Research Your Area Before Your Move
Discover area guides and trusted reviews by and for the military and veteran community for local neighborhoods, base housing, moving companies, lenders, schools, and more.
Access Review