Marine Corps Base Camp Lejeune
Is Eastern North Carolina is your next destination in this fabulous adventure we love to call military life? Well, welcome to the Crystal Coast! Camp LeJeune, North Carolina is located so close to the beach that we actually have one on the base!
Let's dive into what you need to know about living in the heart of the 2nd Marine Expeditionary Force. The base is located right in the heart of Jacksonville, North Carolina, and within an hour's drive of Wilmington and a little over 2 hours from Raleigh. The eastern coast of North Carolina is a veritable treasure trove of day trips and activities that will keep your weekends full if you're willing to dive into the local culture and drive a little bit. For Marine Corps history buffs, you'll find some points of interest dotted around the four larger bases here.
Read More
Off-Base Neighborhoods
Jacksonville is the closest "city" to the base, and it's located just outside the main gate. Incorporated in 1842 and named after President Andrew Jackson, Jacksonville has been consistently growing to meet the needs of its ever-expanding population. There is a nice variety of grocery options and restaurants, a reasonable amount of shopping options, 2 movie theaters, local parks, splash pads, a roller rink, a trampoline park, an indoor bounce arena, and soon, a YMCA! The area also hosts a diverse faith community with a myriad of types of worship available. Surrounding Jacksonville are many quiet and comfortable communities. To the south, as you head towards Wilmington, you'll find Sneads Ferry, Holly Ridge, Topsail Beach, and Hampstead.
Sneads Ferry is a popular place for many families to live, as it's easily accessed out a dedicated gate that's close to Stone Bay. It's a quiet fishing village, but you can reach Jacksonville proper in about 25 minutes for shopping and other activities. It's also quite close to the community of Topsail Beach, which is a sweet tourist spot with many local restaurants and a bit of neat shopping.
Holly Ridge is a quiet community situated about 30 minutes from the main gate of Camp LeJeune and 20 or so from MCAS New River. There are many new neighborhoods coming up in the community and families find it a convenient spot if they desire to live partway between Jacksonville and Wilmington.
Hampstead is a suburb of Wilmington located approximately 45 minutes from Camp LeJeune. Many families who wish to live closer to Wilmington and take advantage of the larger "city" offerings choose to reside there.
To the east, heading toward the coast, you'll find Hubert, Swansboro, Cedar Point, Cape Carteret, Emerald Isle, and Newport. Each of these communities has its own unique feel with a diverse mix of both military and local populations.
To the North, heading towards Kinston and Goldsboro, you'll find the community of Richlands. Long established with many local residents, Richlands was historically a farming community so named for its rich local soil. Spread over a large geographic area, the commute is generally anywhere between 30 and 35 minutes in from most homes. It is also home to the local airport and tourist attraction Mike's Farm. The feel of Richlands is certainly much more agrarian and rural. Many farm-oriented and horse-loving families find themselves laying down roots there.
On Base Housing
New construction or well renovated existing base housing make up much of the housing available. With 16 communities to provide housing, there seems to be a home that will fit the needs of just about everyone. From small 2 bedroom duplexes to single-family 4 bedroom homes, the offerings are diverse. All homes are administered by either Atlantic Marine Corps Communities or Lincoln Military Housing. Check out their websites for floor plans, photos, community information, and to apply.
Schools
There are seven DoD schools in the area for base residents at Camp Lejeune or New River. These include elementary, middle, and high schools. Busses are available, except for the communities located right next to the schools.
If you live off base, you will attend the local school. The counties that most families find themselves in for schooling are Onslow, Carteret, and Pender. There are some private schools in the area to choose from as well as the option to homeschool.
Cost of Living and BAH
Camp Lejeune BAH rates allow families to take advantage of the rental market or home buying options in the Jacksonville area. Camp Lejeune BAH varies depending on rank and whether or not you have dependents. To determine your BAH at MCB Camp Lejeune, use our BAH calculator.
BAH Calculator
Housing Costs
Camp Lejeune and the Jacksonville area have favorable housing costs and affordable prices when compared to many other places around the country. The median home price in Jacksonville is $155,395.
With so many military personnel in the area, as well as a growing population of retirees who choose to stay in the area, the housing market has boomed tremendously in the past 10 years. The rental market is vast and diverse, so most families don't have any trouble finding a place to call home.
Weather
We have a saying here in Eastern North Carolina – "If you don't like the weather, wait 5 minutes…it'll change!" And that's the truth! While the area is defined by 4 seasons, they tend to shift and change quite often during the fall/winter and spring. We can have summer-like temps in December, followed by freezing rain and icy roads just a few days later. We tend to have some rockin' thunderstorms, so keep your eyes peeled for the blaze of lightning our skies can often display. Summer here, however, is almost always guaranteed to be relatively hot and very humid.
Base Amenities
The base itself has undergone many upgrades in recent years, including the construction of the new Wilson Gate, a hospital renovation and addition, construction of new housing areas, and the Wallace Creek Fitness Center.
The main Commissary is on Camp Lejeune, but it often has long lines, especially on payday! There is a smaller, quieter Commissary on New River, located just south of Lejeune. There are many pools, walking/biking trails, parks, and recreation areas to choose from to enjoy the outdoors. Kayaking and boating are accessible from the base. Fishing is popular. A round of golf is always available, and the base's stables are also quite active. We even have archery! The well-stocked library provides many programs for all ages. MCCS activities are well-staffed. The Camp Lejeune base theater and bowling alley are extremely well run, always offering an affordable option for fun.
Area Attractions
Visit Shackleford Banks by boat or ferry from New Bern and gaze upon the grace and beauty of a herd of over 100 wild horses that roam the island and exist in their own community unfettered by the aid of man.
Check out the many lighthouses that dot both the Outer Banks and the seaside communities on the coast.
Hike in one of many state parks and explore natural waterslides and waterfalls carved into the hills and mountains.
Also check out New Bern, the birthplace of Pepsi Cola and home to many historic homes and buildings, including North Carolina's first capital, Tryon Palace.
Birdwatching is also a favored pastime here and there are many waterfowl museums to choose from.
Trains and planes are a unique part of these communities as well. The Outer Banks are home to the birthplace of modern flight as discovered by the Wright Brothers at Kitty Hawk, Tweetsie Railroad is a family-friendly Train theme park founded in Boone, NC to celebrate the history of rail in North Carolina.
Have a toddler or preschooler? Make sure to check out the local chapter of Tiny Troops Soccer to help your little one PCS with fun, soccer, and friends! And we can't round out the list without mentioning the North Carolina Aquariums-kids absolutely love them and there are several to choose from. The list of possibilities here is endless. So you'll never run out of things to see and do here!
Food and Drink
Of the varied types of cuisine that you can find here, North Carolina is really most famous for its seafood and barbecue. While there are lots of popular local and national chain restaurants to choose from, many wonderful local eateries abound. Also, Food trucks are also immensely popular. You can find them parked on-base and off at the local farmer's and open-air markets that stretch from Wilmington to Richlands, through Jacksonville, Swansboro, and out to Beaufort. Bakeries, sweet shops, yogurts bars, and even a Willy Wonka-esque candy store are dotted all over the area. So you'll never lack a place to satisfy your sweet tooth…or your kids!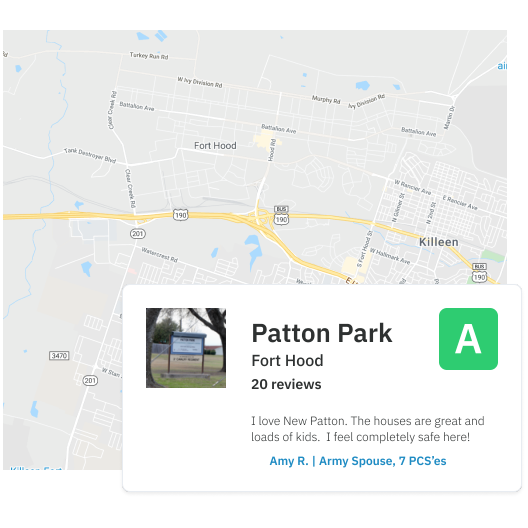 Research Your Area Before Your Move
Discover area guides and trusted reviews by and for the military and veteran community for local neighborhoods, base housing, moving companies, lenders, schools, and more.
Access Review