Marine Corps Air Station Yuma
Located in the desert southwest, Yuma is nestled between the Colorado River to the west and the Gila Ridge Mountains to the east. Known as the sunniest city on earth, Yuma is a fantastic location for a military air station.
Yuma is a border town in the southwest corner Arizona, next to Mexico and California. MCAS Yuma is the main military base, a few miles south of I-8, off of S. Avenue 3E. Established in 1928 as a military installation, MCAS Yuma is currently home to active-duty F-35 Lightning II and AV-8B Harrier squadrons, the Marine Corps Marine Aviation Weapons and Tactics Squadron One (MAWTS-1), Marine Fighter Training Squadron 401 (VMFT-401) and Marine Operational Test and Evaluation Squadron One (VMX-1).
The two biggest industries in Yuma are agriculture and the military. While most people might think Yuma is an arid desert from the lack of rain, thanks to the Colorado River, Yuma, and the surrounding areas are filled with fertile soil, ripe for growing a variety of produce. In fact, Yuma is recognized as the winter vegetable capital of the world. Roadside stands and farmers' markets provide farm fresh produce during the growing season beginning in October.
Read More
Off-Base Neighborhoods
There are a great number of family-friendly neighborhoods throughout the city of Yuma and in the Fortuna Foothills to the east. Neighborhoods such as Mesa De Sol or Las Barrancas in the Yuma County Foothills will give you close-up mountain views. On the west side of town, where most of the shopping, restaurants and other businesses are located, you'll find ample subdivisions to choose from, including Barkley Ranch, Falls Ranch, and La Quinta, a gated townhome community. Within a 10-minute drive of base are a host of subdivisions and townhouse communities, such as The Terraces, Ocotillo, Kerley Ranch and Araby Crossings.
On Base Housing
Lincoln Military Housing Yuma provides on-base offerings ranging from two-bedroom, attached duplexes to four-bedroom, single-family homes. Two-bedroom, off-base apartments are also available through Lincoln Military Housing Yuma. The wait list and availability varies depending upon the time of year. If you want to live in military housing, it's important to get your name on the waitlist as soon as possible.
Schools
There are no schools on MCAS Yuma. Children who live on base will be bussed to Palmcroft Elementary School, Woodard Junior High School (Yuma One Elementary School District), and Kofa High School (Yuma Union High School District). Children who live in 16th Street Housing are in the school boundaries of Ronald Reagan Elementary School, Centennial Middle School (Crane School District) and Cibola High School (Yuma Union High School District). School-age children who live off base attend the school in the area where they are districted.
Cost of Living and BAH
You might be in for a bit of sticker shock when comparing BAH to the cost of rentals in town. Be prepared to spend above BAH, especially if you want a home with a pool. Off-base housing electricity costs also increase significantly in the summer due to air conditioning use.
Marine Corps Air Station Yuma BAH varies depending on rank and whether or not you have dependents. To determine your BAH at MCAS Yuma, use our BAH calculator.
BAH Calculator
Housing Costs
When compared to larger cities across the U.S., you are able to get more space for your money with the median price of homes in Yuma being $216,800.
Weather
If gray skies make you blue, then you'll love the Yuma sun. Yuma is also recognized as the least humid and driest city in the U.S. averaging only three inches of rainfall a year. Humidity is usually low except during the summer monsoon season which peaks in July and August.
The desert summer is known for hot temperatures, and Yuma doesn't disappoint. You can expect daily summer highs to be above 100 degrees Fahrenheit. But don't worry too much, as a "Yuman", you will adjust to these warm temperatures soon enough. Homes here are well equipped with air conditioning, and often a pool.
Yuma comes alive in the fall when the weather starts to cool down. The population nearly doubles as retirees (affectionately known as "snowbirds") come to enjoy the pleasant winters. With average winter temperature highs in the low-70s and high-60s, you'll be able to enjoy plenty of time outside and experience the best the desert southwest has to offer, including golfing, hiking, camping, fishing, hunting, and off-road adventures. Temperatures usually tend to start to rise again come March, but that just means pool season in Yuma begins in April.
Base Amenities
MCAS Yuma is not the largest base, but it does have a variety of amenities to offer to the military community. Families may be interested in the on-base sports programs, and the Marine Corps Community Services (MCCS) sponsored fun runs. The station library has dedicated children's programs. There is also a movie theater, bowling alley, pool, and plenty of playgrounds to keep children entertained.
The base features a commissary, vet clinic, Marine Corps Exchange (MCX), post office, gym, and church. Arizona Adventures is another great on-base option to rent outdoor equipment, such as boats, water skis, or off-roading vehicles. Information, Tickets, and Travel (ITT) offers a wide variety of discount tickets for attractions throughout the area.
Area Attractions
Yuma Territorial Prison State Historic Park and Museum: Yuma Territorial Prison opened in 1876 and operated for 33 years. It earned a fearsome reputation, brought to the silver screen in movies like "3:10 to Yuma.". Visitors can explore the old prison grounds to learn more about the prison's history. Military discount is available.
Telegraph Pass: With a round trip of slightly more than five miles, a hike up Telegraph Pass might not seem daunting, but the further you hike, the steeper you go – gaining more than 1,200 feet in elevation. Your reward for making it to the top? You'll get amazing views in every direction. There isn't a set trailhead, so to make your way to Telegraph Pass, exit I-8 at Foothills Boulevard and follow the North Frontage Road until you can't go any further by car, then get ready to start your hike.
Yuma's Historic Downtown: Yuma's Main Street is known to locals as the heart of "old Yuma." With most of the buildings dating back to the 1920s, the downtown area is filled with a variety of locally owned boutiques, restaurants, a brewery, and other entertainment options. City festivals also take over Main Street throughout the year.
Kofa National Wildlife Refuge: Overnight camping in the desert will be at the top of your Yuma bucket list. Located 40 miles north of Yuma, the Kofa National Wildlife Refuge is a great place to camp or simply go for a day hike.
The Camel Farm: Home to more than 25 different kinds of animals, including camels and buffalos, Yuma's Camel Farm is perfect for fun family outings and includes a petting zoo.
Castle Dome Mine Museum: A short drive out of town, you can explore a real old west ghost town, the remnants of Castle Dome City. This old mining town was larger than Yuma in the 1800s. There are more than 50 old buildings to visit, and you'll feel as if you've been transported back in time.
Easy Weekend Trips from MCAS Yuma:
San Diego – Three Hours: San Diego, with its glorious beaches and cooler summer weather, is only a short drive and makes for an easy getaway.
Phoenix – Three Hours: If you are in need of some big-city action, head northeast of Yuma for about three hours. You will reach the Phoenix metro area, filled with every big city amenity you could desire, including access to all four major professional sports.
Sedona – Four Hours: Surrounded by vibrant red rocks and steep canyon walls, Sedona is an hour north of Phoenix. Located at more than 4,000 feet above sea level, Sedona will also bring cooler temperatures to your mountain getaway experience.
Grand Canyon National Park – Six Hours: The Grand Canyon's south rim is an easy drive from Yuma and is open year-round. You can make a day trip to hike along the south rim path. Overnight accommodations can be found in one of the nearby towns, or you can camp inside the national park.
Food and Drink
Proximity to Mexico also lends itself to another delicious cuisine Yuma is known for, authentic Mexican dishes. From taco stands to well-established mom and pop restaurants, the variety of Mexican food that can be found here is outstanding, and among the best you will ever sample.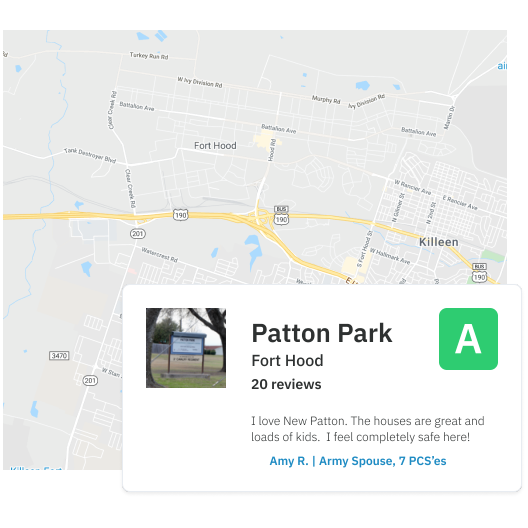 Research Your Area Before Your Move
Discover area guides and trusted reviews by and for the military and veteran community for local neighborhoods, base housing, moving companies, lenders, schools, and more.
Access Review