Marine Corps Air Station New River
MCAS New River shares the town of Jacksonville, North Carolina with Camp Lejeune. And all of the amenities and perks that come with living on Lejeune also come with being stationed on MCAS New River. New River is bordered by the New River, and a small highway, US-17. Traffic is always very light, primarily if you are used to traffic in Northern Virginia or California.
The town of Jacksonville is a small town that is growing steadily. If you haven't been stationed here in the past 5 or 10 years, there is a lot of growth.
Read More
Off-Base Neighborhoods
Living out in town is also a great option. Unlike being stationed on Camp Lejeune, New River offers a few more easy-commute opportunities if you do not want to live in Jacksonville.
The cities of Sneads Ferry, Holly Ridge, and Hampstead are only 20-30 minutes away from New River's front gate and offer easy access to the much larger city of Wilmington. Wilmington has a college, lots of hospitals, and other businesses that many spouses are able to find employment with, which makes living in the middle an excellent compromise for commutes.
If you choose to live further south towards Wilmington, you will have more job opportunities, but also encounter higher housing costs.
On Base Housing
There is a small neighborhood for enlisted active duty personnel, McCutcheon Manor, and a small neighborhood for officers, Peterfield Landing, located on New River. Because these neighborhoods are so small, they are incredibly close-knit and friendly.
The size of the base also means that both neighborhoods are less than five minutes' driving distance from the front gate, commissary, schools, and squadrons.
If the waitlists to live on New River are too long when you arrive, there is more housing available on Camp Lejeune, with an easy 10-20 minute commute that hardly ever involves any traffic. Another bonus to living on Camp Lejeune is easier access to the base amenities that are lacking on New River.
Schools
There is an elementary school on New River, DeLalio Elementary, for students living on base in grades K-5. Middle and high school students are bused to Lejeune. Students living off base will attend local schools in the Onslow County school district.
Cost of Living and BAH
New River BAH rates are very low, which matches the low cost of living in this area. New River is located in rural North Carolina, and much of the surrounding area is farmland. You will find affordable housing ranging from new constructions to older rentals. The BAH rates for Marine Corps Air Station New River vary depending on rank and whether or not you have dependents. To determine your BAH at MCAS New River, use our BAH calculator.
BAH Calculator
Housing Costs
The median home cost in Jacksonville is way below the national average, at around $130,000 which makes Jacksonville a very affordable place to buy. North Carolina as a state has a median home cost above Jacksonville, by about $50,000 but still under the U.S. average of around $216,000.
Weather
The weather around New River can be one of the most exciting wildcards of being stationed here.
New River is deep in the heart of hurricane country. If you are not from a part of the country that regularly has hurricanes, it can be very intimidating--especially if you are here with a squadron and are told that the odds of your Marine having to "hurrivac" the aircraft is high. But, be encouraged: there are excellent communications from the base, command, and news sources about when it is appropriate to evacuate, and when stocking up on bottled water and non-perishables are okay.
Even if hurricanes do not make landfall, intense electrical storms with lots of rain often roll through on summer afternoons. Making smart decisions about taking cover from the lightning and using the storms as a respite from the extreme heat makes them more fun than a nuisance.
It does get boiling and humid during the summer. During June, July, and August, the afternoons can reach a heat index of over 100 degrees Fahrenheit, with the humidity high enough to be miserable.
But, the flip side of that is a very mild winter! It only snows about 2-3 days a year, which means that even an inch of snow can cause school closures and essential personnel only on base.
Base Amenities
Because MCAS New River is so close to Camp Lejeune, many of the usual base amenities are located on Camp Lejeune instead of New River.
There is a small MCAS New River commissary that, while not open as long as the Lejeune commissary, is much quieter and more peaceful to shop in. The New River Exchange is much smaller than Camp Lejeune's and is more of a "basic necessities" place to shop. Walmart is only five minutes away, and Target is only 20 minutes away.
The gym is very new and has a beautiful lap pool with free access for active0duty personnel and families. There are also soccer, baseball, and football fields located near the barracks.
There is a beautiful marina located along the back of the base that has many different boats for rent; all you need to do is take an online class! There is also a boat launch and water access if you have your own boat.
New River also has the typical base bowling alley, movie theater, child development centers, and fast-food restaurants.
Area Attractions
While MCAS New River may be a smaller, quieter base regarding amenities and volume of people, it is conveniently located near a lot of fun areas. While the operations tempo is very high on the Air Station, with aircraft continually taking off and landing, the pace of life in this part of North Carolina is a lot slower than some other duty stations.
Take advantage of the lack of traffic and small-town feel both on-base and out in town. And don't forget to check out Mike's Farm for hayrides to pumpkin patches in the fall, Christmas trees in the winter, and strawberries in the spring!
There are lots of places to explore that are within driving distance, or good for a long weekend, such as Myrtle Beach, the Outer Banks, Charlotte, and Asheville. These are all fantastic cities worth exploring, whether you are looking for kid-friendly activities or adults-only fun.
The capital of North Carolina is only 2 hours away. There are many fun places to explore in Raleigh such as Marbles Children's Museum, Pullen Park, and the North Carolina Museum of Natural Sciences.
Willmington is only 45 minutes away along a quiet highway. There are several museums there, including the USS North Carolina: a battleship now docked on the river and open to the public. And any shopping that the town of Jacksonville might be lacking can be found in Wilmington.
Kingston, Swansboro, Morehead City, and New Bern are within an hour's drive with unique restaurants that feature locally caught seafood and locally grown produce.
Food and Drink
North Carolina is famous for its seafood and barbecue. Shredded, savory pork can be found all across eastern North Carolina.
Farm-to-table restaurants highlighting locally-grown produce and meat are also on the rise. The tea here is sweet like corn syrup. Food trucks are immensely popular as well at the local farmer's and open-air markets that stretch from Wilmington out to Beaufort.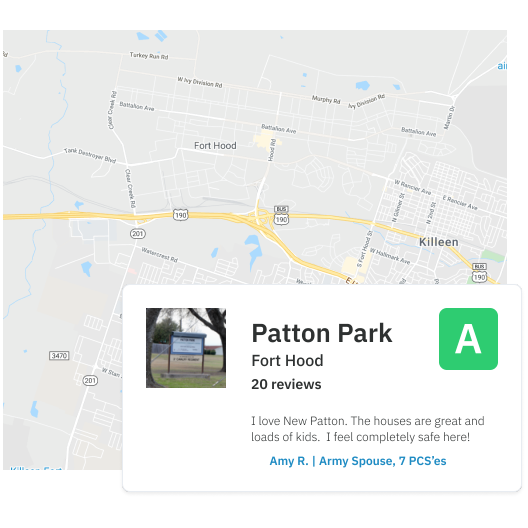 Research Your Area Before Your Move
Discover area guides and trusted reviews by and for the military and veteran community for local neighborhoods, base housing, moving companies, lenders, schools, and more.
Access Review