Marine Corps Air Station Miramar
MCAS Miramar is located in San Diego, right on the coast of Southern California. Miramar is inland, about 30 minutes from downtown San Diego. The area has a heavy military population because of the numerous military bases nearby: Camp Pendleton is less than an hour to the north, NB San Diego is located on the San Diego Harbor, the island of Coronado has a Naval Air Station and a Naval Amphibious Base, and there is also a submarine base on Point Loma.
If you aren't already familiar with the area, then you should know it's called "Sunny San Diego" for a reason. The coastal climate is terrific, with average highs in the 70s and lows in the 60s. San Diego is full of things to do and has a seemingly unlimited amount of restaurants. There are people from all walks of life so you will get to experience many other cultures and traditions.
Read More
Off-Base Neighborhoods
Lincoln Military Housing offers additional off-base rental homes and apartments, if you're looking to save some of your BAH, then Bayview Hills is probably the place for you. However, this housing is located in National City which is south of the base. This means that you will be fighting the horrific San Diego traffic when you're traveling North in the morning and South in the evening.
The Village at Serra Mesa or Murphy Canyon is an excellent option if you want to be a little closer to the Miramar base. Each of these housing areas is only about 15 minutes from base, and there's not too much traffic to worry about, which is always a plus.
On Base Housing
Lincoln Military Housing offers both on and off base housing with five on base and one off-base community, they manage 592 homes total in the six communities. All of the communities are pet-friendly and offer amenities such as swimming pools, playgrounds, community centers, and game rooms. There tends to be a long waiting list for certain housing communities, so you'll want to get on the list as soon as possible.
Schools
There are no schools on base at MCAS Miramar. Families living on base are mostly zoned for nearby Mason and Walker elementary schools. The nearby middle schools are Wangenheim and Challenger. The local high schools are Mira Mesa and Scripps Ranch. If your child does not want to attend the closest school, note that California allows open enrollment for a different school in the San Diego Unified School District (as long as the family provides transportation.) Open enrollment usually begins in November, and placement depends on availability at the selected school.
Also take note that most schools around Miramar are year-round schools, which means that instead of a long summer break, they have a one-month break in July, December, and April. Some schools in the San Diego district are on the year-round schedule, while others follow the traditional calendar, so if you have children at different schools, pay attention to start and end dates!
Cost of Living and BAH
Miramar BAH rates are high, due to the high cost of living in Southern California. In 2020, it was the 3rd highest BAH for a Marine Corps base. BAH for Miramar varies depending on rank and whether or not you have dependents. To determine your BAH at MCAS Miramar, use our BAH calculator.
BAH Calculator
Housing Costs
The median cost of a home in San Diego is around $622,700, way more than the national average. If your heart is set on owning a new home in the San Diego area, it might be worth your commute time of around 20 minutes to look in the suburbs which run a little less expensive. The median home cost in Lemon Grove is approximately $450,00 and in National City is about $422,000. Both of these communities are around 20 minutes away but take into consideration that traffic can get pretty rough.
Weather
The weather in San Diego is essentially the same year-round. The average temperature in the summer runs in the 70s to low 80s, while in the winter lows are in the high 50s and 60s. The rainy season is typically in the winter months, especially in January. The rest of the year there is rarely any rain. It really is always sunny, except in June. During June, the marine layer creates clouds, which the sun likes to hide behind, and the temperature drops to the low 70s. After dealing with constant sunshine for a few months, you'll be glad when "June Gloom" comes around.
Base Amenities
There is one commissary on base, which always seems to be busy. If you want to go grocery shopping on payday, then it is highly recommended that you go to Vons, Sprouts, or any other grocery store rather than the commissary.
There is one large MCX on base and two smaller ones as well. They recently started utilizing the large MCX for their pharmacy so wait times would decrease in the pharmacy next to medical. The cost of living in San Diego is relatively high, so the MCX is an excellent place to go if you want to save a little money while doing your shopping.
Balboa is the Naval Hospital that is closest to Miramar. If you need an emergency department, a clinic, a pharmacy, or really anything else, then Balboa is where you need to go.
Area Attractions
HIKING TRAILS: Whether you are starting out as a beginner or consider yourself an advanced hiker, there are hiking trails for everyone in San Diego. If you want an easy hike, then you should check out Sunset Cliffs. The hike is relatively simple, and you can probably guess from the name that you'll want to go so you can see the sunset over the ocean. Torrey Pines is also a great place for beginners since this "hike" would actually be more of an easy walk compared to other trails. If you're looking for something more difficult, then you need to hike Iron Mountain. This is one of the most popular hikes in San Diego and makes for a great Miramar day trip.
SAN DIEGO ZOO: The Zoo, located in Balboa Park, is a great place to go if you're trying to keep your children entertained or if you want to spend a day with just your spouse. The San Diego Zoo has recently changed their policy so that active military members get in for free, while their dependents get in at a discounted price. Safari Park is an extension of the zoo that is located in Escondido. It's a little farther away, but the park is much larger than the zoo and is well worth the short drive.
IMPERIAL BEACH: Located in the South Bay region, Imperial Beach is about 5 miles north of the Mexico border. It's only about a 30-minute drive from the Miramar base and is the perfect place for surfing, sport fishing, or riding a horse along the edge of the tide. You can also find the Tijuana River National Estuary here, which is a good place if you like bird watching.
CORONADO BEACH: If you own a dog that loves the beach, then Coronado is the place to go. The North beach is dog-friendly, so you can always find sweet puppies and their owners here. The waves are a little calmer here, which makes it a great spot for paddle boarding or boogie boarding. There are also tide pools during the low tide.
LA JOLLA BEACH AND REEFS: Depending on where you go, in La Jolla, you could see long shores, rocky cliffs, coves, or reefs. La Jolla Beach has a little bit of everything, which makes it a go-to spot if you want to explore. If you decide to visit La Jolla, make sure you stop by Sunny Jim Sea Cave. This small store has been known to have sea lions roaming around inside occasionally.
LOS ANGELES, CALIFORNIA: LA is a 2-hour drive north of Miramar. You can spend the day walking down Rodeo Drive, which is a memorable experience. You can also visit the infamous Hollywood sign or go down the Hollywood Walk of Fame.
DISNEYLAND: Located in Anaheim, California, Disneyland is 1.5 hours away from the Miramar base. You can choose to go the Disneyland Park, Disneyland California Adventure, or both.
UNIVERSAL STUDIOS HOLLYWOOD: Universal Studios is located in Los Angeles County and is a 2-hour drive from MCAS Miramar. One of the most visited attractions here is The Wizarding World of Harry Potter, and they've recently added the new The Walking Dead attraction.
LEGOLAND CALIFORNIA: Only a 30-minute drive from base, Legoland is located in Carlsbad, California. This is an excellent place to take your children since not only is it a theme park, but it has a miniature park and aquarium as well.
Have a toddler or preschooler? Make sure to check out the local chapter of Tiny Troops Soccer to help your little one PCS with fun, soccer, and friends!
Food and Drink
If you want authentic Mexican food, then San Diego is the place for you. You will find endless amounts of good Mexican food, especially if you visit Old Town. Old Town marks the site of the first Spanish settlement on the West Coast, which is why it's known for its Mexican heritage. You might also want to try the California burrito. If you like seafood and sushi, then you'll want to check out The Fish Market or Oceana Coastal Kitchen. These restaurants specialize in seafood and sushi, but they also offer vegetarian, vegan, and gluten-free items.
Food trucks are also huge in San Diego. You can often find them in Balboa Park or downtown. The food trucks have everything from pulled pork sandwiches for those of you who miss the east coast BBQ, to gumbo for those who want New Orleans traditional meals. There's a ton of variety in San Diego so you can find something to enjoy no matter what you're craving.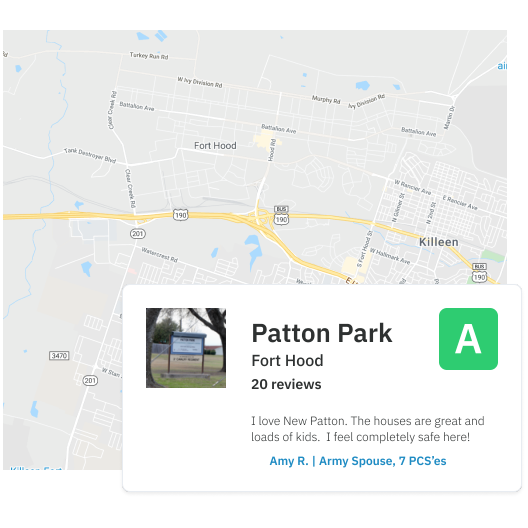 Research Your Area Before Your Move
Discover area guides and trusted reviews by and for the military and veteran community for local neighborhoods, base housing, moving companies, lenders, schools, and more.
Access Review