Marine Corps Air Station Cherry Point
MCAS (Marine Corps Air Station) Cherry Point, home of 2nd Marine Aircraft Wing, is firmly rooted in the Croatan National Forest near Havelock between Morehead City on the Atlantic Ocean and colonial New Bern on the banks of the Neuse and Trent Rivers. The pine trees along Highway 70 to the north and south mean the landscape is green year-round.
You are not far from the other major military bases in the area: MCB Camp Lejeune is in Jacksonville an hour to the south, and MCAS New River is 30 minutes further south towards Wilmington.
Read More
Off-Base Neighborhoods
Those who live in on-base housing love the convenience of the service member's short commute to work. Popular options for living off base run the length of Highway 70 from the James City area of New Bern to the communities surrounding Atlantic Beach.
On Base Housing
At MCAS Cherry Point you will find those who are fiercely fond of living on-base and those who are equally in favor of living off base. Having more than one good housing option means families can choose the situation that best meets their needs.
Cherry Point housing is one of those bases that is often referred to as "Mayberry". Neighborhood kids riding bikes and neighbors enjoying each other's company paints an idyllic picture of times past. AMCC manages a mix of historic and new homes.
Schools
Craven and Carteret counties serve students on and around Cherry Point. Bus service is available to children K-12 in base housing communities as there are no schools aboard Cherry Point itself. The Cherry Tree House is available for before- and after-school care.
For those service members with children, school rating websites and word of mouth can often influence where families choose to live. The School Liaison Officer (SLO) is an excellent, unbiased resource in helping to find a good fit for your child's personality and/or educational needs.
Cost of Living and BAH
Cherry Point BAH is lower than many duty stations, because of the low cost of living in the area. You are in rural North Carolina, so renting or buying a home is very affordable. BAH at MCAS Cherry Point varies depending on rank and whether or not you have dependents. To determine your BAH at MCAS Cherry Point, use our BAH calculator.
BAH Calculator
Housing Costs
Houses are very affordable in Cherry Point, with a cost of living well below the national average. You can find many homes listed for under $200,000. This is a great duty station to buy your first home or even a second home.
Weather
Summer temps average in the mid-80's. Winters are relatively mild. During the winter months of December, January and February the temperatures usually hover above 40 degrees with the occasional dip below freezing. Pollen, hurricanes, humidity, as well as dramatic thunderstorms, are seasonal companions.
Base Amenities
The base offers the typical lineup of services, including an exchange, commissary, uniform shop, food court, Marine Marts, auto hobby shop, dry cleaner, and three inns. Need to see the doc? The Naval Health Clinic Cherry Point offers primary and specialty outpatient care to service and family members.
MCAS Cherry Point is located on the Neuse River in the state's only coastal forest. It boasts a marina, numerous tent and RV camping options, launching sites for canoes and kayaks, as well as abundant fishing. swim lessons, and junior lifeguard camp. Open and lap swim and fitness classes are available among the three pools on base. Cherry Point boasts four gyms: Devil Dog, Hancock, Hancock Aerobics and Spin Center, and the Marine Dome. A paintball range is also available on base.
Area Attractions
North Carolina loves a good festival. Additionally, they are a great way to get acquainted with the area's natural resources. The North Carolina Seafood Festival is held every October in Morehead City and headlines, you guessed it, our abundant supply and love of seafood!
MumFest is held annually in downtown New Bern as well as the Mullet Festival (yep, another fish) in Swansboro. Christmas is particularly enchanting with the beautifully-decorated historic districts, tree lightings, and Christmas flotillas. Churches are abundant here but much more diverse in theology and worship style than the steepled country variety portrayed in Southern movies.
New Bern—Founded in 1710 by German and Swiss immigrants, New Bern is home to the colonial Tryon Palace and Gardens as well as the birthplace of Pepsi-Cola. This unique town is only about a half hour from base.
North Carolina Aquarium Pine Knoll Shores —The aquarium makes a great half-day trip on sunny and rainy days alike.
The Minnesott-Cherry Branch Ferry—Take a free, 20-minute ride in your car or the ferry cabin across the Neuse River to Minnesott Beach. The surrounding historic squares look to be straight out of a Nicholas Sparks novel.
Atlantic Beach— You can enjoy the sand, souvenir shops, and fishing piers here in less than a 45-minute trip from base.
Beaufort— Drive approximately 25 miles south down Rt 101, and you can walk this historic town that was once home to Blackbeard.
Eastern North Carolina is home to mammals ranging from opossums to nutria (think rodents of unusual size from "The Princess Bride") to black bears. Alligators and snakes also love the swampy, coastal landscape. Bull sharks are among the most feared predators and can be found in both the ocean and the inter-coastal waterway. Whales can be spotted offshore during migration season.
Food and Drink
To say this area is proud of its vinegar-based barbecue would be an understatement. The shredded, savory pork can be found all across eastern North Carolina both as an entrée and as an ingredient in other dishes. Seafood, another highlight of the region, can be found in every town adjacent to water. Farm-to-table restaurants highlighting locally-grown produce and meat are on the rise. But not to worry—there are plenty of the fast-food options you know and love both on and off base. The tea here is sweet like corn syrup.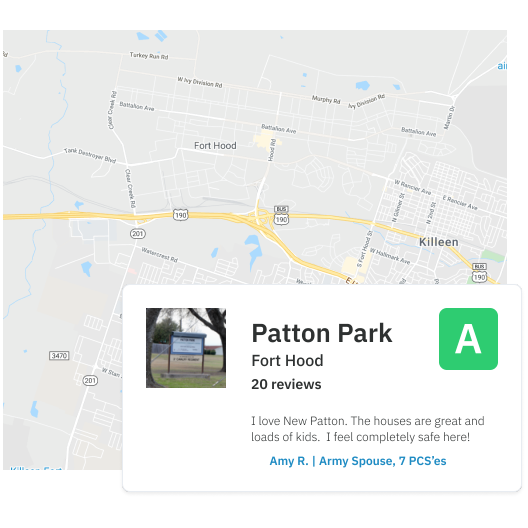 Research Your Area Before Your Move
Discover area guides and trusted reviews by and for the military and veteran community for local neighborhoods, base housing, moving companies, lenders, schools, and more.
Access Review