Coast Guard Station Charleston
Coast Guard Sector Charleston is located in Charleston, South Carolina. It is part of District 7, the Southeast, which includes South Carolina, Georgia, and Florida, as well as Puerto Rico. There are 2 Coast Guard cutters stationed in Charleston. There are 79,000 Airmen, Sailors, Soldiers, Marines, Coast Guardsmen, civilians, dependents and retirees in the Charleston area, because of the nearby Joint Base. This is a wonderful base to encounter service members and families from all branches!
Joint Base Charleston is a military facility located partly in the City of North Charleston, and partly in the city of Goose Creek, South Carolina. The joint base includes the Air Base and the Naval Weapons Station. In supporting Joint Base Charleston, the former Charleston Naval Base has been transformed into a multi-use Federal Complex (231 acres) with 17 government and military tenants, as well as the homeport for 6 RO-RO Ready Reserve Force Ships, 2 Coast Guard National Security Cutters, and 2 NOAA Research Ships.
Read More
Off-Base Neighborhoods
Charleston Peninsula and West Ashley have little to no new construction. The Peninsula is our Historic District. On the other hand, North Charleston, Goose Creek, Summerville, and Moncks Corner are blowing up with new builds. All areas are mixed with single-family attached and detached homes. North Charleston has some rough areas but it has really been turning around lately.
On Base Housing
The USCG Station does not offer housing on base, but families can apply for housing at the nearby Joint Base Charleston.
The on base housing at Joint Base Charleston is primarily smaller and older homes. Some housing is run by Balfour Beatty, which offers four neighborhoods on base. They offer 2, 3, and 4- bedroom homes. Most neighborhoods include playgrounds, dog parks, and sports courts. For the Air Force, housing is run by Hunt communities at Joint Base Charleston and Hundley Park. Hunt neighborhoods feature 3- and 4-bedroom homes with screened porches, garages, and easy access to recreational areas, trails, and common spaces. Additional perks include large living rooms, washer/dryer hookups, spacious closets, all major appliances, and air-conditioning.
Schools
There are no on-base schools here. USCG Station Charleston is surrounded by three separate school districts; Charleston (CCSD), Dorchester District 2 (DD2), and Berkeley (BCSD) County school districts are all within the commuting area.
Cost of Living and BAH
The cost of living in the Charleston area is slightly higher than the national average. USCG Station Charleston BAH matches the cost of living, and gives you plenty of options to rent or buy in the surrounding area. Coast Guard Station Charleston BAH varies depending on rank and whether or not you have dependents. To determine your BAH at Coast Guard Station Charleston, use our BAH calculator.
BAH Calculator
Housing Costs
Many houses are available in the mid to upper 200K range, which is relatively inexpensive. Listings sell quickly however, so there are a great deal of new builds and inventory coming on the market often.
Weather
We are in hurricane country and if you want to be in Charleston, flood insurance is a priority. Most of our year is warm. There are definitely four seasons in this part of South Carolina. While winter is typically very mild, summer is hot and humid.
"Steamy" is how many newcomers describe the local weather in Charleston, SC. Storms moving inland from the Atlantic Ocean, the Gulf of Mexico and the Caribbean Sea can bring a lot of rainfall. Couple the moisture with temperatures well into the '90s and you end up with a warm, steamy lowcountry.
Base Amenities
There are limited amenities on the Coast Guard base, but you can benefit from the amenities at the nearby military bases.
Join Base Charleston has the usual amenities: there is a Commissary, Exchange, Child Development Center, bowling center, movie theatre, fitness and sports center, outdoor recreation center and Morale, Welfare and Recreation. Outdoor Recreation runs the golf course, frisbee golf course, archery range, indoor climbing wall, skeet range, and family campground area. There is a family pool open from May through August. The ITT office has discounted tickets to local activities, and major amusement parks around the country.
Area Attractions
There is a lot of history in downtown Charleston, and visitors enjoy the many historic homes to include: Magnolia Plantation & Gardens, the Nathaniel Russell House, and Drayton Hall. More than 40 percent of all African slaves coming to this country arrived through the port of Charleston. The Old Slave Mart on Chalmers Street is the only slave auction hall still standing in the city. The city banned the practice of selling/buying slaves on city streets in 1856 ending this dark chapter in Charleston history. Nearly thirty years ago, the site was restored and now houses the Old Slave Mart Museum and has a market for vendors to sell local items.
Outdoor life is a high priority in coastal Carolina with all sorts of activities to include: birding, fishing, swimming, boating, golfing, tennis, hiking, and team sports. The tourism industry also means there is plenty of shopping, dining, nightlife, and local events and festivals. Sandy beaches are another benefit to living in this warm weather city. Isle of Palms and Folly Beach are ideal for a day of swimming and sunbathing and golf!
The U.S.S. Yorktown aircraft carrier is a short drive away in Mount Pleasant, SC. You can self-tour, do an audio-guided tour, or come at night for a spooky ghost tour! The flight deck, Hanger Bay level, and quarters are all open to be viewed and have wheelchair access. This ship is nicknamed "The Fighting Lady" and saw action in the Battle of the Philippine Sea and Iwo Jima. After WWII, the ship was used in the Vietnam War and in the recovery of NASA's Apollo 8's crew. Insider tip for the history buff, buy a discounted ticket here when you couple it up with a tour to Fort Sumter.
Fort Sumter National Monument is the birthplace of the Civil War. Confederate troops fired the first shots of the war in April 1861. The site is only accessible by boat which a fun adventure in itself. You will see cannons, live reenactments, and explore the entire island and all of its brick and mortar attractions.
Families stationed in Charleston can visit the H.L. Hunley Submarine. The Hunley became the first successful combat submarine in world history with the sinking of the USS Housatonic in 1862. The submarine and its 5 crew members disappeared after the mission but were later discovered at the bottom of the ocean in 1995. The crew's bones were still at their posts and they all received Medal of Honor for their mission. It's a very educational tour and includes a life-size replica of the original submarine that you can climb in.
Bird Watching is a huge pastime locally with at least 15 species of seabirds. Crab Bank in Charleston Harbor is the chosen spot for seabirds to lay their eggs. Though you can't go ashore on the small island during nesting season (March 15-October 15), you can bird watch from the water.
The Angel Oak tree, located in Angel Oak Park on Johns Island is estimated to be nearly 500 years old. It stands 66.5 feet tall and measures 28 feet in circumference. The shade produced by the giant oak covers 17,200 square feet and is perfect for a picnic.
Food and Drink
Local Southern specialties include Shrimp and Grits, Fried Green Tomatoes, She Crab Soup, and Fresh Seafood! Gennaro Italian Cuisine is closest to the AFB and if you drive 25 mins into Charleston or Summerville and the restaurants are everywhere. Popular locations are Hanks Seafood, Hyman's, Oscars, Magnolia's, Halls Chophouse, and Poogan's Porch.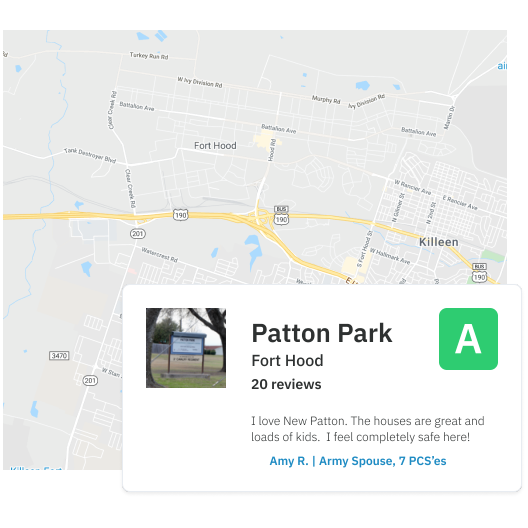 Research Your Area Before Your Move
Discover area guides and trusted reviews by and for the military and veteran community for local neighborhoods, base housing, moving companies, lenders, schools, and more.
Access Review