The Pentagon (Department of Defense Headquarters)
While you may hear people say they are PCSing to Washington D.C. for an assignment at the Pentagon, this unique building is actually located across the Potomac River in Arlington, Virginia.
The Pentagon itself is indeed impressive. A concrete structure featuring seven floors, two below ground and five above, it is the largest office building in the world, covering 34 acres. This is double the size of the Empire State Building. Nearly 30,000 military and civilian employees share 691 water fountains and 284 bathrooms. There are few elevators in the Pentagon. Ramps accommodate most of those moving from floor to floor. You've seen large bases and posts but when you park at the Pentagon, it gets tricky remembering your parking space among the 67 acres of parking lots, which accommodate over 8,700 vehicles.
Traffic in and around D.C. is one of the worst in the nation according to most traffic studies. A typical NOVA (Northern Virginia) commuter spends an additional 82 hours behind the wheel annually due to traffic delays, which is why many commuters use public transportation.
Read More
Off-Base Neighborhoods
For those planning on moving to DC, where to live becomes the question. A big consideration is commute times and the cost of housing. Housing takes many forms in the National Capital Region. Single-family homes, townhouses, condos, and apartments can be found in both urban and rural settings a short distance from downtown.
Living in Northern Virginia (NOVA): Arlington and the city of Alexandria, Virginia are inside the beltway.
Fairfax County, Virginia is the largest county in the Washington, D.C. area. It falls inside and outside the beltway and is home to George Mason University.
Loudoun County, Virginia includes Sterling, Ashburn, Potomac Falls, Countryside, Middleburg, South Riding, Hamilton and Dulles International Airport.
Prince William County, Virginia includes Woodbridge, Dumfries, Haymarket, Occoquan, Lake Ridge, Manassas and Manassas City.
Living in Maryland: Montgomery County, Maryland includes Bethesda, Rockville, Silver Spring and Wheaton.
Prince George's County is home to the University of Maryland, government agencies like NASA and the Department of Agriculture, as well as the Washington Redskins Bowie, Brentwood, Capitol Heights and Cheverly College Park.
On Base Housing
There is no on-base or on-post housing at the Pentagon. But there are several nearby military installations that offer housing options. These include:
Southeast Washington, D.C. – Joint Base Anacostia Bolling
Prince George's County, Maryland – Joint Base Andrews
Arlington, Virginia – Joint Base Myers-Henderson Hall
Fairfax County, Virginia – Fort Belvoir
Schools
The good news is NOVA receives high marks for its above-state-average school scores and a very low crime rate compared to the national average. Remember that quality schools will affect home values in the surrounding neighborhoods.
Cost of Living and BAH
Your Pentagon BAH may not stretch as far living in the DMV, (the District, Maryland or Virginia). The cost of living is extremely high in the greater DC and Northern Virginia area. The Pentagon BAH varies depending on rank and whether or not you have dependents. To determine your BAH at The Pentagon, use our BAH calculator.
BAH Calculator
Housing Costs
Depending on where you are PCSing from, you might have sticker shock when house hunting in NOVA. The average sales price in Fairfax County is $560,919. The housing market in Northern Virginia is currently hugely competitive, and it's common for sellers to receive multiple bids.
Weather
There are four distinct seasons in Washington D.C. and the surrounding areas.
Winters are relatively mild, with an average snowfall for the region of 15.4 inches, three quarters of it falling in January and February.
Springtime is the star as tourists travel from around the world to see the cherry blossoms along the Tidal Basin. These delicate flowering trees only bloom for a couple of weeks out of the year.
Summers can be as steamy as the politics with temperatures rising above 100 on some days in July and August.
The mild temps tend to stick around in September and October, and by Halloween, the fall foliage is in its full splendor with the vivid colors of autumn.
Base Amenities
While the Pentagon itself is not a typical military base with amenities open to family members, military families assigned to the Pentagon can use amenities at the local military bases in the greater D.C. area.
Commissaries, Exchanges, and gyms can be found on post at Fort Belvoir, Fort Myers, Joint Base Anacostia-Bolling, and Andrews AFB.
Check each installation's website for more details on how to access amenities such as MWR, pools, and golf courses.
Area Attractions
There is, perhaps, no more a diverse duty station than the Pentagon, providing for many unique experiences.
From mid-September until Thanksgiving, and again from about mid-January to June, Congress is in session, which means the hotels are full of guests, and the restaurants and bars are enjoying a booming business.
From mid-March through June, families and school groups pack the Tidal Basin to see the cherry blossoms and enjoy Washington's monuments. This is also high season for protest marches.
May features a month-long celebration called Passport DC, which showcases more than 70 embassies and cultural organizations with tours and open houses.
A summer highlight is the annual Fourth of July festivities. There is an Independence Day Parade along Constitution Avenue from 7th to 17th Streets NW and a Capitol Fourth Concert featuring world-renowned musicians and vocalists at the U.S. Capitol west lawn. And of course, fireworks over the monuments are always memorable!
The Pentagon 9/11 memorial is not to be missed. It is usually one of the first stops for military families when they arrive on orders.
Speaking of monuments, almost every out-of-town visitor that you host during your time in D.C. will want to see "the monuments," and with good reason. From seeing all the names on the Vietnam Memorial wall to climbing the massive steps to the Lincoln Memorial, it never gets old.
Food and Drink
The Washington D.C. area has almost every type of food and restaurant you can imagine! Whether you are looking for an upscale date night spot, a cool ethnic experience, or your favorite chain restaurant, there is something for everyone here.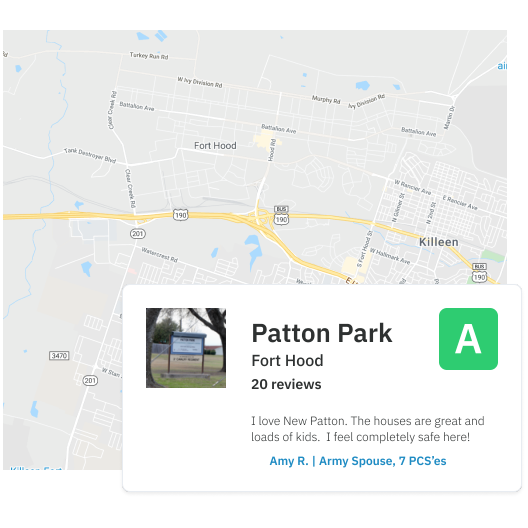 Research Your Area Before Your Move
Discover area guides and trusted reviews by and for the military and veteran community for local neighborhoods, base housing, moving companies, lenders, schools, and more.
Access Review