Tripler Army Medical Center
The Tripler Army Medical Center is a large hospital constructed during World War II. The distinctive pink building on the hillside north of Honolulu is visible throughout the surrounding area. Tripler is currently the only federal tertiary care hospital in the Pacific region, so it serves military families and service members not only from the many military bases in Hawaii, but also from emergency injuries anywhere in the Pacific. In the local area, there are over 260,000 active duty, retirees, and family members. Tripler Army Medical group includes 398 providers, plus a host of nurses, medical assistants, and other staff. Tripler Army Medical Center is located just minutes from Honolulu, and also just a few miles northeast of Joint Base Pearl-Harbor Hickam.
Read More
Off-Base Neighborhoods
Ewa Beach: 5 Miles Ewa by Gentry: 5 miles Ko Olina: 11 miles Kailua: 13 miles Hawaii Kai: 10 miles Most homes in the Honolulu area, especially downtown, are older homes and original to Oahu. Most common style is built in the 1940s- 1970s and without AC. Newer construction is found at Ewa by Gentry, however Ewa Beach still remains with the older homes. Ko Olina has condos built in the 1990s to 2000s. Oahu is not known for having upscale homes unless you are on the North Shore or Waikiki (South of Honolulu) with its multi-million dollar beach front properties in the tourist districts. 80% of homes do come with Solar Power because electricity is so expensive, but most of the AC is run with window units. Yards are scarce and home buying is a bit of an art. If you're looking for land, there are stipulations in place to stay true to Native Hawaiians.
On Base Housing
Housing for Tripler Army Medical Center and the surrounding Hawaii military bases is managed by Island Palm Communities. You will want to contact the Housing Office for the South Region. Island Palm Communities offers 2-bedroom duplex and apartment style homes for single or unaccompanied service members. Family housing consists of 2-5 bedroom apartments, single family, duplex, multiplex and townhouse style homes. Layouts and amenities vary, but may include: walk-in closet, garage, washer/dryer, central AC, and balcony or lanai. The community features a skate park, splash pad, dog park, 24 hour fitness center, sport courts, and a swimming pool.
If you cannot find available housing at Tripler, you may apply at nearby bases such as Joint Base Pearl Harbor-Hickam, Fort Shafter, or AMR (Aliamanu Military Reservation). Research commute times to make sure the housing offered is a reasonable distance from Tripler.
Schools
There are no DoD schools in Hawaii, so all military children will be zoned to attend local public schools. You may, of course, opt to homeschool or attend one of the many private schools around Honolulu.
If you are staying in the Tripler Guest House or lodged in permanent housing on Tripler, then your children will attend the following public schools:
Grades K - 6 Moanalua Elementary School Grades 7 & 8 Moanalua Middle School Grades 9 - 12 Moanalua High School
If you are in military housing on a different base in the Honolulu area, then you may need to apply to different schools.
Cost of Living and BAH
The BAH for Hawaii tends to be on the high side, similar to the Washington D.C. area. Island living, in general, tends to be pricey because everything has to be shipped in. Hawaii is considered an OCONUS assignment. Military Families will also receive a Cost of Living Allowance (COLA).
Tripler Army Medical Center BAH ranges from $2,823 to $3,588 for enlisted. BAH at Tripler ranges from $3,000- $4002 for officers.
BAH Calculator
Housing Costs
The state of Hawaii has the lowest property tax rate in the nation at 0.28%. Despite this, the median annual tax payment in the state is $1,871, which is much higher. This is because Hawaii has the highest median home value in the U.S. The median sales price of a single-family home on O'ahu is $1,050,000, which is a new record high. Whether you rent or buy, remember that energy bills will be higher in Hawaii than in most places, even with only moderate use of air conditioning.
Weather
There are only 2 seasons in O'ahu but there is no temperature change. Trade winds keep the average temperature in Hawaii at around 85 degrees throughout the year. Between the months of November and March, we do experience more rain than usual which is considered Rainy Season.
The landscape across the island, however, varies significantly depending on location. On the Leeward (West) side of O'ahu, you will find a drier, more desert-like environment, while the Windward (East) side is home to the lush Ko'olau Mountains. Much of central O'ahu is farmland, and the North Shore consists of a rocky shoreline with higher surf. Many popular surfing competitions are held there. Winter is usually around 78 degrees, while summer hovers around 85 degrees.
It rains virtually every day, but not usually for longer than 15 min or so. Island dwellers refer to this as "liquid sunshine". It's rarely (if ever) a downpour, and is what contributes to the tropical climate of the islands. If it does rain harder, the leeward side of the island usually takes the brunt of this while the windward side is typically spared.
Base Amenities
Hospital, Fitness Center, Hotel, ID/Vehicle Registration, Legal Office, Post Office, Shoppette
Area Attractions
Oahu is known for epic beaches and amazing hikes with incredible views. Island hopping is considered quite easy as you can purchase flights for as low as $37 from Southwest for a 30 minute flight to any island. Here on O'ahu, we have many notable tourist spots such as Kualoa Ranch, Polynesian Center, Valley of the Temples, The North Shore, surfing, snorkeling and luaus.
HIKING: Hawaii boasts AMAZING hiking. Trails range from the paved and stroller-friendly (but steep!) Makapu'u trail on the eastern end of the island, to lush and tropical trails in Manoa Valley, to the dormant Koko Head and Diamond Head volcano crater trails.
WATERSPORTS: Kayaking, paddle boarding, snorkeling, spearfishing, and diving are just a few ways to enjoy the warm water and 271 days of sunshine per year.
BEACHES: Kailua's beaches are almost as crowded as the more touristy Waikiki. Traffic and parking are both difficult. Be aware, the deep ocean currents can be extremely strong even near shore. Many beaches also experience shore break. Search "Sandy's Beach" on Youtube to get a glimpse of the power of the ocean here. Parents with little children may want to check out the lagoons at Ko'olina for gentler waters.
SURFING: Surfing is the signature sport of Hawaii. Duke Kahanamoku and Eddie Aikau are local legends and surf icons. Surf lessons are available around the island. If you want to get into surfing, there is no shame in purchasing a $100 eight-foot foam board from Costco. Pros on the North Shore, water patrol, and surf school students all surf them with joy. Surf competitions are community events for surfers of all ages and skill levels.
MACADAMIA NUT FARM TOUR: This farm does does a tour called the Ali'i tour which is a small tour of the farm along with teaching others about the Samoan Culture and a lot is centered around the Coconut Tree. The nearby Kualoa Ranch offers a tour more befitting a crash course for "Survivor" contestants than farm tour. It is both educational and entertaining. Your host will highlight various film locations on the property as you ride on crew buses used in the original "Jurassic Park." They also have ATV tours, zip lining and horse back riding. 
LUAUS: Grand luaus are available on the leeward side of the island, the Polynesian Cultural Center on the North Shore, and also Sea Life Park on the east end. The Hale Koa luau in Waikiki is a less costly, shorter luau option open to service members, retirees, and their guests.
TAKE A RIDE: The North Shore is the most rural part of the island. There are lots of food trucks including shrimp trucks up on the north shore with Kahuku shrimp. Ted's Bakery near Pipeline is worth the stop on your drive along the Seven Mile Miracle. Waves can reach 40 feet during the winter months. Helemano Farms in Wahaiwa grows sustainable Norfolk pines for cutting at Christmas.
INTER-ISLAND TRAVEL: The other islands are all unique. Volcanoes Park on the Big Island is a place to behold, and military members can rent cabins at the park. Also, don't forget to register for your free National Park military pass so your $25 vehicle admission will be waived.
And if there's a particular time of year to come, you don't want to miss the Waikiki Spam Jam, King Kamehameha Day on June 11th and the Lantern Floating Festival.
Food and Drink
There is no shortage of incredible cuisine from 5 star restaurants to side of the beach food trucks. Food is also essential to Hawaiian culture. School cafeterias serve local favorites like kalua pork, haupia (coconut) pudding, and poi (pureed taro root). Poke (raw, marinated tuna), shave ice (don't call it "shaved" ice), and Spam musubi (Spam and rice wrapped in seaweed) can be found in every corner store. Loco Moco is a popular Hawaii dish made of rice, burger patty, gravy and fried eggs.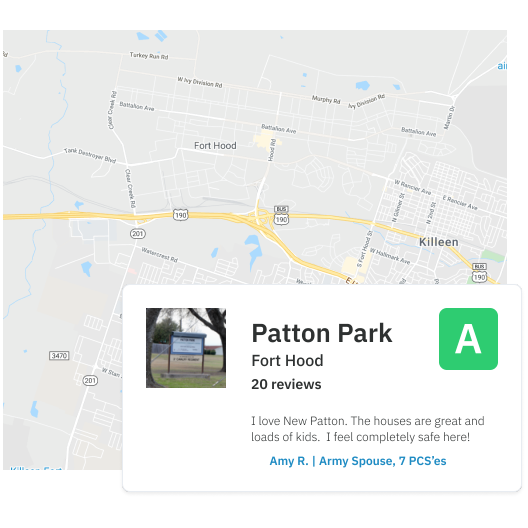 Research Your Area Before Your Move
Discover area guides and trusted reviews by and for the military and veteran community for local neighborhoods, base housing, moving companies, lenders, schools, and more.
Access Review