Hunter Army Airfield (Fort Stewart-Hunter Army Airfield)
PCS orders to Coastal Georgia? Congratulations and welcome to the beautiful south where food, friends, and the great outdoors reign supreme. This area has plenty of things to do and is sure to be a good fit for every type of family. Between the Army, Coast Guard, National Guard, and retirees, this area is very military-centric.
Hunter Army Airfield is located in Savannah, Georgia about 40 minutes away from Fort Stewart and is the Army's longest running airstrip on the East Coast and for that reason, it serves as an alternate landing strip for U.S. space shuttle missions. Home to 1st Battalion, 75th Ranger Regiment, HAAF has its own post housing, and other base amenities, but on a smaller scale compared to Fort Stewart. Georgia is an excellent place for outdoor fun and the Hunter Army Airfield MWR has some tremendous outdoor recreational facilities.
Read More
Off-Base Neighborhoods
Chatham County is the closest county to Hunter Army Airfield. It includes Savannah, Pooler, and other cities.
On Base Housing
Hunter Army Airfield housing is managed by Balfour Beatty. The five neighborhoods on post house active duty families, along with DoD Civilians and retirees. The DoD Civilians and retirees are approved to live in Wilson Acres with the other four neighborhoods reserved for active duty families. Homes are similar in style to Fort Stewart and range from 2-4 bedroom duplexes and single-family homes with playgrounds throughout.
Cost of Living and BAH
Hunter AAF BAH matches the low cost of living in the area. Hunter BAH varies depending on rank and whether or not you have dependents. To determine your BAH at Hunter Army Airfield, use our BAH calculator.
BAH Calculator
Housing Costs
The average sales price for Chatham County is $261,471 for a single-family home. In Bryan County it's $293,282 and in Effingham it's $221,760. The average price for the tri-county area is $258,245, which is up 4% over this time last year.
Weather
With the average high of 77 and low of 55, you'll enjoy this duty station if warm weather is your thing. Along with the tropical climate, however, comes hurricanes. Hurricane season on the Atlantic runs from 1 June to 30 November and for that reason, families in this area are encouraged to download storm apps. While not all households in the area are located in a flood zone, some flooding and high winds are experienced during hurricane season. It's a great idea to check your homeowner's insurance policy to review your wind damage coverage and to check on flood insurance rates.
Base Amenities
It may be a small post, but it has a commissary, PX, two gyms, a golf course, theatre, and two CDC centers. Hunter Army Airfield MWR boasts a marina, skeet shooting, archery, a golf course, and campgrounds making it a massive attraction for a family who loves the outdoors. There is one elementary school on post, which is also open to the public. Kids in middle school and high school attend local schools around the Savannah area. The best feature about Hunter Army Airfield is the proximity to Savannah. The Rio gate basically exits into a Target parking lot (yay!) and the front gate puts you close to the Savannah Mall.
Area Attractions
Tybee Island, the closest beach for vacationing, is about an hour from Hunter making it a local favorite. Families can take a tour of Forts Pulaski and Screven, visit Cockspur Lighthouse, relax on the beach, or visit the Marine Science Center. The most notable restaurants on Tybee are The Crab Shack and The Deck. 1.5 hours south of Fort Stewart will land you at beautiful Jekyll Island. The beaches at Jekyll are one of a kind and perfect for a day of relaxing. You can also get out and explore Driftwood Beach, the Georgia Sea Turtle Center, take a historical tour or attend the Georgia-Florida Golf Classic. Taking the family to a Savannah Bananas game is a must here! Starting in 2016, the team is a part of the Coastal Plain League and named the league's organization of the year in 2016 and 2017. Tickets sell fast due to the atmosphere of the games being so fun and family friendly. They also have been known to do surprise military family reunions!
Great Ogeechee Seafood Festival: Going on its 20th year, this annual event happens in Richmond Hill. The 3-day weekend event is dedicated to fantastic seafood, live music, vendor booths, and tons of family fun. Due to its reputation, the average number of attendees has grown to over 35,000. Past featured music headliners include the Dave Matthews Band, Drivin' & Cryin', Greg Allman & Friends, Collective Soul, 38 Special, Travis Tritt, and other big names! Put this on your bucket list while stationed here.
Savannah's most famed River Street is a must see if stationed in this area. River street is paved with cobblestone streets along the river and features boat cruises, restaurants, antique stores, and much more! Above all, River Street is known for its St. Patrick's Day celebration that ranks as the 2nd largest celebration in the U.S.! Go during the day for good family time and come back at night for a more adult celebration. FYI- you can walk around with alcohol on River Street so do not be alarmed, it's legal!
Wormsloe State Park is the epitome of the South due to the Live Oak and Spanish moss lined roads. This home once belonged to Noble Jones who came over from England with James Oglethorpe in the colonial days. Wormsloe today hosts guided tours and events, the tabby ruins, gravesites, and picnic areas. Most noteworthy, you can even get married there!
You are so close to Florida and the options are endless. Drive two hours into Jacksonville to experience beaches, Ikea (this is the closest one!), or catch a Jaguars football game. Grab those discounted tickets from the Hunter MWR and head four hours south to Disney World in Orlando! Want a more unique experience? Head six hours south to the Kennedy Space Center and watch NASA launch and meet real Astronauts.
Food and Drink
Coastal Georgia is a great place to experience living by the ocean, or at least as close as one can get with the Army. Sunshine, seafood, beautiful scenery, and the famed Southern charm make this post a fun place to live for families. You can enjoy southern BBQ, delicious peaches, and many of your favorite chain restaurants here.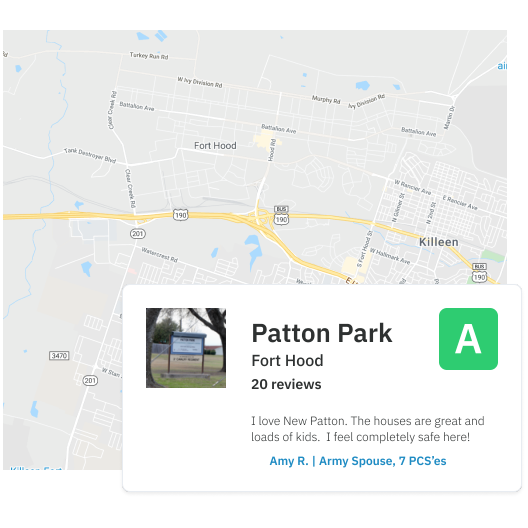 Research Your Area Before Your Move
Discover area guides and trusted reviews by and for the military and veteran community for local neighborhoods, base housing, moving companies, lenders, schools, and more.
Access Review