Fort Wainwright
Fort Wainwright is located in the North Star Borough of Fairbanks, the second largest city in Alaska. Centrally located, it is 365 miles north of Anchorage. Fort Wainwright is considered an overseas tour. Additionally, if your dependents want to accompany you to Alaska, your PCS orders must say "concurrent travel" and each family member's name must be listed on your orders. The mission here is to deploy combat-ready forces to support joint military operations around the world. The major units at Fort Wainwright currently are the 1st Stryker Brigade Combat Team, 25th Infantry Division and the U.S. Army Alaska Aviation Task Force.
Read More
Off-Base Neighborhoods
Living off post is not highly recommended at Fort Wainwright because of the high cost of utilities (HEAT!) that are required to get through Alaskan winters. If you do choose to rent or buy, be sure to research average energy costs and include that in your monthly rental budget.
On Base Housing
If there is a duty station where a military family should strive to live in on-post housing, Ft. Wainwright is it! Given the harsh winters and the heating costs, losing one's entire BAH as a trade-off to living in a safe, well-cared for neighborhood, with maintenance, landscaping, trash removal and road plowing all taken care of is thought to be well worth it. The North Haven master-planned communities offer a variety of homes and neighborhood amenities designed to meet your family's needs.
Schools
There are no schools at Fort Wainwright. Schools are off post. The Fairbanks North Star Borough School District serves more than 14,300 students in 35 schools.
Cost of Living and BAH
You've probably heard Alaska is one of the most expensive places to live in the U.S. The good news is Fairbanks has one of the lowest cost-of-living rates in the state. It is on par with Portland, Oregon. Fort Wainwright BAH varies depending on rank and whether or not you have dependents. To determine your BAH at Fort Wainwright, use our BAH calculator.
BAH Calculator
Housing Costs
The median home cost in Wainwright is $130,000. This is below the average for Alaska and for the rest of the country. However, keep in mind that utility costs to maintain a house will also be quite high most of the year. Average rent for a 3-bedroom is $1,664.
Weather
COLD! The interior of Alaska is a unique area to live when it comes to weather. During the summer months (June-August) highs will range in the 60-70 degree range. In September the temperatures plummet. It is not uncommon for this area to get snow during early fall. Usually, the first snow that sticks on the ground is in October and the snowiest months of the year are from Oct-Dec with the temperatures ranging from an average of 30 degrees in October to an average of 4 degrees in December. January starts the hardest time of year as far as weather goes, with an average temp of -3 degrees but can see an excess of -50 degrees. February is also cold but usually, has an average of 10 degrees. The sun begins to shine in March bringing forth the 'breakup season.' Alaska does not have a spring season. It literally goes from 3-4 feet of snow one week, and in a couple of weeks, all of it is gone! Winter lasts from October to April.
Base Amenities
Ft. Wainwright is home to Medical Department Activity-Alaska, Dental Activity-Alaska, and Bassett Army Community Hospital. There is a full serviced commissary on post, as well as a chapel, Armed Services YMCA, and veterinary services. The Fort Wainwright Community Spouses' Club is open to spouses of active-duty and retired military members in all branches of the armed services who are assigned, attached or living at Fort Wainwright, as well as active military members and Department of Defense civilians and their spouses. The Fort Wainwright CDC offers full-day (6 weeks to 5 years old) and part-day preschool programs. Hourly Care is provided at the Soldier and Family Assistance Center. The SKIES Unlimited program offers children's classes in martial arts, dance, sports, art, music, and language.
Area Attractions
Fort Wainwright and the local Fairbanks area are one of Alaska's hidden gems. If you like the outdoors or seeing untouched land and animals, this is the place to live. On any given day you can enjoy the view of the Aurora lights and a visit from the neighborhood moose! There is plenty of hunting, fishing, camping and winter sports available that you won't get anywhere else! Fort Wainwright is a great area for enjoying hockey games in the winter, camping and berry picking in the summer. RIVERBOAT DISCOVERY: Enjoy a relaxing, entertaining boat cruise of the Chena and Tanana Rivers, including a guided walking tour of the Chena Indian Village. Additionally, you can see Susan Butcher's champion dogs, the wedding of the rivers, and Dixie Alexander's Athabascan art. AURORA BOREALIS LODGE: Nothing like viewing the northern lights in style and comfort! Located 21 miles north of Fairbanks, the Aurora Borealis Lodge is ideally situated for 360-degree viewing & photography. From late August through early April, they offer nightly aurora tours with round-trip transfers from Fairbanks. SLED DOG ADVENTURES IN FAIRBANKS: Exciting dogsled rides, mushing school & tours with Alaskan guides, what could be better? Arctic gear supplied. CHENA HOT SPRINGS RESORT: Experience the natural healing waters of the 105-degree outdoor hot springs rock lake with the northern lights dancing above your head at this memorable resort. Families can also enjoy the indoor swimming pool and hot tubs. No other place in Alaska offers both, and they are open year-round. FAIRBANKS CHILDREN'S MUSEUM: The museum offers interactive exhibits designed for young people and activities such as role-playing, science, art and crafts, building, physical movement, and water play. These events are specifically designed to create a playful learning environment. FAIRBANKS CURLING CLUB: They like to say "100 Years & Still Rockin". An Olympic staple, this is the oldest club devoted to any sport in Alaska.
Food and Drink
Some favorite local restaurants include The Cookie Jar, Loose Moose Café, Silver Gulch (Fox, AK), Sam's Sourdough Café, The Chowder House and Alaska Salmon Bake. Some great places to get your hair/nails done: Elements Salon, Shear Heaven Salon, L.A. Nails. Shopping offers a nice variety of stores to include: Old Navy, Barnes & Noble, Walmart, Home Depot, Fred Meyers, Sears, Lowes, Safeway and the Bentley Mall (about 6-8 shops).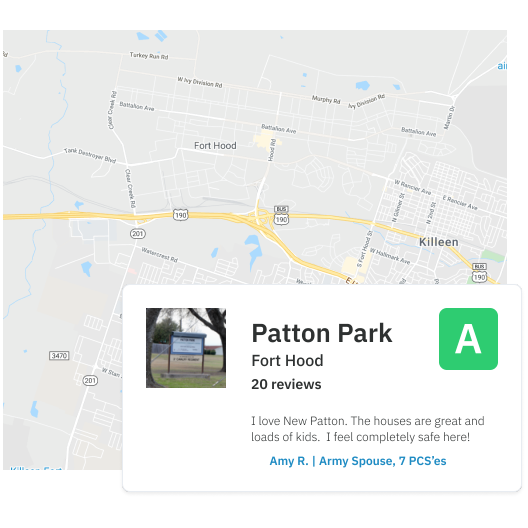 Research Your Area Before Your Move
Discover area guides and trusted reviews by and for the military and veteran community for local neighborhoods, base housing, moving companies, lenders, schools, and more.
Access Review