Fort Sill
PCS orders to Fort Sill? Congratulations and welcome to Oklahoma and the Fires Center of Excellence! This area has plenty of things to do and is sure to be a good fit for every type of family. Between the Army, Marines, National Guard, and retirees, this area is very military-centric. But before you try and visit Big Deuce and Short Round, lets dive in and learn more about your new duty station.
Fort Sill is located outside of Lawton, Oklahoma which is about 1 hour and 30 minutes south west of Oklahoma City. Sill is also 3 hours northwest of Dallas, Texas. Lawton-Ft. Sill regional airport (code LAW) is located about 3 miles from base making this a convenient location to fly in and out of. The next closest airport is in Oklahoma City (OKC).
Read More
Off-Base Neighborhoods
If you are looking to rent or buy off post near Fort Sill, you can find options in nearby Cache, Lawton, or Walters.
On Base Housing
Fort Sill housing is run by the privatized company, Corvias. Buffalo Soldier Acres houses families E1-O4 and is the newest of homes on the post. These are homes are conveniently located close to the Welcome Center. Beside Freedom Elementary school, you will find Southern Plains. 3 communities inside of Southern Plains are for families E1-E5, and the other 2 are for E-9 families. The historic homes located in Old Calvary Post house families from E1-Commanding Generals in 8 different locations. This neighborhood is close to post headquarters and the museum.
Schools
There are two elementary schools on post, which belong to Lawton Public Schools. Military kids living on post will attend Central Middle School and Lawton High School.
Families living off post will attend local school districts such as Lawton, Elgin, or Cache.
Cost of Living and BAH
Fort Sill BAH is very low. In fact, it was lowered in 2019. However, this is because the general cost of living is so low in the area. You will still be able to use your BAH to rent or buy a home off post. Fort Sill BAH ranges from $660 to $1,332 for enlisted. BAH at Fort Sill begins at $801 for O1 without dependents and goes up to $1,704 for O7 with dependents.
BAH Calculator
Housing Costs
The median home cost in the Cache area is $120,000 making it a very attractive place to buy. Want to stretch your BAH even further? Try Lawton where the average cost of a home is $105,500! Elgin is a beloved community of military families due to schools but averages $168,000 to buy a house. Families looking to rent in this area can find homes and apartments to fit all BAH sizes.
Weather
Welcome to the Midwest where you will get all 4 seasons. Summer will bring you warm temperatures averaging 94 degrees and regular thunderstorms. Peak tornado season is April-June, so it's a good thing to prepare for high winds and check your homeowner's insurance policy to review your wind damage coverage. Winter in Oklahoma brings an average of 6-8 inches of snow and the coldest month is January with an average of 24 degrees. You'll enjoy mild springs and falls!
Base Amenities
Fort Sill amenities are vast and have something that the whole family will be sure to enjoy. One of the newest additions to Sill was the multi-million dollar gym equipped with rock climbing wall, on-site CYSS, and hourly childcare. Other amenities include LETRA Beach & Waterslide, numerous pools ( some that let you float and watch a movie!) a bowling alley, library, a golf course, a Rod and Gun Club, Commissary, and a PX.
The Artillery Bowl is a historic site used for Soldier ceremonies, activities, and sports. This sizeable open-air amphitheater also allows families to work out on the stairs, and kids can burn off energy there too!
Area Attractions
The Medicine Bluff is a sacred ceremonial site where Native American's went for healing and times of reflection. This historic landmark is about 8 miles north of post and located at the bottom of the Wichita Mountains. Enjoy the historic and spiritual significance of this location and make this a must-see.
Throw a rock and you will hit a museum in this area. The Army Artillery Museum, Fort Sill National Historic Landmark Museum, and Museum of the Great Planes are the fan favorites. The Artillery Museum houses a large display of military vehicles outside. WICHITA MOUNTAINS: Sill is a short 10 min drive to the Wichita Mountains. There are miles and miles of hiking trails and wildlife to explore, including herds of Buffalo and Prairie Dogs. The Wichita Mountains Wildlife Refuge has a great welcome center that kids and adults alike enjoy. Going to the top of Mt Scott and seeing for miles around is fun.
Fort Sill is about 65 miles outside of Oklahoma City making this a great day trip or weekend getaway. OKC has a Zoo, tons of museums (we love the National Cowboy & Western Heritage Museum), and Myriad Botanical Gardens with are excellent ideas. If you are into sports, catch an Oklahoma City Thunder NBA game. The city also hosts numerous music concerts and outdoor festivals that any age can enjoy. Looking for a more adult adventure? Bricktown is an eclectic place to experience wine bars, piano bars, tons of restaurants, and shopping.
Dallas is a large city that deserves more than one trip to accomplish the checklist of events that the town has to offer. The most notable attractions include the JFK History Tour that ends in Dealey Plaza, the George W. Bush Presidential Library, the Dallas World Aquarium, Cowboys football games, Rangers baseball games, the Dallas Zoo, and many more parks and museums.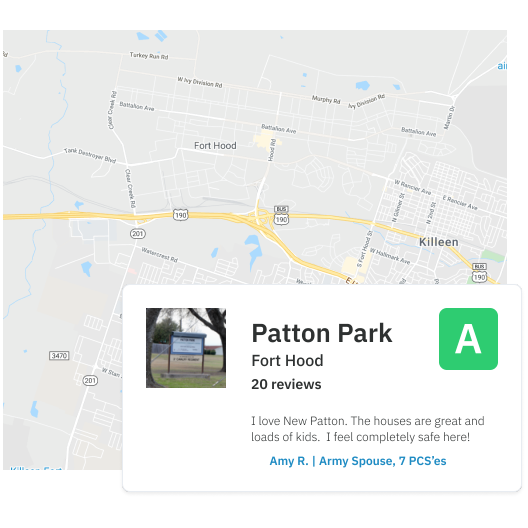 Research Your Area Before Your Move
Discover area guides and trusted reviews by and for the military and veteran community for local neighborhoods, base housing, moving companies, lenders, schools, and more.
Access Review