Fort Shafter
Wheeler Army Airfield, which serves as headquarters for U.S. Army Garrison Hawaii, and Fort Shafter, the home of the 25th Infantry Division, are also located in central O'ahu. Nearby towns include Wahiawa and Mililani.
Read More
Off-Base Neighborhoods
One of the great things about Hawaii is being able to live just about anywhere and still have a [semi] reasonable commute to a military installation. Popular areas to live off base include Leeward (West) Side, Ewa Beach, Kapolei, Central, Mililani, Wahiawa, Salt Lake, Windward (East) Side, Kailua, Kaneohe, and Hawaii Kai.
On Base Housing
The Island Palm Communities are managed by Winn Companies. They serve military families stationed at Schofield Barracks, Wheeler AAF and Helemano Military Reservation, Fort Shafter, Tripler AMC, JBPHH, or Camp Smith. Neighborhoods include the typical amenities: playgrounds, swimming pools, fitness centers, and walking paths. Home options include apartments, duplexes, and townhomes in 3-, 4-, or 5-bedroom floorplans.
Fort Shafter also has housing for SNCO right across the way on Fort Shafter Flats. This housing area is much smaller but has important buildings such a DEERS office and Education center.
Shafter is located close to Tripler Army Medical Center. If you are stationed at Shafter, you may choose to live in Tripler housing for a shorter commute.
Schools
Public schools are part of the Hawaii Department of Education. If you have school-age children, a great place to start in finding a school is to contact the School Liaison Officer for your respective branch. The SLO can assist in getting your child registered. Hawaii does not have any DoD schools, but there are many public, private, and charter schools to choose from, as well as a large homeschooling community on the island. Just a heads up: most schools and childcare centers require a negative Tuberculosis test to enroll.
Cost of Living and BAH
The BAH for Hawaii tends to be on the high side, similar to the Washington D.C. area. Island living, in general, tends to be pricey because everything has to be shipped in. The median sales price for a single-family home on O'ahu in 2021 was $1,050,000. Yes, that's over $1 million. In comparison, BAH in Hawaii ranges from $2,823-$3,588 for enlisted personnel and $3,000-$4,002 for officers.
BAH Calculator
Housing Costs
Hawaii has one of the highest tax rates in the country, at 5.3%. However, the property tax rate is at 0.27%, one of the lowest rates in the country. The median sales price of a single-family home on O'ahu is 1,050,000, which is a new record high. Whether you rent or buy, remember that energy bills will be higher in Hawaii than in most places, even with only moderate use of air conditioning.
Weather
Trade winds keep the average temperature in Hawaii at around 85 degrees throughout the year. The landscape across the island, however, varies significantly depending on location. On the Leeward (West) side of O'ahu, you will find a drier, more desert-like environment, while the Windward (East) side is home to the lush Ko'olau Mountains. Much of central O'ahu is farmland, and the North Shore consists of a rocky shoreline with higher surf. Many popular surfing competitions are held there.
Base Amenities
All of the military bases in Hawaii have the usual amenities: Commissary, Exchange, gym, community pool, etc. Fort Shafter's most popular amenity is their pool. The Fort Shafter pool can only be used by IPC residents to include families living on AMR or HMR. For this, a specific pass is required which is given by the housing community center.  Fort Shafter also has a thrift store which is part of the Fort Shafter HUI club to fundraise and also a bowling alley.
Area Attractions
Hawaii boasts AMAZING hiking. Trails range from paved and stroller-friendly (but steep!) Makapu'u trail on the eastern end of the island, to lush and tropical trails in Manoa Valley, to the dormant Koko Head and Diamond Head volcano crater trails.
Kayaking, paddle boarding, snorkeling, spearfishing, and diving are just a few ways to enjoy the warm water and 271 days of sunshine per year.
Kailua's beaches have become almost as crowded as the more touristy Waikiki. Both traffic and parking can be tough. Be aware, the deep ocean currents can be extremely strong even near shore. Many beaches also experience shore break. Search "Sandy's Beach" on youtube to get a glimpse of the power of the ocean here. Parents with little children may want to check out the lagoons at Ko'olina for gentler waters.
Surfing is the signature sport of Hawaii. Duke Kahanamoku and Eddie Aikau are local legends and surf icons. Surf lessons are available around the island. If you want to get into surfing, there is no shame in purchasing a $100 eight-foot foam board from Costco. Pros on the North Shore, water patrol, and surf school students all surf them with joy. Surf competitions are community events for surfers of all ages and skill levels.
The Macadamia Nut Farm offers the Ali'i tour which is a small tour of the farm along with teaching about the Samoan Culture and a lot is centered around the Coconut Tree.  You can also do a tour of Kualoa Ranch, which is more befitting a crash course for "Survivor" contestants than a farm tour. It is both educational and entertaining. Your host will highlight various film locations on the property as you ride on crew buses used in the original "Jurassic Park." They also have ATV tours, zip lining and horse back riding. 
LUAUS: Grand luaus are available on the leeward side of the island, the Polynesian Cultural Center on the North Shore, and also Sea Life Park on the east end. The Hale Koa luau in Waikiki is a less costly, shorter luau option open to service members, retirees, and their guests.
The North Shore is the most rural part of the island. However, Ted's Bakery near Pipeline is worth the stop on your drive along the Seven Mile Miracle. There are lots of food trucks including shrimp trucks up on the north shore with Kahuku shrimp. Waves can reach 40 feet during the winter months. Helemano Farms in Wahiawa grows sustainable Norfolk pines for cutting at Christmas.
Island hopping is not as cheap as one might think, but is more affordable now that Southwest operates here. The other islands are all unique. Volcanoes Park on the Big Island is a place to behold, and military members can rent cabins at the park. Also, don't forget to register for your free National Park military pass so your $25 vehicle admission will be waived.
Food and Drink
Food is also essential to Hawaiian culture. School cafeterias serve local favorites like kalua pork, haupia (coconut) pudding, and poi (pureed taro root). Poke (raw, marinated tuna), shave ice (don't call it "shaved" ice), and Spam musubi (Spam and rice wrapped in seaweed) can be found in every corner store. Loco Moco is a popular Hawaiian dish made of rice, burger patty, gravy, and fried eggs.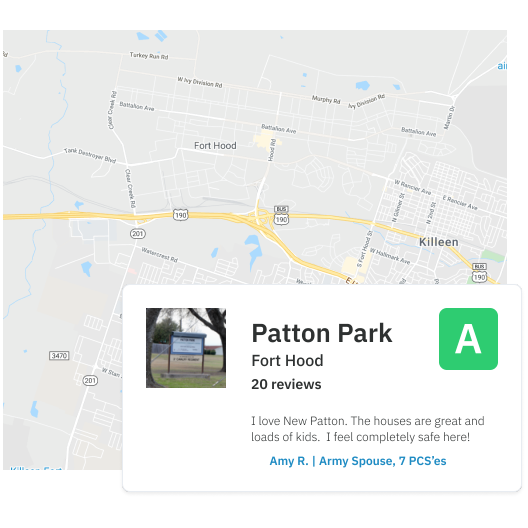 Research Your Area Before Your Move
Discover area guides and trusted reviews by and for the military and veteran community for local neighborhoods, base housing, moving companies, lenders, schools, and more.
Access Review