Fort Leonard Wood
Fort Leonard Wood is located in Pulaski County, Missouri in the heart of Interstate 44. The Army installation is situated between St. Louis and Springfield, Missouri 1 ½ to 2 hours respectively.
Right outside the gates, you'll also find historic landmark Old Route 66, and much of the area is Route 66 themed. Fort Leonard Wood is home to the Maneuver Support Center of Excellence, the MP Regiment, CBRN, and Army Engineers. Fort Leonard Wood also trains more than 82,000+ soldiers and civilians a year. Surprisingly, the Fort also trains the largest Air Force and Marine detachments on an Army base as well. It's safe to say that you could have neighbors from any of the Military branches during your time here.
Given the large population of Active Duty and retirees, you'll feel the spirit of the Army at your arrival. The locals affectionately call it "Fort Lost In The Woods" and well, they are right. However, this small old Route 66 town is full of charm if you're willing to explore.
Read More
Off-Base Neighborhoods
The Fort Leonard Wood area has a ton of off-post housing options for your family. Exiting the North gate, you'll find St. Robert. West gate leads you to Waynesville and Plato is out the South gate. These options are typically within a 3 to 15- minute drive from the installation. Other options are Crocker and Dixon which take you a further distance away.
On Base Housing
On-post housing, determined by rank and availability, is managed under Belfour Beatty Communities. They offer a large selection of floor plans and styles for active duty families and DOD employees. There are 2, 3, and 4- bedroom floor plans suitable for any family size and they are also pet-friendly. Most on-post neighborhoods have playgrounds, community centers, and pool areas for your enjoyment.
Be sure to get on the housing list early if you intend to live on-post as the wait could be weeks or months after arrival.
Schools
There are four elementary schools on post. However, middle and high school students must attend off-post in the Waynesville school district. Off-post, you'll find plenty of reasonably priced homes, apartments, and duplexes available for rent or purchase. If you have school-aged children, there are six elementary schools, one middle, and one high school within Fort Leonard Wood limits.
Cost of Living and BAH
Missouri is a typical Midwestern state. The cost of living here is relatively low, and you can get a lot of bang for your buck. It is often cheaper to purchase or build a home than it is to rent, especially if you have a larger family. Fort Leonard Wood BAH varies depending on rank and whether or not you have dependents. To determine your BAH at Fort Leonard Wood, use our BAH calculator.
BAH Calculator
Housing Costs
With a fast military turn around rate, this is one of the best duty stations to take a risk in purchasing and selling or flipping a property. The population is overwhelmingly military. The median home value in the area is $164,000 or less, and this price can typically get you 4+ bedrooms.
Weather
Fort Leonard Wood offers four very distinct seasons. While the summer is sweltering, winter temps can drop into the 20's. There is not usually much snow, but wintry mixes can cause the roads to become slick with black ice. Springtime brings tornado season. Both the installation and MDOT does an amazing job of keeping everyone informed of the weather. In the fall, you'll get a nice crisp air, and the foliage is beautiful along the lake of the Ozarks and rolling hills.
Base Amenities
Although not a huge base, Fort Leonard Wood (FLW) boasts a ton of amenities for you and your family to enjoy. Aside from the typical commissary, post exchange, and CDC options, the Fort also has four gyms. The most popular are Specker (typically for weight lifting) and Davidson (family and all-around sports, offering an extensive list of classes). FLW also has a ton of community centers throughout on-post residential neighborhoods as well as an extremely active ACS and MWR facility.
The library offers tons of classes for children such as storytime book readings. The gym provides adult intramural sports and child and youth sports as well. There is also a bowling alley, movie theatre, and a Rec Plex fun center with activities such as a pool, mini-golfing, and go-karts. During the summer and fall months, families can take advantage of the golf course, hunting, and archery. A popular attraction on-post is the Military Museum holding artifacts from MPs, Engineer, and Chemical regiments.
The Fort also has a recreational facility called Lake of The Ozarks Recreational Area. Here, you can rent outdoor equipment and lodges for a quick getaway.
Area Attractions
In the heart of the Ozarks, you'll sometimes find quirky holiday celebrations such as Old Settlers Day which is a living history reenactment of the Civil War period. The area is also settled on Old Route 66, so you'll find a few references to it via art murals, museums, and more. Another cool thing about being in the Midwest is caves. This area is filled with cave and cavern explorations on and around the installation.
The small town of Robert & Waynesville is slowly but surely growing to meet the needs of the local military community. Outside the gate, you'll be pleasantly surprised with dining and entertainment options. In St. Robert, there are tons of chain and small restaurants with amazing food. It also has a few women's clothing stores, a Walmart, a gun range, bars, phone stores, and more. In Waynesville, you'll find more chain restaurants and a state-of-the-art upgraded movie theatre with reclining chairs and dining options.
Thirty minutes down the road, you'll find the thriving city of Rolla. Here, you have access to more dining options and more of your favorite retail stores like Ross, TJ Maxx, Hobby Lobby, and Kohls. The area is steadily growing and building more retail spaces.
45 minutes away brings you retail and boating heaven. Osage Beach is a large retail area with outlets and retail malls. You can spend the weekend on a beautiful lakefront resort or rent a boat to take out on the lake of the Ozark. It is the perfect weekend getaway.
St. Louis is the most notable city in Missouri and a great place to visit whenever time allows. The city is full of fun and free things for your family to enjoy such as the zoo, the city museum and more. St. Louis is charming, full of history and great food. Missourians really love their baseball team which is the St. Louis Cardinals, and the Cardinals love their military. The Cardinals host a ton of Military Appreciation events and offer frequent discounts. St. Louis is also the closest major airport and it takes about two hours to travel to from Fort Leonard Wood.
Columbia is a college town and home to one of Missouri's most notable colleges, the University of Missouri. Because Missouri does not have a professional football or basketball team, Columbia is the perfect place to visit to catch a collegiate sporting event or game.
Springfield, Missouri is also a college town with tons to do and see. It is a very popular place for military families to go during the weekend and off days. Springfield has a ton of restaurants, attractions, and shopping with your favorite retail stores and a large mall. BRANSON: Branson is an Ozark Mountain town that was named one of the top towns to celebrate the holiday season. It has popular attractions such as Silver Dollar City, The Titanic Museum, river boating, beautiful lodge getaways, and wax museums. This is the perfect family weekend getaway.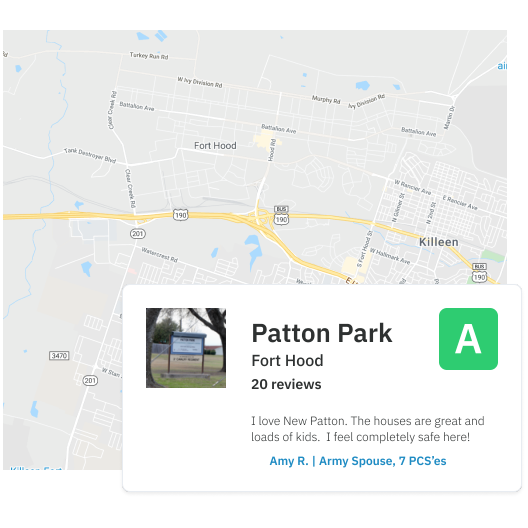 Research Your Area Before Your Move
Discover area guides and trusted reviews by and for the military and veteran community for local neighborhoods, base housing, moving companies, lenders, schools, and more.
Access Review