Fort Leavenworth
The Town of Leavenworth was the first city established in the state of Kansas and sits on the border of Kansas and Missouri separated by the Missouri River. A charming historic downtown features murals painted on walls, repurposed historic brick buildings, and lots of local shops and restaurants. Just down the road from this great area sits the large Fort Leavenworth Federal Penitentiary. It's an eyesore, but you will get used to it after a few months.
The town hosts parades for almost every holiday, has a weekly local farmer's market, and hosts outdoor concerts on the river during the summer months.
Fort Leavenworth is a very small and well-maintained post that dates back to 1827. The housing ranges from brand new to pre-Civil War era homes. The historic homes are said to be haunted so proceed with caution at the housing office!
Fort Leavenworth is known as the intellectual hub of the Army, home to the Command and General Staff College, the School of Command Prep, The Army Management Staff College and the School of Advanced Military Studies. Most families come to attend a school and then leave. There is a constant turn over to include international students from all around the world. In addition to all of these great schools, Fort Leavenworth is home to the 15th MP Brigade and Army Disciplinary Barracks. So many prisons here!
Read More
Off-Base Neighborhoods
If you want to live off post, start your home search in the nearby cities of Lansing, Shawnee and Basehor, KS. You can also commute from Weston or Platte City, MO. When buying a home near Fort Leavenworth, pay attention to the difference in taxes and costs between Kansas and Missouri.
On Base Housing
Fort Leavenworth Housing features over twenty neighborhoods of 3 and 4 bedroom homes. All homes include washer/dryer hookups, window blinds, and central heat and air conditioning.
Schools
The Fort Leavenworth Unified School District includes three elementary schools and one junior high school. These are located on post and are open for enrollment for military kids living on post. The schools have high ratings on schooldigger.com.
Cost of Living and BAH
Depending on where you are coming from, you will be surprised to discover that the low BAH matches the low cost of living in this area. Fort Leavenworth BAH varies depending on rank and whether or not you have dependents. To determine your BAH at Fort Leavenworth, use our BAH calculator.
BAH Calculator
Housing Costs
The median home price around Fort Leavenworth is $134,300. Of course that means you can find many options above or below that median price. But it makes this station an attractive place to invest your BAH in a mortgage.
Weather
Fort Leavenworth weather and the climate in general in Kansas is unpredictable. On any given day it can be sunshine, rain, and tornado. The summers are hot, and most families spend them outside at one of the local state parks or farms. Spring and Fall bring welcome cooler temperatures and seem to have the most thunderstorms. Winter will bring snow and ice to the area. A great resource to check road conditions before heading out is the Department of Homeland Security website. The last thing to note about the weather here is the wind. The Midwest is mostly flat making the wind strong year round. It takes some getting used to!
Base Amenities
This post might be one of the oldest military installations, but it does have modern amenities such as a golf course, pool, gyms, stables, an airfield, and hosts numerous family activities and programs. It's also a very active post! On any given day you will see Fit Leavenworth and Stroller Strong Moms out doing their workouts. Not in the mood to break a sweat? Head to the movie theatre for a free showing on Friday and Saturday nights. One downside of this post is the lack of an emergency room. While there is a hospital for appointments, the ERs are located out in the town.
Area Attractions
Fort Hood has the bluebonnet fields and Fort Leavenworth has its sunflowers. The sunflowers here bloom late summer typically for two weeks. During this timeframe, hundreds of families will flock to Grinter Farms to have their photos taken. It gets so congested that it isn't uncommon for the local sheriff's office to close it down. Make sure to go early and knock out that annual family photo! Another tradition on the Army post is to take a haunted tour of the old disciplinary barracks at Ft. Leavenworth. The tours run in October and are great fun!
Your weekends will be filled with great fun between the farms, apple orchards, local events, state parks, and shopping areas. Below are a few highlighted areas though you can make sure you don't ever miss an event by following the Facebook page Stationed at Fort Leavenworth.
Legends– 25 minutes straight out of the main gate towards Kansas puts you at a great outdoor shopping area known as Legends. The outlet mall has every store from Carters to Coach and everything in between. There are numerous restaurants and across the street is your local Target…I repeat this is the closest Target.
You can also catch a local baseball game, Go T-Bones!, or a Sporting Kansas City soccer match.
Zona Rosa– Take a right out of post and go 25 minutes into Missouri and end up at Zona Rosa which is another outdoor shopping area. Summer months bring outdoor concerts, AND this area is breathtaking during Christmas. Zona Rosa also likes to host vintage markets and has tons of restaurants.
KCMO (Kansas City, MO) – Beautiful downtown Kansas City is home to over 200 fountains. They are on almost every corner and give the city a very Italian feel. Kansas City has great museums and Nelson Atkins is our favorite with free admission for the whole family. The National World War I Museum and Memorial is another point of interest. You can climb to the top of the tower and have a 360 view over the entire city. Across the street from the WWI Museum is Union Station. The train station has a Science City, local exhibits rotating through, and a back room filled with model trains that will entertain kids for hours.
Looking for a sporting event? Check out a Royals or Chiefs game! If you're not into sports, there is the Kansas City Zoo, the Kansas City Ballet, Crowne Center's Legoland and Sea Life Aquarium. There is also shopping in Country Club Plaza or eclectic stores in Westport.
Food and Drink
While this installation mirrors other Army posts with the typical chains and fast food, the downtown area in Leavenworth is home to excellent local cuisine. On Saturday mornings you will find a long line at Meriweather's for their famous donuts. The families here are also always in a great debate whether Momma Mia's or Luigi's has the best Italian food. Try both and join the great debate! Pullman's Place and The Depot are charming restaurants boasting train themes and great food. And when one thinks of food in Kansas City, bbq is often the first thing to pop into your mind. Jack Stacks and Oklahoma Joes are absolute musts to try.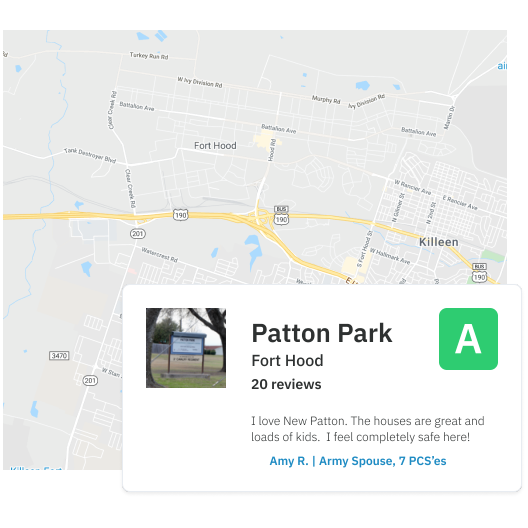 Research Your Area Before Your Move
Discover area guides and trusted reviews by and for the military and veteran community for local neighborhoods, base housing, moving companies, lenders, schools, and more.
Access Review