Fort Knox
Fort Knox is a small base located near Louisville, Kentucky. It features the United States Bullion Depository, with rumors flying about what's really inside. The phrase "Gold Standard" is used to describe the installation in reference to the landmark, including their local post newspaper, "The Gold Standard." The installation is over 100,000 acres and located in three of Kentucky's counties. Fort Knox is full of history: the General Patton Museum on-post features information on Cadet Command, the installation, and Patton himself.
Read More
Off-Base Neighborhoods
There are nice neighborhoods near post and Elizabethtown is only 15 minutes away though with traffic it can be more like 30. Brandenburg and Vine Grove are both popular places to live and Doe Valley is an exceptionally great gated community with a lot of great amenities such as a golf course, campground, lake, and marina. For those open to a commute, living in Louisville is an option. There are a ton of carpool options for soldiers and DA Civilians that work on post and live in Louisville.
On Base Housing
Fort Knox on post housing is managed by Winn Companies and consists of 2, 3, and 4 bedroom floor-plans. Housing is pet friendly with multiple playgrounds and a splash park. An Army spouse says "We loved living in the Clarke neighborhood. The homes were older but nicely maintained."
Schools
There are four schools on post at Fort Knox, for families living in post housing. These are DoDEA schools that serve elementary, middle, and high school students. Families living off post will typically attend schools in the Hardin County district.
Cost of Living and BAH
One of the best things about the Fort Knox KY area is the low cost of living. Military families are often able to stretch their BAH and their budgets here, compared to other Army posts. Fort Knox BAH varies depending on rank and whether or not you have dependents. To determine your BAH at Fort Knox, use our BAH calculator.
BAH Calculator
Housing Costs
Your Fort Knox BAH will be low but it will go farther than you think. A two-bedroom apartment can cost around $600-$700, depending on where you decide to live. Houses can be rented for very little and the cost of buying a home is very reasonable.
Weather
Kentucky is not "the South" when it comes to weather. We have a saying in Kentucky where if you don't like the weather, just wait 15 minutes. For one, the rain in Kentucky is insane. It doesn't usually last long, especially in the summer, but it's a downpour. While it doesn't snow as much here, it does get very very cold (don't throw away your winter coat for this move!) In December or January, you're seeing lows on average around 27 to 30 degrees. It's not very consistent, however, as one Christmas here was in the 70s! In June and July, the highs are on average around 85 to 90 degrees. Spring and fall in Fort Knox are normally nice, with outdoor patios opening back up around late March or early April. The weather in Kentucky is hard to predict, so be prepared for anything!
Base Amenities
Fort Knox post amenities include a mini waterpark, putt-putt golf course, and bowling alley. There are also four schools, with over 1,500 students. Fort Knox has a commissary, PX, and military clothing and sales store too. The installation also has two hotels and a wide range of food options, including Samuel Adams Brewhouse, Taco Bell, Burger King, Starbucks, Subway, and much more.
Area Attractions
The Kentucky Derby is in May. This is a huge event for the Fort Knox region and a big tradition. Many have "watching parties" at their homes to avoid the crowds or attend the Derby themselves. Thunder Over Louisville is at the beginning of the celebrations, with a huge firework show over the city. The weeks leading up to Derby also include a hot air balloon event, half marathons, a steamboat race down the river, and a parade.
Blues & Barbecue Festival – Louisville, Kentucky in July. Great food and music that celebrates Blues music. Kentucky State Fair – Louisville, Kentucky in August. The Kentucky fair has concerts, fair rides, and a ton of vendors indoors to escape the heat! Kentucky Bourbon Festival – Bardstown, Kentucky in September. This festival is a local favorite, but attended by the stars! You never know who you might see! James Court Art Show – Louisville, Kentucky in October. This is a great event if you enjoy art!
Louisville is located approximately 45 minutes away from Fort Knox. It is the place to go on the weekends for festivals, concerts, and kid-friendly events.
Nashville, Tennesse is approximately 2.5 hours away from Fort Knox Ky. This country music city makes for a great overnighter or weekend trip. Check out the bars downtown and listen to live music, go on a celebrity home tour, or check out the Grand Ole Opry!
Cincinnati is a family-friendly day-trip or quick overnighter. It is home to the Cincinnati Zoo and the Newport Aquarium. Don't forget to visit the ITR office for discount tickets! Cincinnati is a little over 2 hours away, depending on traffic.
St. Louis is about four hours away from Fort Knox, but offers spectacular adventures for a family weekend get-away. Visit the Gateway Arch, or if you travel with your pet bring Fido to The Museum of the Dog, which allows you to bring your dogs into the art museum.
Indianapolis is approximately a 2.5-hour drive from Fort Knox and a great weekend getaway close to home. Visit the Indiana State Fairgrounds during your visit, there is always some sort of event happening there. On your way home (or there!), take a detour to Nashville, Indiana, my favorite American small town for a taste of local flavor.
Fort Duffield is in West Point, Kentucky, approximately 20-minutes from Fort Knox. The Civil War site has a cemetery at the top of the hill, along with log cabins. The fort has reenactments on-location that are worth the visit. The site provides a quick, but rigorous walk to the top and spectacular views. Saunders Springs is located right off one of the Fort Knox gates. It is easy to spot, with log cabins surrounding the entrance. Once on the trails, hikers are taken to a small waterfall and a cave (not open to the public). Bridges to the Past and Tioga Falls are at the end of a long road just a bit past West Point, Kentucky. Go left and you'll walk on a paved road over small bridges alongside a creek, called Bridges to the Past. Go right and you'll hike through the woods leading to a waterfall, called Tioga Falls. This land is owned by Fort Knox and closed at some points, so double check before visiting.
The famous designer of Central Park in New York City, Frederick Law Olmsted, was commissioned to design 18 parks and six parkways in Louisville. Cherokee Park is one that is perfect for walking your dog, a run, or meeting with friends. Other parks closer to Fort Knox that are also worth a visit include Freeman Lake, which offers very inexpensive kayak, canoe, paddleboat, and stand-up paddleboard rentals in the warmer months. Also, during summer months, Freeman Lake hosts free outdoor kids movie nights. Camp Carlson is owned by Fort Knox and located off-post. The 65-acre land is a campground available to the military community and offers fishing and playground areas.
21c Museum and Hotel is an art lover's paradise. Attached to a hotel, with a bar and restaurant, visitors can walk the museum with their drinks and view artwork on multiple floors. The museum is free and a great date night option. The Kentucky Derby Museum is a horse racer's dream. There is a free tour offered, plus some paid behind-the-scenes tours. They also have an incredible 360-degree video that is absolutely worth the visit. Frazier History Museum is a small, interactive museum in Louisville. One wing features the Kentucky Prohibition, while the other is a kid-friendly Lewis and Clark Expedition wing. Lewis and Clark started their journey on the Ohio River, with a starting point only a few miles from the museum.
Food and Drink
The Hot Brown, an open-faced sandwich, was invented at the historic Brown Hotel in downtown Louisville. The sandwich is famous in the region and around the country. Bourbon is a huge part of Kentucky. Louisville and the surrounding cities are filled with distilleries and bourbon tours. The Bourbon Trail is a must if you're interested in the history of bourbon in the state.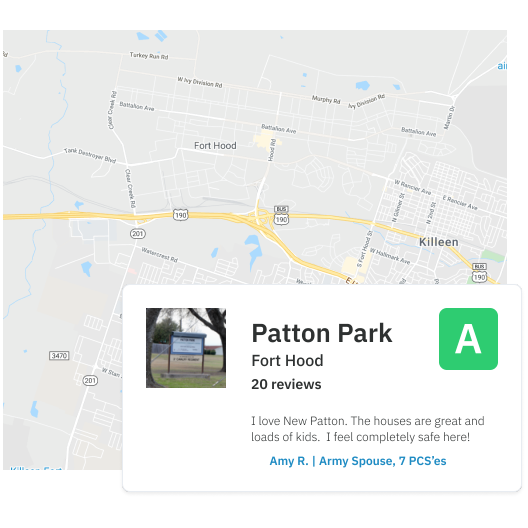 Research Your Area Before Your Move
Discover area guides and trusted reviews by and for the military and veteran community for local neighborhoods, base housing, moving companies, lenders, schools, and more.
Access Review