Fort Irwin
Fort Irwin, California is known among military families for its remote location. It is 35 miles north of Barstow, California in the Mojave Desert. Even though Fort Irwin is two hours to the big city of Los Angeles, being stationed here is not all negative. Because of the remote location, the community is robust and truly makes the difference.
The base exists to support the National Training Center, and while the rotations are long, the family life is good. The rotations bring predictability, which military families crave.
Read More
Off-Base Neighborhoods
There aren't a lot of options for housing off-base near Fort Irwin. About 90% of military families live on post. Some may opt to live aboard nearby Marine Corps Logistics Base Barstow, which is still about 40 minutes away. For those who aren't phased by the commute, there are some rentals and homes available in the town of Barstow.
On Base Housing
Since so many people live on base, and the closest town is 40 minutes away, the on-base housing is popular and well-liked. Residents say it's clean, well-kept, and that maintenance services are great.
The Villages at Fort Irwin are made up of 14 neighborhoods with apartments, townhomes, and single-family homes. Tiefort View and Coyote Springs both have two-bedroom apartments and Town Center Terrace boasts one-bedroom apartments in an urban setting, within feet of shopping and dining.
Schools
Fort Irwin and the surrounding area are part of the Silver Valley Unified School District, which consists of seven schools, including an alternative school. There are two elementary schools located on Fort Irwin, but they are not Department of Defense schools. Lewis Elementary school has students from pre-k through second grade and Tiefort View Elementary School has third through fifth grade.
Fort Irwin Middle School is also located on base, but the only high school in the district is located about 45 minutes in Yermo. Silver Valley High School may be in a remote location, but according to Great Schools they have an 100% four-year graduation rate and are ranked above the California average in several areas.
Cost of Living and BAH
Fort Irwin BAH is moderate, which coincides nicely with the lower cost of living. California in general has a high cost of living. While Fort Irwin's cost of living is higher than the national average, it's lower than many other parts of the state.
Fort Irwin BAH ranges from $1,179 to $2,070 for enlisted. BAH at Fort Irwin begins at $1,575 for O1 without dependents and goes up to $2,376 for O7 with dependents.
BAH Calculator
Housing Costs
There are limited rentals in the Barstow area, which may make them cost more than the local BAH. The median sales price of a home in the area is $234,500, which has increased significantly over the past few years. While some families may choose to buy in the area, it's not a high percentage due to the distance from Fort Irwin.
Weather
Fort Irwin is in the middle of a desert, so there is very little rain and lots of wind, especially in the winter. Temperature ranges are extreme: very hot -- up to 110-120° -- in the summer, and cold during the winter. Spring and fall are beautiful, however, with temperatures in the 70's. During the summer, there is a monsoon season, which often brings a sudden, heavy rainfall.
Base Amenities
Again, since Fort Irwin is so remote, the installation tries to make sure residents have what they need. Many people still utilize online shopping instead of driving the 40 minutes to Barstow, where there is a Walmart, or over an hour to the closest Target. The commissary, which is open every day, works hard to keep things in stock, but the rotational units may wipe them out of the good stuff. There are a lot of food options, including food trucks and home-based businesses that sell coffee and other food stuffs.
The garrison spends a lot of time hosting events, and there are monthly story time and craft sessions for younger kids. There is also a family room at the gym for kids to play while their parents work out. There is also a splash bad and resort-style swimming pool on base for those very hot summer months.
Area Attractions
Since the nearby towns and big attractions are so far away, families either do things on base or way off. Fort Irwin has some great hiking at Mount Blackie, an easy one-hour hike to the top of an old volcano with views of the whole installation. During rotational down-times, families can take tours of the training cities where their service members spend a lot of time working.
When venturing off post to nearby towns, there are some great options. Barstow has a train museum and Victorville has an indoor trampoline park.
Extending the trip beyond an hour, families can visit Los Angeles, Las Vegas, and San Diego. These major cities have numerous attractions, including Legoland, Disneyland, and the San Diego Zoo. Popular weekend trip ideas include Big Bear National Park, Palm Springs, Las Vegas, and the Oak Glen apple orchards in the fall. Other popular places to visit are Lake Tahoe and Monterey, which are both located several hours to the north.
Food and Drink
The remote location may challenge you to look beyond the chain restaurants and fast food joints for some great food options. Barstow boasts the oldest Del Taco, which opened in 1964, for example. Firehouse is good if you like Italian food. For Mexican, Lola's, Los Domingos, and Platos are great options. For more chain restaurant options, you may wish to venture a little further to Victorville.
On Fort Irwin, the home-based businesses are the best option for diverse and quality food. There's a Fort Irwin Foodies page on Facebook with more details, but residents boast they've eaten some of the best Indian and Thai food ever from the home-based businesses on Fort Irwin.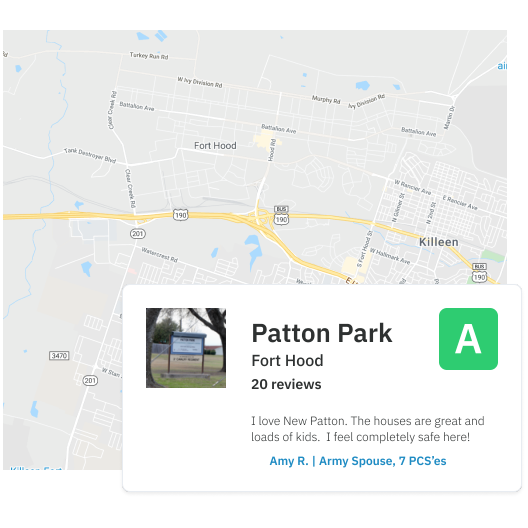 Research Your Area Before Your Move
Discover area guides and trusted reviews by and for the military and veteran community for local neighborhoods, base housing, moving companies, lenders, schools, and more.
Access Review