Fort Huachuca
Fort Huachuca is in the high desert of southeastern Arizona, on the border of Mexico. Established in 1877 as Camp Huachuca, it's seen a lot of change over the years. It was the home of the "Buffalo Soldiers" from 1913 to 1933 -- and you'll see representations of that unit all over the installation.
Fort Huachuca is home to the United States Army Network Enterprise Technology Command (NETCOM) and the United States Army Intelligence Center (USAICoE). There is also a Marine Corps Detachment and several other tenant units.
The nearby town of Sierra Vista relies heavily on the base and embraces the relationship. It's a very veteran-friendly town and they show up big for their annual Veteran's Day Parade down the main street, Fry Boulevard.
Read More
Off-Base Neighborhoods
While many families choose to live on base at Fort Huachuca, there are affordable options for those who prefer not to. Some people prefer to have more land and may push out beyond the limits of Sierra Vista towards Hereford or Huachuca City. Others may look as far as Benson or Vail, depending on their spouse's employment or school options.
For those who wish to stay close to Sierra Vista and Fort Huachuca, the Holiday and Pueblo Del Sol subdivisions are very popular. Holiday subdivision has several pools and neighborhood amenities and Pueblo Del Sol has a country club with various membership options that are also open to non-residents.
On Base Housing
Base housing on Fort Huachuca is managed by Michaels Military Housing and has some of the nicest enlisted homes in the Army. There are newer builds and historic homes, duplexes and single-family homes, big neighborhoods and small.
There is one large neighborhood in the middle of the base, broken up into smaller neighborhoods that are within walking distance to the commissary, the exchange, and the schools. The Bonnie Blink neighborhood frequently sees wildlife. Some of the field grade officer housing surrounds the parade field.
Mountain Vista Communities has a nice community center in the middle of the post with a playground and family room available for playdates and community gatherings. There are playgrounds in each of the neighborhoods and great support from the office staff and maintenance.
Schools
Families who live on post attend schools in the Fort Huachuca Accommodation Schools, which has three schools. Col. Johnston Elementary serves Pre-K through second grade, Gen. Myer Elementary has third through fifth grade, and Col. Smith Middle School is also on base. Military families who live off base can request to attend these schools as well.
The schools off base are part of the Sierra Vista Unified School District, which has six elementary schools, one middle school, and one high school. Many military families opt to take their students to Tombstone High School, which is smaller, but a longer drive.
Cost of Living and BAH
The cost of living in Arizona is right about the national average, but Sierra Visa is a little below it, making things a bit more affordable for those stationed here. Fort Huachuca BAH is lower than most installations and may make it challenging for those who want to live off base.
Fort Huachuca BAH varies depending on rank and whether or not you have dependents. To determine your BAH at Fort Huachuca, use our BAH calculator.
BAH Calculator
Housing Costs
The median sales price home in Sierra Vista is $270,000, at about $157 per square foot. Some families chose to live in Benson, Bisbee, or Douglass, and the homes there are priced lower than in Sierra Vista. Because homes are typically more affordable here, many families purchase a home and then rent them when they move, making rentals more available than in other areas.
Weather
Fort Huachuca is in the high desert, making it hot and dry, but not as hot as Tucson and Phoenix. When driving from Tucson in the summer, it's common to see temperatures drop 10º to 15º during the drive. Because of the altitude, there may be some light snow in winter, but it won't stick around for long.
The summer months are hot during the day and cooler at night. And the monsoon season of July and August brings daily afternoon storms to cool things off. Fort Huachuca is one place you can be outside every single day of the year, without experiencing extremes.
Base Amenities
Fort Huachuca has everything needed, but not a lot of frills. As a large training installation, there is often a sense that the infrastructure doesn't meet the needs. But the MWR is fantastic and offers a lot of events and activities for families.
Prosser Village is commonly full of initial entry trainees, and they can find almost everything they need there, including a chapel, a shoppette, a food court, and a gym.
The Commissary is open six days a week and there are three shoppettes with food available at each. There are two gyms available and lots of intramural sports. Mountain View Golf Course is a great place for golf year-round, and Irwin Pool is open during the summer. The Outdoor Recreation Office has many things available to rent as well.
Area Attractions
Sierra Vista is small, but if you love the outdoors, there is no shortage of things to do. Several hiking trails are available, both on base and off. The nearby town of historic Tombstone is about 20 minutes away. The small mining town of Bisbee is also about 20 minutes away, with a mine tour and lots of shopping opportunities.
Tucson is an easy day trip, about an hour to 90 minutes away, depending on where you're headed. Tucson has a fantastic zoo--Reid Park Zoo--and several parks, including Saguaro National Park. The Sonoran Desert Museum is a favorite and, if you're looking for any kind of shopping, you'll find it in Tucson.
Phoenix is about three hours from Fort Huachuca and has more to offer. You can also get to Los Angeles, San Diego, and Las Vegas within about 8 hours. Carlsbad Caverns, the Petrified Forest, and Sedona are great long weekend trips as well. Read more about camping trips in the Southwest in our article here.
Food and Drink
In town, you'll find several chain restaurants and a few hidden gems. Hoppin' Grapes is a wine and beer bar owned and operated by a retired service member and his former attorney spouse. The atmosphere is perfect for date night: think of sharing a bottle of wine and some snacks with your friends in your living room, just without having to clean.
For dinner, La Casita right on Fry Blvd -- the main street -- is a great option as well as the German Café and Pizzeria Mimosa, which are on the outskirts of town.
As far as coffee, you have lots of options ranging from food trucks to coffee shops. On base, you can visit the Tiny Coffee House, and as you head out into town you have Livia's Coffee, The Gathering Scene, and Nirvana's Cup of Joe.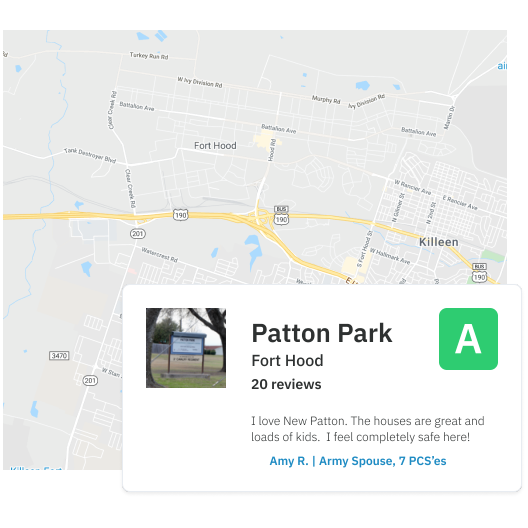 Research Your Area Before Your Move
Discover area guides and trusted reviews by and for the military and veteran community for local neighborhoods, base housing, moving companies, lenders, schools, and more.
Access Review