Fort Drum
Fort Drum is located in Watertown, New York which borders Canada and Lake Ontario and is a 3-hour drive from the capital of Albany. This part of northern New York is by the Adirondack mountains and is home to the 10th Mountain Division.
While you may be concerned about the weather, Fort Drum has incredible sights, unique experiences, and even another country nearby (Canada is a day trip!), making it a unique duty station! If you give Fort Drum a chance, it has so much to offer!
Read More
Off-Base Neighborhoods
For those eligible to live off-post, most families elect to live in Watertown, Calcium, Evans Mills, and other surrounding towns. Due to the winter weather conditions in Fort Drum, finding housing close to post can be a big safety factor and time saver during winter months. Those that want to live where there is a quaint town, Sackets Harbor and Alexandria Bay are also options with a further drive.
On Base Housing
Fort Drum housing is privatized and owned by Winn Companies. Home styles vary between apartments, duplexes, and single family homes. Active duty families, Guard and Reserve, retirees, DoD Civilians, and civilians are welcome to live on post.
Schools
There are no schools on post. Military children attend public or private schools nearby unless they are home-schooled. Children living on post will attend the Indian River Central School District and the Carthage Central School District. Busses are available for children living on post.
Cost of Living and BAH
You will find that Fort Drum BAH rates match the relatively affordable cost of living in the area. Fort Drum BAH ranges from $987-$1,248 for enlisted personnel and $1,185-$2,349 for officers.
BAH Calculator
Housing Costs
The state of New York, in general, has a high cost of living, but the Fort Drum-Watertown region has reasonable housing prices. Watch out for those utilities in the winter months though! The median home purchase in Watertown is $126,200 and the median rent being $1050.
Weather
December and January are usually the coldest months, with a low of single and teen digits on average. January highs, on average, are just under 30 degrees. July is usually the hottest month, with averages around 80. It is not common to get a lot of 90-degree days in the summer in the area, but it does happen. Fort Drum has a summer that can be enjoyed outside without terrible heat.
It tends to rain the most in the fall, but it is fairly consistent year-round. The snowy part of the year lasts from late October to late April, about six months of the year on average.
Base Amenities
Fort Drum has the 10th Mountain Division Museum, sharing the history of one of the most deployed divisions of the Army, as well as a bowling alley and Remington Park Campground. Warrior Adventure Quest is an excellent resource for Soldiers within six months of deployment and returning from a deployment, which offers programs for ATV tours, rock climbing, snowboarding, paintball and more. You will also find 1 Commissary, 1 PX, 2 gyms, 1 library, and 4 Child Development Centers.
Area Attractions
4TH OF JULY: Alexandria Bay is a big tradition in the Fort Drum region on the 4th of July. A-Bay (as the locals call it) puts on a spectacular fireworks show right over Bolt Castle and excited viewers spend the evening enjoying the town's shops and restaurants before and after the show. The event is so popular that it can take about an hour to get out of the city afterward, so you might as well hang around after!
THE NEW YORK STATE FAIR: This fair comes to Syracuse every year at the end of summer. The event is huge, bringing in over 1.1 million visitors. The fair features daily free concerts from national recording artists, paid concerts with some of the most popular acts in the music industry, a huge amusement park section, livestock shows, vendors, a Native American village, and incredible food. Fun tidbit, there is a special day each year for free admission to military members.
MOUNTAINFEST: During the summer, Fort Drum hosts Mountainfest, a one-day festival that concludes with a Salute to the Troops tribute concert and fireworks. It is also open to the public.
LOCAL ATTRACTIONS:
Salmon Run Mall is a small shopping complex located in Watertown. The mall features many popular stores and a movie theater.
Dry Hill Ski Area is a local skiing spot in Watertown. The location has skiing and tubing hills, as well as offers military discounts.
The New York State Zoo at Thompson Park is a small zoo with a variety of New York State native animals – their specialty. The zoo is fairly inexpensive and offers those visiting a look at the unique animals of the area.
Black River cuts through the Watertown region and offers a variety of hiking, fishing, kayaking, and whitewater rafting opportunities for families.
DAY TRIPS
ALEXANDRIA BAY: Approximately 45 minutes to an hour away from Fort Drum is a location often used for military balls and celebrations. The little town is on the St. Lawrence River and part of the Thousand Islands. The small town is lined with shops, restaurants, bars, live music, festivals, a beach, and more. Alexandria Bay is home to Bolt Castle, which is located on Heart Island within view from the town. You can take a boat tour across the lake and spend the day on the island visiting the castle and learning the history of the area.
SACKETS HARBOR: An hour away from Fort Drum and features a battlefield site and military cemetery. It is lined with stores, restaurants, parks, and a winery. Don't forget to stop by the Tin Pan Galley restaurant which is a local favorite, but only open April-October.
CLAYTON: This small town is approximately 45 minutes from Fort Drum. It features a park, shops, restaurants on the water, and a small-town feel. It is the perfect Saturday trip for a great lunch and hometown shopping.
SYRACUSE: About an hour away is one of the bigger cities located near the installation and a must-see on the weekends. Syracuse is filled with summer festivals, a zoo, children's museums, Destiny USA (the largest mall in the state), and Syracuse University's Carrier Dome for college basketball and football games.
CANADA: Our neighbors to the north are less than two hours from Fort Drum. Kingston, Ontario is approximately an hour and a half from Fort Drum and features Fort Henry, a military historical site from the 19th. Gananoque is a little over an hour from Fort Drum and has a small casino.
ADIRONDACK MOUNTAINS: Drive 3 hours east and absolutely stunning in the fall. Make it your yearly goal to get to the Adirondacks for a weekend during peak season and go camping, rent a cabin, or go hiking on one of the incredible mountain trails. In the summer, the Adirondacks region is perfect for Enchanted Forest Water Safari, an outdoor water park, and mini-amusement park. The park features a variety of fairy tale set-ups for kids to enjoy and is under two hours from Fort Drum. The water park is in the town of Old Forge, a great Adirondack town to visit.
Food and Drink
The Northeast is known for maple syrup and Fort Drum has embraced this tradition. You can buy your own Climb to Glory maple syrup at the Off the Beaten Path gift shop on Drum. They even take kids on field trips to see how it is made, so embrace your inner Buddy the Elf when PCSing to this location.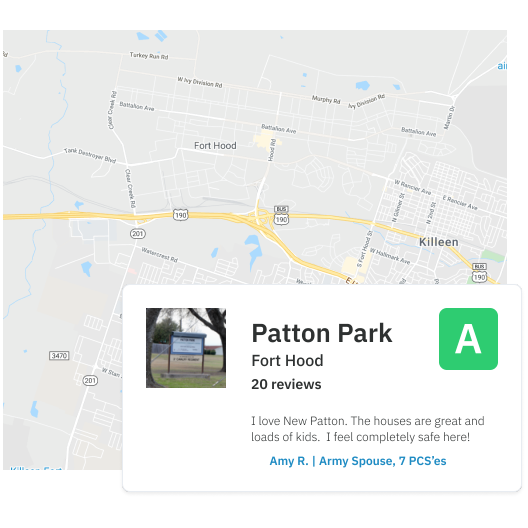 Research Your Area Before Your Move
Discover area guides and trusted reviews by and for the military and veteran community for local neighborhoods, base housing, moving companies, lenders, schools, and more.
Access Review