Fort Campbell
Fort Campbell, Kentucky is on the border of Tennessee and Kentucky. Clarksville, TN, Oak Grove, KY and Hopkinsville, KY are the cities that make up the off-post Fort Campbell area. Here you will find a thriving southern military town just an hour from Nashville, TN.
Fort Campbell has the 5th largest military population in the Army. With about 30,000 active duty soldiers plus their families stationed here, the area has a lot to offer a military family.
Read More
Off Base Neighborhoods
There are a variety of neighborhoods to choose from if you would like to live off-post. Options in Tennessee include Clarksville, Woodlawn, Adams or closer to Nashville. You can also choose to live in Kentucky in Oak Grove or Hopkinsville. Since there are a lot of different areas to choose from, you should be able to find the right place to live no matter what you are looking for.
Clarksville is the main urban center on the Tennessee side of Fort Campbell. The population is about 142,000 and is the 5th largest city in the state situated in Montgomery County and home to Austin Peay State University. A lot of military families also live off of Tiny Town and what is called the Exit 1 area. This will put you about 5-15 minutes from post. There is a lot of traffic heading to post from this area during certain times of day. There are many different neighborhoods to choose from that will give you a great off-post living experience while still being close enough to take advantage of what Fort Campbell has to offer on a regular basis.
Fort Campbell's main gates are located off of Fort Campbell Blvd and a lot of military choose to live off or near this road. There are quite a few apartments to choose from and living in this area will put you 5-10 minutes from post. Keep in mind that during high traffic times of day you might be waiting longer in traffic to get home.
If you'd like to be a little bit further away from post and have a little bit more land, Sango or Exit 11 would be a good option. Housing is a little bit more expensive, and you will be about 30-45 minutes from post but living in Sango can be a good choice. Living there means you are a little closer to Nashville and will be a little further removed from the main military areas of Clarksville. There is also Woodlawn, TN, with about 4,400 people, is an unincorporated part of Montgomery County. This will put you about 15-35 minutes from post and is more rural than Clarksville. If you are looking for a lot of land, Woodlawn would be a good choice.
Oak Grove, Kentucky, with about 7,500 people is a part of Christian County, Kentucky. If you choose to live in Oak Grove, you can be closer to post, and there are many single family homes to choose from. Oak Grove is a little more rural than Clarksville and is its own city. Hopkinsville, Kentucky, with a population of about 32,000 is also in Christian County, Kentucky. Living here will put you about 20-30 minutes from post. Hopkinsville does have a community college and many stores and restaurants to choose from. You can probably find more land in the Hopkinsville area and can be a great choice to live for a lot of people.
Base Housing
Get free, objective reviews from our community on base housing to help make the decision to live on base or off.
Explore Base Housing
On Base Housing
On-post housing is privatized and neighborhoods are based on rank. E-1-E5, E6-E8, CW1-O3, and CW3-O5. The homes are between 2-5 bedrooms. The neighborhoods have playgrounds and areas to walk. Most of the neighborhoods are close to the PX and Commissary and allow easy access to a lot of what the post has to offer. There are four elementary schools, two middle schools, and one high school. There are also many CDC locations for your child care needs.
Schools
There are four elementary schools, two middle schools, and one high school. There are also many CDC locations for your child care needs.
Cost of Living and BAH
Fort Campbell BAH rates are low, to match the low cost of living in this area. Fort Campbell BAH rates range from $1,095-$1,926 for enlisted personnel to $1,389-$2,178 for officers.
BAH Calculator
Housing Costs
Houses around Fort Campbell are very affordable, because of the low cost of living in this area. The median home price is $80,718.
Duplexes, homes converted to apartments or other small apartment buildings are the single most common housing type in Fort Campbell, accounting for 40.50% of the town's housing units.
Real estate appreciation rates in Fort Campbell's have tracked to near the national average over the last then years, with the annual appreciation rate averaging 1.63% during the period.
Renters dominate Fort Campbell's housing market, and most live in three of four bedroom dwellings.
Weather
Fort Campbell experiences all four seasons. The fall season brings cooler weather and lots of great colors. Winter can bring cold mornings and snowy days. Off-post schools will close for any amount of snow and will usually do so for at least a week sometime in January or February. On-post schools do not close as often, but they do have snow days as well. Spring is a nice relief from the cold but can also bring storms and tornadoes. Summer can be hot and humid, and by August the bugs will be loud and make their presence known.
This area is known for interesting weather, so if you like to track what is going on, you will be in for a treat. It might be 60 degrees with rain and then 85 degrees with sun the very next day.
Base Amenities
On post you have several pools, two splash parks, two Starbucks, gyms, MWR, ACS and many different events for kids like an Easter Egg hunt and Trick or Treating. There is a big PX with a small mall and food court. There are also a variety of fast food places on post separate from the food court. Additionally, you'll find a golf course, a bowling alley, a library and a movie theater. BACH or Blanchfield is the hospital on post and provides a lot of services to the military community.
Area Attractions
There are many different things to do both on and off post at Fort Campbell. Clarksville has many events throughout the year such as Movies at the Park, Christmas on the Cumberland and Riverfest twice a year. There are city pools, a library and a variety of parks to explore.
About an hour away is Nashville, known as "The Home of Country Music", Nashville has a thriving music scene, offering much more than just country. Like any growing city, Nashville has its fair share of art galleries to visit and delicious restaurants at which to dine. This city offers the perfect day trip to explore all it has to offer and soak in Americana culture. For the kiddos it also has a zoo and an Adventure Discovery Museum.
Driving a little further out you can go to a variety of cities and locations. Here are some of the places people stationed at Fort Campbell like to go:
The Land Between the Lakes: About an hour
St. Louis, MO : 4 hours
Atlanta, GA: 4 hours
Gatlinburg, TN: 4 hours
Huntsville, AL: 4 hours
Indianapolis, IN 4 hours
Oak Grove is smaller than Clarksville but does have its charm. They have a festival every May as well as a Butterfly Festival in the fall. If you travel a little further north, you will hit the city of Hopkinsville. Here you can find some of the regular shopping and restaurants you are used to but on a smaller scale than Clarksville has. If you head to Hopkinsville, you will find Tiebreaker, a smaller water park that is great for kids of all ages and a lot of fun in the summer.
Food and Drink
BBQ, fried chicken, hush puppies oh my! The regional fare is southern and savory, consisting of hearty dishes such as biscuits and gravy, corn bread, and Burgoo, a hearty stew made of meat and veggies.
If we are talking about Tennessee and Kentucky – we should mention the whiskey. Tennessee is famous for Jack Daniels and Kentucky has the whole category of bourbon whiskey owned, the general area around Clarksville and Nashville is home to multiple craft distilleries, most offering tours, tastings, and the like.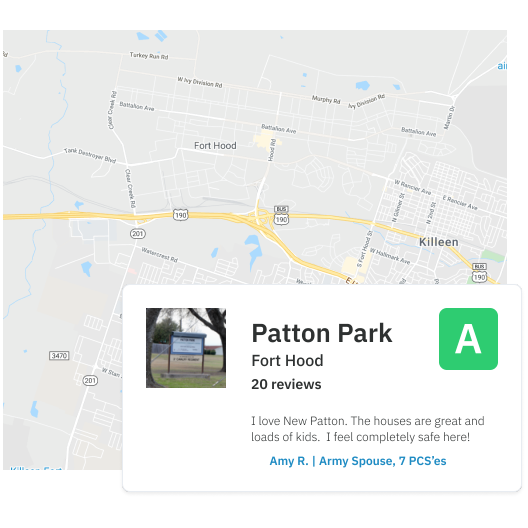 Research your area before your move
Discover area guides and trusted reviews by and for the military and veteran community for local neighborhoods, base housing, moving companies, lenders, schools, and more.
Join for free
PCSgrades and Realogy Military Rewards
For over 30 years Realogy's nationwide network of A-Team agents has served the military and veteran community with 95% of their customers, just like you, recommending their agent and the program. PCSgrades is proud to offer Realogy Military Rewards.
Get Started