Fort Belvoir
The main post is located off Interstate 95 (exit 166), 12 miles south of Washington, D.C., 9 miles south of Alexandria, 7 miles north of Woodbridge, and 5 miles west of Lorton.
Fort Belvoir is home to nearly twice as many workers as the Pentagon and is the largest employer in Fairfax County. The post is actually comprised of three geographically distinct properties: the main post, Davison Army Airfield, and the Ft. Belvoir North Area.
Agencies headquartered at Ft. Belvoir include: the Defense Logistics Agency, the Defense Acquisition University, the Defense Contract Audit Agency, the Defense Technical Information Center, the United States Army Intelligence and Security Command, the United States Army Military Intelligence Readiness Command, the Missile Defense Agency, the Defense Threat Reduction Agency, and the National Geospatial-Intelligence Agency, all agencies of the United States Department of Defense.
Traffic in and around Washington D.C. is the worst or near the worst in the nation according to most traffic studies. A typical NOVA commuter spends an additional 82 hours behind the wheel annually due to traffic delays which is why many commuters use public transportation. Families choosing to live off-post often select housing in Fairfax Station, Lorton, Woodbridge, Alexandria, Springfield and Burke to avoid daily traffic snarls. Flying in and out of the area is relatively easy. Ronald Reagan Washington National Airport is approximately 15 miles from Ft. Belvoir. Dulles International Airport is 33 miles from post and Baltimore/Washington International Airport is 55 miles away.
Read More
Off-Base Neighborhoods
There are many options for housing off-post. But get ready for sticker shock as the D.C. suburbs feature 7 of the country's 10 richest counties. Single family homes, townhouses, condos, and apartments can be found in both urban and rural settings a short distance from post.
Northern Virginia (NOVA) includes the following counties:
Fairfax County, Virginia is the largest county in the Washington, D.C. area. It falls inside and outside the beltway and is home to George Mason University. Arlington and the city of Alexandria, Virginia are inside the beltway. Prince William County, Virginia includes Woodbridge, Dumfries, Haymarket, Occoquan, Lake Ridge, Manassas, and Manassas City. Loudoun County, Virginia includes Sterling, Ashburn, Potomac Falls, Countryside, Middleburg, South Riding, Hamilton and Dulles International Airport.
On Base Housing
On-post housing is privatized with two to five bedrooms available in new and historic housing in 15 different villages. Homes are available for military families from all branches of service assigned to local duty stations to include Fort Belvoir, Joint Base Myer-Henderson Hall, Joint Base Anacostia-Bolling, and the Pentagon. Select homes are also available for geographical bachelors and single soldiers E6 and above. All homes offer dishwashers, refrigerators, high-speed Internet connection and electric washer/dryer connections.
Schools
There is one school on post – Fort Belvoir Elementary School. Older students living on post will attend two off-post public schools: Walt Whitman Middle School and Mount Vernon High School. Military families living off post will attend Virginia public schools. There are numerous high-quality public, private, and charter schools in the Northern Virginia area.
Cost of Living and BAH
Unless you are coming from San Diego or Hawaii, you most likely will have sticker shock when you arrive here. Just about everything will be more expensive. The current housing market is also highly competitive. Luckily, the Fort Belvoir BAH is high enough to compensate for the high rental and sales prices in the NOVA area.
Fort Belvoir BAH varies depending on rank and whether or not you have dependents. To determine your BAH at Fort Belvoir, use our BAH calculator.
BAH Calculator
Housing Costs
Median sale prices completely vary throughout Northern Virginia, D.C. and even southern Maryland. The average sales price in Fairfax County (NOVA) is $588,968; this is up over last year. The median list price per square foot is $314, which is higher than the Washington, DC average.
Weather
There are four distinct seasons here. Winters are relatively mild with an average snowfall of 15.4 inches with three quarters of it falling in January and February. In the spring, people come from around the world to see the Cherry Blossoms along the Tidal Basin in downtown D.C..
Summers are hot and humid with temps often rising above 100 in July and August. Mild temps tend to stick around in September and October, but by Halloween the fall foliage is in full view with the vivid colors of autumn.
Hurricanes and Nor'easters can affect the area. While not common, NOVA has had a few tornadoes. And snow, well, some years there are only a few inches and others see larger snowfalls of over a foot. It doesn't matter how much, snow usually cripples northern Virginia.
Base Amenities
Fort Belvoir Community Hospital is northern Virginia's home for world-class military healthcare with satellite health centers in Fairfax and Dumfries. The post also features the Fort Belvoir Commissary, Post Exchange, Class Six store and two joint service spouses clubs: the Belvoir Officer Spouses Club (BOSC) and the Belvoir Enlisted Spouses Club (BESC).
There are also five state-of-the-art Community Centers on post that offer free Internet access, copying and faxing services, along with free meeting and party facilities. There is a free community pool located in Woodlawn Village along with picnic pavilions, fitness trails, basketball and volleyball courts, a dog park, and playgrounds. Other amenities of living on-post include: an 18-hole golf course, a marina, field house, bowling center, movie theatre, Officer's Club and pool, and skate park.
Area Attractions
From mid-September until Thanksgiving, and again from about mid-January to June, Congress is in session. This means the hotels are full of guests and the restaurants and bars are doing a booming business. From mid-March through June, families and school groups pack the Tidal Basin to see the cherry blossoms and enjoy Washington's monuments. This is also high season for protest marches.
May features a month-long celebration called Passport DC, which showcases more than 70 embassies and cultural organizations with tours and open houses. A summer highlight is the annual Fourth of July festivities. There is an Independence Day Parade along Constitution Avenue, A Capitol Fourth Concert featuring world renowned musicians and singers on the U.S. Capitol west lawn. And of course, fireworks over the monuments! Ft. Belvoir hosts a Fourth of July concert on-post as well as fireworks after dark.
THE MONUMENTS: From seeing all the names on the Vietnam Memorial wall to climbing the massive steps to the Lincoln Memorial to visiting the National 9/11 Memorial at the Pentagon, Washington's monuments never get old! If you are lucky enough to have the chance to volunteer either at the airport or at the World War II Memorial during an Honor Flight, do it! Bring the kids! It is a special experience. You will never forget seeing these brave men and women visiting their memorial for the very first and for many the last time.
FT BELVOIR MARINA: The beautiful Potomac River takes boaters past Mt. Vernon, the home of George Washington, and north to the nation's capital, offering a view of the city's monuments and parks.
MASON NECK STATE PARK: The park in southern Fairfax County offers hiking trails, a large picnic area, a playground, a car-top canoe launch, bicycle rentals and bird watching.
GREAT FALLS NATIONAL PARK: 800 acres along the banks of the Potomac River in northern Fairfax County, this park offers whitewater kayaking and canoeing, fifteen miles of scenic hiking trails, (five of which are multi-use for horseback riding, hiking, and biking), and rock climbing on the cliffs in Mather Gorge. The falls total 76 feet (20 m) over a series of major cascades.
CHESAPEAKE & OHIO CANAL NATIONAL HISTORIC PARK: This park dates back to the 18th century. The canal and towpath trail extends from Georgetown, Washington, D.C. to Cumberland, Maryland, a distance of 184.5 miles. There is outdoor recreation, picnicking, bicycling, fishing, boating and hiking available.
GEORGETOWN WATERFRONT PARK: Located along the Potomac River, this park offers picnicking, bicycling and skating.
ROCK CREEK PARK: Rock Creek Park extends 12 miles from the Potomac River to the border of Maryland. The National Zoo is also located within Rock Creek Park. There is a lot to do including: picnicking, hiking, biking, rollerblading, tennis, fishing, and horseback riding. Additionally, there are concerts, planetarium shows, animal talks, exploratory hikes, crafts, and junior ranger programs.
Have a toddler or preschooler? Make sure to check out the local chapter of Tiny Troops Soccer to help your little one PCS with fun, soccer, and friends!
FUN DAY TRIPS:
Annapolis, Maryland – 32 miles; 1-hour drive – Gorgeous town, quaint restaurants and the Naval Academy!
St. Michael's, Maryland – 79 miles; 1.5-hour drive – Maryland's Eastern Shore features crabs and scenic water views like no other!
Gettysburg (84 miles), Hershey (130 miles), Lancaster (120 Miles) Pennsylvania – Three unique Pennsylvania cities within 3 hours of the metro area – Relive the civil war in Gettysburg Learn the unique story of Milton Hersey and immerse yourself in the life of the Amish in Lancaster, PA.
Shenandoah National Park & Luray Caverns, Virginia – 3 hour drive; 120 miles – Located in the Blue Ridge Mountains, west of Washington, D.C. Skyline Drive is the only public road running through the Shenandoah National Park. Nearby Luray Caverns is the largest series of caverns in the east. This eerie underground world of stalactites and stalagmites is worth a day trip from NOVA.
Richmond, Virginia – 108 miles; 2-hour drive – Virginia State Capital with a thriving restaurant scene and craft beer breweries.
Lewes/Rehoboth Beach, Delaware – 121 miles; 2.5-hour drive – What can we say? It's the beach! Bring your lotion and your bathing suit and enjoy!
Chincoteague Island, Virginia – 170 miles; 3.5 hour-drive – Do not miss watching the ponies at the Chincoteague National Wildlife Refuge on the quieter side of the Eastern Shore.
Food and Drink
One of Ft. Belvoir's largest events of the year is the annual Oktoberfest, a four-day festival highlighting authentic German food, beverages, music, and dancing. Fun events geared towards the whole family include: a carnival, Volksmarch 10K Walk, and a Craft Show.
As for other food and drink, you can find almost anything your heart desires here in the nation's capital. Variety is the key word when it comes to cuisine in the northern Virginia/Washington D.C. area. With an international flavor and the fact that many of those living in and around D.C. are originally from somewhere else, the cuisine is eclectic to say the least. In the mood for Salvadoran food…it's here! Want to try Ethiopian cuisine? We have it! How about Indonesian? Yep! Regional specialties include: blue crabs from Maryland, peanuts, and country ham from Virginia.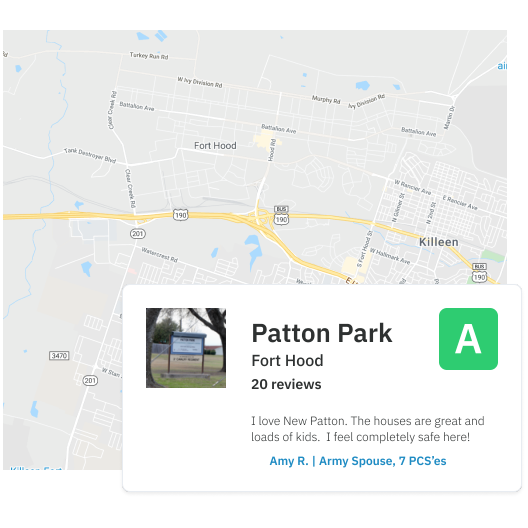 Research Your Area Before Your Move
Discover area guides and trusted reviews by and for the military and veteran community for local neighborhoods, base housing, moving companies, lenders, schools, and more.
Access Review