Wright-Patterson Air Force Base
Wright Patterson AFB, outside of Dayton, is a large base with a long history of flight tests spanning from the Wright Brothers into the Space Age. It is actually two airfields, Wright and Patterson Fields. They were originally Wilbur Wright Field and the Fairfield Aviation General Supply Depot. The Army Air Service established both as World War I installations. A merger of Patterson and Wright Fields in 1948 created Wright – Patterson Air Force Base. The is located in Greene and Montgomery counties, just east of Dayton. The base is surrounded by the cities of Fairborn, Beavercreek, Huber Heights, Kettering, and Dayton. The main gate to the base is located on State Route 444 in Fairborn, Ohio. Wright Field is approximately 5 miles northeast of Dayton and Patterson Field is about 10 miles in the same direction. Additionally, there are two runways, supporting an average of 47,000 aircraft operations every year.
"Wright-Patt," as the base is often called, is also the location of a major USAF Medical Center. It is an hour's drive to Columbus, Oh to the East and Cincinnati, Ohio to the South.
Read More
Off-Base Neighborhoods
Families looking to live off-base can find homes and apartments for rent or sale in the city of Dayton. Surrounding suburbs within 30-35 minutes can provide a more small-town feel if city living is not preferred. Military families also live in the nearby communities of Fairborn, Beavercreek, Riverside, and Springfield.
Most of the towns surrounding WPAFB have single-family homes with some multifamily properties and apartments. Most newer construction is South and East of WPAFB. Beavercreek, Centerville, Springboro, Troy, and Tipp City all have single-family homes and apartments. Troy and Tipp City both have great historic districts and new construction. Beavercreek and Centerville also have new construction.
On Base Housing
Military housing at Wright Patterson, called The Properties at Wright Field, is managed by the Wright Field Development Company. Two, three, and four-bedroom homes are offered in two neighborhoods called "The Prairies" and "The Woods."
These communities are currently home to more than 1,300 servicemen and women and their families. 789 new single-family homes and townhouses feature modern floor plans and amenities. They also have attached garages, privacy fencing, and high-speed internet access. However, much of the base housing is older, so many families prefer to live off base.
Schools
There are no public schools located on Wright Patterson AFB. All K-12 students attend schools in the nearby off-base community. The two closest districts are Fairborn City Schools and Mad River Local School District.
Beavercreek schools are highly requested by military families and highly praised. Troy and Tipp City also have good reputations for their school districts.
Cost of Living and BAH
The cost of living in the surrounding area of Wright – Patterson AFB is very reasonable. Wright-Patt BAH rates for enlisted with dependents range from $1,119 to $1,683. Officer BAH rates at Wright-Patterson AFB begin at $1,233 with dependents and go up to $2,016.
BAH Calculator
Housing Costs
Homes near the base sell for below the national average. The median home price for the area is $214,600. The average cost of a rental is approximately $525 per month.
Weather
The climate throughout much of the state of Ohio is hot and muggy in the summers and cold and dry in the winters. In Dayton, the warmest month is July, with an average high of 87 degrees and an average low of 67 degrees. The coldest month is January, with an average high of 36 degrees and an average low of 21 degrees. Dayton's average yearly rainfall is about 41 inches.
Base Amenities
The medical center complex at Wright-Patt underwent a major renovation recently. Featured is an overhauled ICU, updated patient rooms, surgery areas, a dental clinic, new dining facilities, and office areas. Renovations modernized 30 different departments and consolidated medical departments and counseling services. The 88th Medical Group provides primary and specialty care to more than 58,000 eligible beneficiaries.
All pets living on Wright Patterson AFB must be registered with the VTF upon arrival. Residents in family housing may keep up to two pets without paying a deposit. The Veterinary Treatment Facility provides care to pets at Wright-Patterson.
Four child development centers offer full-day care to the base's eligible patrons for children six weeks to 5 years old. Centers also provide hourly care to children from 6 months to 12 years old when space is available. Clubs offered at the Teen and Preteen Center include Science Club, 4-H, World Diversity, Drama Club, Fine Arts, SMART Girls, Healthy Habits, Chat Time, and more.
Outdoor Recreation offers programs and equipment rentals to include: camping gear, canoes, kayaks, bikes, and sporting equipment. Two golf courses at Wright-Patt AFB are open to active duty military, retired military, reservists, civilian employees, family members, and guests. Prairie Trace Golf Course has an 18-hole course, a nine-hole course, three putting greens, and a driving range. Additionally, there are rental clubs, a clubhouse, snack bar, golf repair shop, and leagues for men, women, and youth. The 18-hole Twin Base Golf Course has three practice greens, a clubhouse and snack bar, a pro shop, rental clubs, and leagues for men, women, and youth. The on-base tennis facility has four indoor courts, automatic ball machines, and a pro shop. Adult and youth lessons and clinics are also available to active-duty and retired military, reservists, base civilian employees, retired civilians, and family members. Three fitness centers and a health club also offer many programs ranging from open play basketball, volleyball and racquetball, to instructional classes, such as aerobics and kickboxing. Additionally, there are three swimming pools on base. The Patterson and Prairies outdoor pools are open seasonally. The indoor pool at the Dodge Fitness Center is open year-round.
There is an on-base library, the Kittyhawk Bowling Center, Prairie Trace Golf Course, indoor Tennis Club, Commissary and Exchange.
Area Attractions
The famous Wright Brothers called Dayton, Ohio, home, which is how Dayton came to be called the "Birthplace of Aviation." Urban legends are also the talk of the town around Wright Patterson AFB. It is rumored that after a UFO crash-landed in the New Mexico desert near Roswell in 1947, the space vessel was stored at Wright-Patterson Air Force Base's notorious "Hangar 18." The Arnold House named after Henry H. "Hap" Arnold, the only person ever to be dubbed "General of the Air Force," is reportedly haunted. A production crew from the show "Ghost Hunters" allegedly found at least five ghosts living in the house. Visitors often report strange noises, objects moving on their own, strange shadows, and other phenomena. Many people believe airmen who initially flew or worked on the planes stored at the National Museum of the United States Air Force located on Wright Patt AFB continue to live in them still. Wright-Patterson hosts the annual United States Air Force Marathon which occurs the weekend closest to the Air Force's anniversary in September.
Visit the National Museum of the United States Air Force. The NMUSAF is the oldest and largest military aviation museum in the world, with more than 360 aircraft and missiles out to view. Drawing over 1 million visitors a year, this museum is a bucket list item while stationed here.
There is great hiking in Tipp City at Charleston Falls and John Bryan State Park in Yellow Springs.
You may not expect to find a castle in the middle of Ohio, but you won't be disappointed when planning a visit to the Piatt Castles in West Liberty in Logan County. These two 19th century homes have been open to the public as house museums for more than a century. Outdoor enthusiasts will enjoy Miami Valley for canoeing, kayaking, and rafting. RiverScape River Run is a top-rated local attraction.
The Winery at Versailles, the Old Mason Winery, Caesar Creek, or the Olde Schoolhouse and Valley Vineyards are all favorite wineries around Dayton for wine lovers. The Country Concert at Fort Loramie draws some of the biggest country music artists in the country each July. Bring your camping gear to enjoy this multi-day country music event.
Farm owners across the region get creative, designing corn mazes, and hosting family-friendly activities on the weekends throughout the fall. These unique mazes are fun for the family and a great photo op too!
Food and Drink
In Dayton, The Corner Kitchen, Thai 9, Salar, Linh's Bistro, La Fiesta, and Roost are all popular places to eat.
Troy has The Caroline, Basil, Mojos, and The Boathouse which are all really good. The boathouse is right on the water and has a great patio. The Troy Strawberry Festival is a big deal in Troy every year around June. Yellow Springs also has a lot of great shops and a top-rated brewery.
Ohio is called the Buckeye State. The Buckeye candy is easy to find around the holidays-- it is a sweet peanut butter ball dipped in milk chocolate. You can also sample locally-made Buckeye Vodka (named for the state, not for its ingredients!)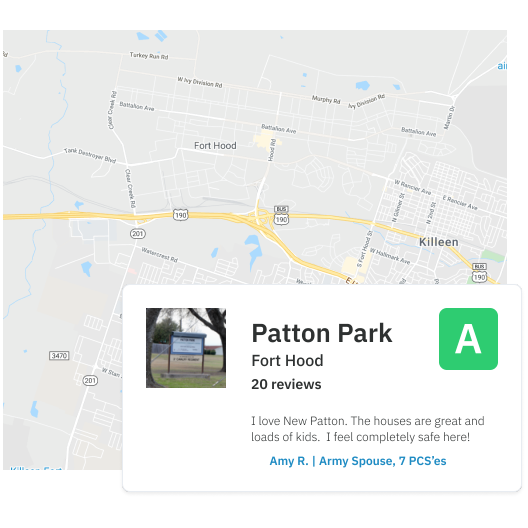 Research Your Area Before Your Move
Discover area guides and trusted reviews by and for the military and veteran community for local neighborhoods, base housing, moving companies, lenders, schools, and more.
Access Review