Tyndall Air Force Base
Tyndall Air Force Base is in Panama City, Florida, about 30 minutes from Panama City Beach -- a popular tourist and Spring Break destination. It's located right on the bay and connects to the mainland with one bridge.
Tyndall is home to the 325th Fighter Wing which trains and supports F-22 pilots and maintenance personnel. Tyndall is still rebuilding from a direct hurricane hit in 2018 and plans to be fully operational by 2023 and welcome the F-35 Lightning II aircraft in September of 2023.
Read More
Off-Base Neighborhoods
Hurricane Michael destroyed a lot of the area in 2018, and most homes have some degree of storm damage or repairs -- some done, and some not yet completed. Almost all the mature trees have been sheared and their trunks are left standing upright. There are a lot of new builds, but because of the huge demand and the speed at which they're built, there have been a lot of issues with the new builds. Landscaping can be difficult with the soil. Also, many communities have homeowners' associations with fees.
Since the hurricane, the area has seen an overall improvement in the quality of the houses being built. A lot of the older homes were destroyed, and they are being replaced with newer ones.
St. Andrews area has some historic homes. Apartments and townhomes are in Callaway. Lynn Haven is your standard suburban area. Callaway is the closest area to base, but Lynn Haven is the most popular place for military families, and it's about 30-40 minutes away. Panama City Beach side neighborhoods can have up to an hour-long commute because of traffic.
On Base Housing
Most of the housing on base was damaged during Hurricane Michael in 2018 and is still not completely rebuilt. Two of the five planned neighborhoods are done, with one more slated for completion later in 2022, and two in 2023. Most neighborhood amenities are under renovation still, but the finished product will include basketball courts, BBQ pavilion, fitness center, playgrounds, volleyball court, and tennis courts.
Schools
Families with school-aged children who live on base attend Tyndall Elementary School, which is located just outside the gate, but provides transportation via bus for those living on base. The Bay County school district is an open district, so you can request your child go to any school that has room if you provide the transportation.
Charter schools are very popular, but they fill up quickly. Military families may apply after the February lottery and often get priority on the waitlist. Some of the popular charter schools are North Bay Haven -- which is open to Pre-K through 12th grade -- and Bay Haven.
Cost of Living and BAH
The cost of living in Florida is above the national average, but Tyndall Air Force Base is lower than other installations in the state. This may come as a surprise for those moving from a higher cost-of-living area. Also, due to the rebuilding in the area, BAH may not be reflective of housing costs.
Tyndall AFB BAH varies depending on rank and whether or not you have dependents. To determine your BAH at Tyndall, use our BAH calculator.
BAH Calculator
Housing Costs
The median sales price of homes in Panama City is $321,400, at about $179 per square foot. Lynn Haven, where many military families choose to live, is priced a little bit higher, at $180 per square foot, and a median sales price of $350,000. 
Weather
Florida's coastal weather is warm to hot throughout the year. The panhandle can get chilly in the late winter, but It's unlikely. Generally, you'll need sweatshirts but not snow gear.
Spring and fall weather bring a lot of rain off the water, and hurricane season is the real deal here. Hurricane season runs from June through November and evacuations are recommended occasionally. The main bridge from the base to the mainland will close during high winds, so take those recommendations seriously.
Also, consider the flood zones when looking at housing. The area is still recovering from Hurricane Michael in 2018 -- a reminder that storms move quickly and can cause serious damage.
Base Amenities
Coastal Florida means high traffic, and since there is only one road in and out of Tyndall AFB, commute times are longer than you may expect. Many on-base amenities were destroyed in 2018 and haven't been restored yet. There is a gym open to families and a private beach on base. The commissary and the Exchange are open six days a week with limited additional services.
Area Attractions
The beach is a hot area attraction, including St. Andrews State Park. Another outdoorsy place to visit is Lynn Haven Bayou Park & Preserve. Locals, however, advise you to avoid Panama City Beach during spring break and tourist season, as the traffic is horrendous.
For those with kids, consider Under the Oaks Park which has a cool playground, canoe and kayak launches, disc golf course, and walking track.
Zoo World is in Panama City Beach and is open every day, rain or shine. They offer a 20% military discount and annual membership.
Tyndall AFB is within driving distance of several vacation spots, two hours to Tallahassee or Destin, a little more to Pensacola, and just five hours to Orlando, Tampa, or New Orleans.
Food and Drink
The area has a lot of local restaurants, and you may see prices increase during tourist season or if you sit outside on the beachside. Some of the favorites are Uncle Ernie's in St. Andrew's Bay--a waterfront restaurant with house-brewed beer and local seafood, CaHalls Deli and Finns Island Style Grub in Panama City. Victoria's Last Bite in Lynn Haven, and Royal Thai just outside the gate are some other local favorites. For a fancier night out, try Alice's on Bayview and dine overlooking the St. Andrew's Marina.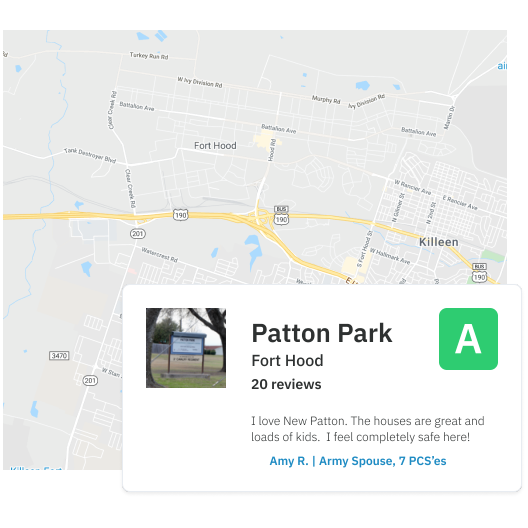 Research Your Area Before Your Move
Discover area guides and trusted reviews by and for the military and veteran community for local neighborhoods, base housing, moving companies, lenders, schools, and more.
Access Review