Travis Air Force Base
Travis AFB is surrounded by the communities of Fairfield and Vacaville, California. If you've been waiting to try In and Out Burger, you are in luck! You've got one right down the road which is often a point of interest for those driving to the bay area or down south. You are about an hour away from San Francisco and the bay area, and about thirty minutes away from towns like Benicia and Napa. Experience wine country, the beach and the beautiful coastal towns and the desert! Travis is one of the most active bases for Space A travel on the West Coast. They frequently have multiple missions per day with flights to and from a broad range of locations. If you want to go to Hawaii, Travis is your best bet. No other area within the continental U.S. has as many flights to Joint Base Pearl Harbor-Hickam, where missions from Travis AFB fly multiple times per week. The Travis AFB Passenger Terminal Facebook page posts a list of their most frequent destinations. Besides Hawaii, Travis has multiple flights per week to Guam, Yokota AB in Japan, and JB Elmendorf/Richardson in Alaska. They also have at least one trip per month to Okinawa, Japan; Osan AB, Korea; Ramstein AB, Germany; North Island Naval Air Station in San Diego; March Air Reserve Base in Riverside, CA; and Kelly Field in San Antonio, Texas.
Read More
Off Base Neighborhoods
Living off base might include a little bit of sticker shock depending on where you are moving from. There is a possibility that BAH will not cover your rent in its entirety. Many families look to live in the surrounding towns of Fairfield, Vacaville or Suisun City.
Base Housing
Get free, objective reviews from our community on base housing to help make the decision to live on base or off.
Explore Base Housing
On Base Housing
Housing at Travis is privatized and owned by Balfour Beatty Communities. There are seven different communities, each with their own distinct feel. All ranks are eligible for either 2-4 bedroom home communities, with single-family homes as well as duplex style available. Homes here feature fenced in backyards and open floor plans.
Schools
There are two elementary schools located on Travis AFB: Travis Elementary School and Scandia Elementary School. Both are K-6th grade. These are for military kids living on the base. Families with older children, or anyone who lives off base, will attend the local schools. There are three school districts in and around Travis – Travis Unified School District, Fairfield-Suisan School District, and Vacaville Unified School District.
Cost of Living and BAH
As the cost of living has increased in the Bay Area and Central California, BAH at Travis AFB has also increased. The Travis AFB BAH range is $2,034 without dependents to $2,787 with dependents for Enlisted, and for Officers $2,244 without dependents to $2,955.
BAH Calculator
Housing Costs
Rent for apartments or condos in the surrounding communities ranges from $1,200-$1,400, while home rentals start at around $1,600. The average price to purchase a home in the area is $450,000.
Weather
While living in Northern California you will experience just about all four seasons, however, if you're looking for snow, you will almost certainly never see it here. Temperatures in the summer can get into the triple digits, but you are missing a crucial thing you might find in other duty station locations: humidity. The trade-off for that is beautifully mild winters, where you will find many Californians sporting their flip flops all year long. It should also be noted that many think of earthquakes when they think of the bay area. Chances of a large earthquake hitting the Fairfield area are very slim. However, it should be noted that since you will be within a close distance of San Francisco if a massive earthquake occurs you may, in fact, feel it.
Base Amenities
On base housing communities have four recreational trails, a special dog park, a community center, playgrounds, and a splash pad. Three child development centers are also available on base.
Area Attractions
California has a never-ending list of adventure to meet everyone's needs. For those who enjoy snow and winter activities, spend 2 ½ hours in the car and you'll find yourself in the Reno/Lake Tahoe area in California or Nevada. California's capital, Sacramento, offers the Capital building and an extensive Railroad Museum as well as lots of shopping and dining choices. You are also within close distance to Sea World, Disneyland, and Great America. Spend the day or weekend in San Francisco visiting Alcatraz, Coit Tower or Pier 39. The Marine Corps Memorial hotel in San Francisco offers a centrally located and luxury stay in the city for a significant military discount. TRAVIS AIR FORCE BASE ANNUAL AIR SHOW: The Air Show is usually held in Spring, anywhere from March-May, and is a large Air Show, usually featuring the Air Force Thunderbirds. JAZZ FESTIVALS: If you're into Jazz California's three biggest Jazz festivals are all within a short drive! Sacramento Jazz Festival, which is now the Sacramento Musical Festival, is the biggest in the state. Monterey and San Francisco also have popular ones as well. GILROY GARLIC FESTIVAL: In July head down to Gilroy, California and another famous California festival! The Garlic Festival is full of all the things any good garlic-lover would be looking for. FILM FESTIVALS: California has man film festivals as well. So if film is your thing head to San Francisco or Monterey for one of their festivals held throughout the year. MUSIC FESTIVALS: I'm sure you've heard of Coachella, but that's just one of the many music festivals in California. Bottlerock Napa Music Festival usually has one of the best lineups on the West Coast and is right next door. If you happen to love Reggae, one of the largest Reggae festivals in the country takes place every may in Monterey, California. One of the largest music festivals in the bay area occurs in San Francisco Golden Gate Park. Outside Lands always sports a huge line-up with bands like Florence and the Machines and Beck.
Food and Drink
Since you are in the Bay Area naturally you have to take advantage of some of the best seafood you can find! Fisherman's Wharf holds a chowder festival every year and Monterey has Whale Fest in January. If wine is your thing, make a weekend escape to Napa Valley and enjoy some of the best of California Wine! Experience California Gold Rush history and visit Ghost Towns like you see in old cowboy movies. You are lucky enough to also live in the same town as the Jelly Belly Factory! Take a tour and see where your favorite jelly beans are made. Also, make a point to visit the Monterey Bay Aquarium, which is one of the best aquariums in the country. California is also home to great outdoor adventures like hiking and exploring one of the many National Parks within driving distance.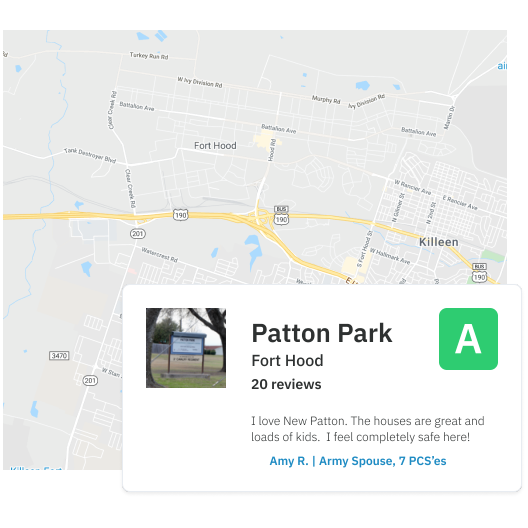 Research your area before your move
Discover area guides and trusted reviews by and for the military and veteran community for local neighborhoods, base housing, moving companies, lenders, schools, and more.
Join for free
PCSgrades and Realogy Military Rewards
For over 30 years Realogy's nationwide network of A-Team agents has served the military and veteran community with 95% of their customers, just like you, recommending their agent and the program. PCSgrades is proud to offer Realogy Military Rewards.
Get Started