Tinker Air Force Base
Tinker Air Force Base is located in Midwest City, Oklahoma, which is in the Oklahoma City metropolitan area. It is just minutes from downtown Oklahoma City which offers dining, entertainment, and Is home to the Oklahoma City Thunder. The local area near Tinker AFB offers plenty of dining along with shopping and other retail services needed by service members such as tailors, embroidery shops, etc. Tinker AFB is approximately 3 hours from the Dallas/Fort Worth area and 1.5 hours to the Tulsa area. Oklahoma City offers Will Rogers World Airport for further travel.
Read More
Off Base Neighborhoods
Off-base housing options for service members nearest the base include apartment complexes, older single family homes, and a small amount of newer single family homes. Service members generally choose to live further from the base in communities such as Edmond, Mustang, Yukon, Moore, Norman, and Choctaw. These communities offer good school districts and a larger variety of single family homes.
Base Housing
Get free, objective reviews from our community on base housing to help make the decision to live on base or off.
Explore Base Housing
On Base Housing
On base housing at Tinker AFB offers both new and old homes, managed by Balfour Beatty. There are six neighborhoods on base, offering a variety of 2, 3, and 4-bedroom layouts. Eligibility is determined by rank and family size. They are constructing new homes on a one for one basis. When a new home becomes available, they take one of the older homes out of service. There is no guarantee whether you will be provided with a new or old home. Most of the neighborhoods are pet-friendly and include amenities like playgrounds and sports courts.
Schools
Tinker Elementary is located on Tinker Air Force Base and is available to families living in base housing. Middle school and high school age children from base will attend the local middle and high schools located in the Midwest City/Del City School District. Families living off base will send their children to the local school district for which they are zoned.
Cost of Living and BAH
Tinker AFB BAH is decent for the low cost of living in the area. With home prices and rental rates low, military families are often able to find several options for ways to use their BAH. Enlisted BAH rates with dependents at Tinker AFB range from $1,203 to $1,539. Tinker AFB BAH rates for officers with dependents begin at $1,278 and go up to $1,908.
BAH Calculator
Weather
You can expect all four seasons in Oklahoma. There are commonly hail storms in the late spring months of May and June. Tornados aren't uncommon during these months as well but are sporadic in location and frequency. Winters will have some snow and ice, but not widespread or frequent. Most seasons are generally typical of the weather you'd expect in each season.
Base Amenities
The Tinker Commissary, BX, and shoppette are large and carry a nice variety of products. There is a main gym on base that is acceptable. There are also a couple of satellite gyms. The tracks on base are outdoors. There is also an outdoor running trail for longer distance running. The base hospital is newer and offers many services as well.
Area Attractions
Besides the typical shopping and dining in the OKC metro, you can attend sporting events to watch the OKC Thunder, OKC Energy FC, and OKC Dodgers. Popular local events include the OKC Arts Fest and the Oklahoma State Fair. The Oklahoma City Memorial, OKC MOMA, and National Cowboy Hall of Fame are popular museums. The Oklahoma City Zoo and Science Museum Oklahoma are popular family venues. There is also a horse racing track named Remington Park that offers racing and a casino. Day trips for hiking and outdoor exploring include Turner Falls, Mount Scott, and Roman Nose State Park.
Food and Drink
The Oklahoma City metro area offers lots of local and chain eateries as well as shopping.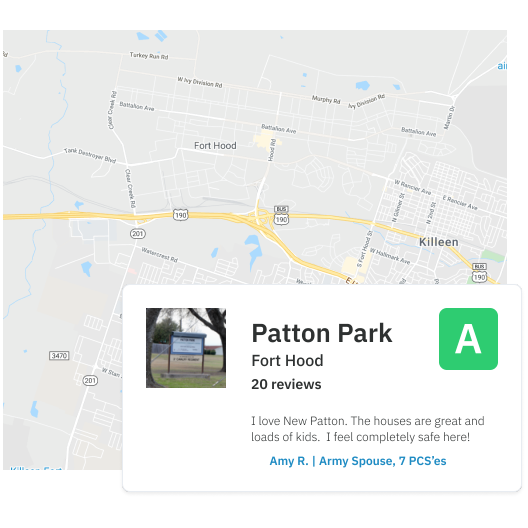 Research your area before your move
Discover area guides and trusted reviews by and for the military and veteran community for local neighborhoods, base housing, moving companies, lenders, schools, and more.
Join for free
PCSgrades and Realogy Military Rewards
For over 30 years Realogy's nationwide network of A-Team agents has served the military and veteran community with 95% of their customers, just like you, recommending their agent and the program. PCSgrades is proud to offer Realogy Military Rewards.
Get Started