Shaw Air Force Base
Shaw AFB is located in about the middle of South Carolina. There are Air Force and Army stationed here. We are about 90 miles to Charlotte, 90 miles to Myrtle Beach, 90 miles to Charleston and about a 3 hour ride to the mountains. It's in a very military friendly town, with many retired military who have made this home. Do not lament over not having everything at your finger tips. We have a small mall and several strip centers. Columbia (the state Capital) and Florence are each about 40 miles in opposite directions for larger stores and varied restaurants. Enjoy the quiet and safety of a small town and friendly people!
Read More
Off Base Neighborhoods
The variety of homes in Sumter is very wide. Most are single-family, with the older ranch style homes on large .5 acre lots. The newer homes are two-story on smaller lots. Many of these houses are in subdivisions. Apartments are in strong supply, with more being built, and their price range varies. There are a few condos. The historic district has quite a few houses with lots of charm.
Base Housing
Get free, objective reviews from our community on base housing to help make the decision to live on base or off.
Explore Base Housing
On Base Housing
Shaw AFB housing became privatized in 2011. At that time, most old houses were torn down, and new ones have been constructed, so most base housing is less than 10 years old. There are single-family and duplexes. There are three different housing neighborhoods on Shaw. All housing is rank-based and managed by Hunt Military Communities. The housing on Shaw has parks and playgrounds, with access to a fitness center and the CDC.
Schools
There are no schools on Shaw AFB, but very close by are the elementary schools. We have only one school district-the Shaw/Sumpter area schools. Families living on base or off base would all attend this school district. As with any school district, parents tend to have varying opinions on the different schools. There are several private and church schools as well.
Cost of Living and BAH
Shaw AFB BAH matches the low cost of living in the Sumter area. If you are coming from a more expensive area, you may be surprised by the affordable rates in this part of South Carolina. Many families use their BAH to rent or buy a place in town. Shaw BAH for enlisted with dependents begins at $1,071 and goes up to $1,554. Shaw BAH for officers with dependents ranges from $1,116 to $1,920.
BAH Calculator
Housing Costs
Houses near Shaw AFB are very affordable. The median home price is $125,805, which has gone up in the past year. The median list price per square foot is $88 in Sumter. And the median rent price in Sumter is $920. So there are definitely options to apply your BAH to an off-base home.
Weather
Fortunately, we have no really dangerous storms, although we do have a lot of electrical storms in summer. We have had a few floods over the years in no particular area. Hurricane Hugo came through and was a complete surprise as we are so far enough inland.
Base Amenities
Shaw AFB has a base pool, nice gym, picnic facilities, bowling lanes, and a golf course. It has the typical base amenities to include a Commissary, BX, library, and Outdoor Recreation where you can rent outdoor items as needed. The Shaw MWR program runs activities and events on base for service members and their families.
Area Attractions
For a small town, Sumter has a little bit of every kind of festival. The Iris Festival in May draws people from all over. In December, Swan Lake is beautifully decorated for Christmas and is free for people to drive through or stop and take pictures. The Sumter Opera House is a big draw as well. During the summer on Friday evenings, there are bands that play and people bring their chairs and dance or just enjoy the music. There is a Sumter County Museum and a Military Museum, Hiking Trail, nearby State Park, and Geneology office. There is a large tennis facility, soccer field, several baseball diamonds, a golf course on base, 2 public courses, and a private club currently under renovation. Shaw is 95 miles (just over 2 hours) from the ocean at Myrtle Beach. It is also just under 2 hours to Charleston.
Food and Drink
You're in the South, so you can find good BBQ near Shaw AFB. BBQ huts are open usually 3 days a week. In the downtown Sumter area, Hamptons or the Palmetto Oyster Bar are favorites for fine dining or date nights. Fast food, Mom and Pops, and ethnic restaurants abound.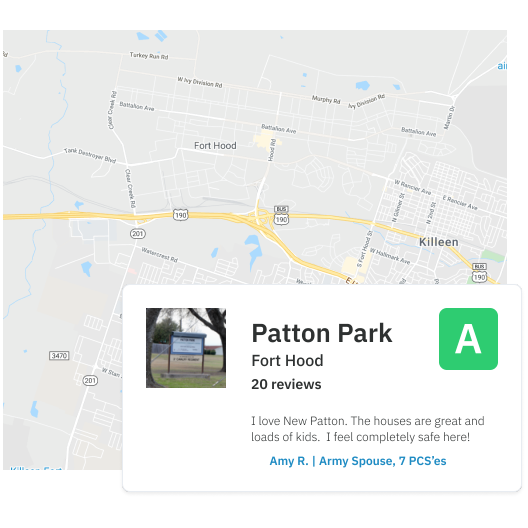 Research your area before your move
Discover area guides and trusted reviews by and for the military and veteran community for local neighborhoods, base housing, moving companies, lenders, schools, and more.
Join for free
PCSgrades and Realogy Military Rewards
For over 30 years Realogy's nationwide network of A-Team agents has served the military and veteran community with 95% of their customers, just like you, recommending their agent and the program. PCSgrades is proud to offer Realogy Military Rewards.
Get Started