Seymour Johnson Air Force Base
Seymour Johnson Air Force base is located in Wayne County. Nearby cities within the county include; Pikeville, Fremont, Eureka, Mount Olive, Seven Springs, and Walnut Creek. Neighboring counties are; Lenoir, Duplin, Sampson, Johnston, Wilson, & Greene.
Seymour Johnson AFB was activated in 1942 and deactivated in 1946. In 1952, it was rebuilt and reopened in 1956. Today, Seymour Johnson Air Force base spans over 3,300 acres and is home to the 4th Fighter Wing and 916th Air Refueling Wing. F15's and are common sights and sounds around this base that also hosts a spectacular biannual air show titled Wings Over Wayne.
Seymour Johnson Air Force Base is located just under two hours from the North Carolina coast. If being so close to the coast isn't reason enough to love it here, I am sure the patriotism around Wayne County will make you feel right at home. Small town living, agriculture, and locally owned businesses are characteristic of this tight knit community.
Read More
Off-Base Neighborhoods
Military families recommend the areas of downtown Goldsboro and Windsor Creek as highly-rated neighborhoods. There are more rural options further from base, which will be even more affordable but also come with a longer commute.
On Base Housing
Corvias Military Living is the leasing agent for on-post living. They offer 2, 3, and 4-bedroom layouts, in duplex or single-family layouts. Some homes are newer, while others were constructed decades ago. It's a good idea to do thorough research of both on and off-post housing before committing to it.
Schools
There are no schools on Seymour Johnson AFB, so families living on base will send their children to schools in town. In addition to several nearby private schools, Wayne County Public Schools provides public K-12 education for Seymour Johnson AFB children.
Cost of Living and BAH
Goldsboro has a low cost of living, so your BAH will go far in this town. Seymour Johnson Air Force Base BAH varies depending on rank and whether or not you have dependents. To determine your BAH at Seymour Johnson AFB, use our BAH calculator.
BAH Calculator
Housing Costs
The average home price in Goldsboro is $136,200, which is lower than the national average. Average rental prices in Goldsboro are $793 for a 2-bedroom, or $1,013 for a 3-bedroom. So you will find a variety of options to use your BAH and rent or buy off base if you choose.
Weather
The climate varies, but North Carolina has four seasons. A mild climate sums up Goldsboro NC pretty well as agriculture is booming in this area throughout three of the four seasons. Late December to early March is considered winter time with lows in the 20's and highs in the 60's. Mid-March through early May is spring time with warm days, cool nights, and a multitude of rain. Late May through early September is summer time with highs sometimes reaching into the 100's and lows in the 60's. Mid-September through Mid-December is fall with temperatures varying from lows in the 50's to highs in the 70's.
Base Amenities
There is one Commissary, one gym, an Airman Family Readiness Center, several parks including a dog park, a golf course, and a splash pad for kids.
Area Attractions
Local: downtown Goldsboro offers an array of restaurants, shopping, coffee shops, dessert cafes, and many family fun activities throughout the year.
Have a toddler or preschooler? Make sure to check out the local chapter of Tiny Troops Soccer to help your little one PCS with fun, soccer, and friends!
Big city perks: Raleigh is located less than an hour away and is the closest metropolitan city.
Coastal cities worth checking out: Wilmington, Atlantic Beach, Topsail Beach, The Outer Banks, Beaufort, Southport, and New Bern.
Shopping: Carolina Premium Outlets, in Smithfield, are only 38 minutes away.
Outdoor recreation: Fishing in the Neuse River or off shore fishing at the coast.
Note-worthy places to visit within the state of NC: Raleigh, Asheville, Boone, Cherokee, Wilmington, and The Outer Banks.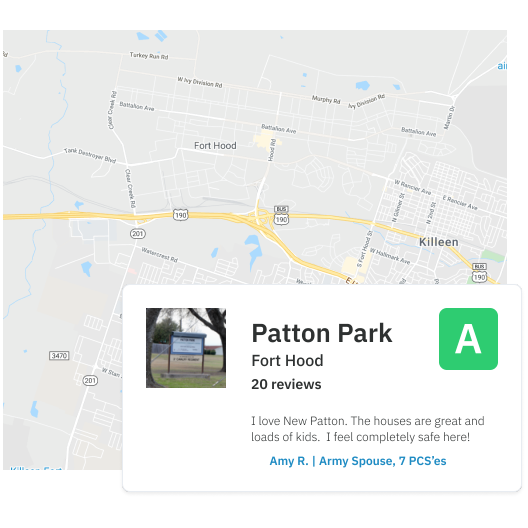 Research Your Area Before Your Move
Discover area guides and trusted reviews by and for the military and veteran community for local neighborhoods, base housing, moving companies, lenders, schools, and more.
Access Review