Randolph Air Force Base (Joint Base San Antonio)
Randolph AFB is found in San Antonio, TX, home to the Alamo, the Spurs, and some of the best Mexican food you'll ever eat! San Antonio is the seventh most populated city in the United States and the second in Texas. Additionally, it was the fastest growing of the top 10 largest cities in the U.S. from 2000 to 2010. It's also home to six Fortune 500 companies and the South Texas Medical Center, the only medical research and care provider in the South Texas region. Your orders to Randolph AFB mean you are headed to one of the major military installations housed under the name Joint Base San Antonio. The Air Force is the lead agency for JBSA, which is comprised of three primary locations at JBSA-Fort Sam Houston, JBSA-Lackland and JBSA-Randolph. San Antonio is located in South Central Texas, in Bexar (pronounced Bear) county, San Antonio sits just south of the Texas Hill Country, 80 miles from the Texas state capital city of Austin. The two are relatively connected by a series of small towns and it is expected that they will eventually join as a Metroplex. Traveling to Houston or Dallas is more of a journey, trips logging 3 hours and 4 hours respectively. Coastal destinations range from 2 hours to family-friendly Corpus Christi to almost 5 hours to get to the popular college spring break destination, South Padre Island.
Read More
Off-Base Neighborhoods
Those looking to rent or buy off base have their pick in the cities around the installation to include: Schertz, Cibolo, Converse, Universal City, New Braunfels, Alamo Heights, Castle Hills, China Grove, Garden Ridge, Hollywood Park, La Vernia, San Antonio, Seguin, Selma, St. Hedwig, and Windcrest. The median home price in these cities is $215,500 and this might be the right place to buy as home appreciation is up 36% over the last five years.
On Base Housing
There are many options for housing around Joint Base San Antonio. Randolph Family Housing is a gated community managed by Hunt Companies, with three and four-bedroom homes ranging in size from 1500 square feet to just over 2200 square feet. Randolph's walkable neighborhoods include easy access to a community center and fitness center, parks, a pool, and playgrounds.
Schools
The Randolph AFB has three schools on base: one elementary, one middle school, and one high school. All are part of the Randolph Field Independent School District.
Cost of Living and BAH
The cost of living in San Antonio is 14% lower than the national average with a family of 4 costing roughly $72,000 a year to support. Randolph AFB BAH matches the low cost of living and is ranked 25th out of all Air Force bases. So depending on where you are coming from, you may see your BAH change when you PCS here. Randolph AFB BAH varies depending on rank and whether or not you have dependents. To determine your BAH at Randolph AFB, use our BAH calculator.
BAH Calculator
Housing Costs
The median home cost in the San Antonio area is $172, 400 making it a very attractive place to buy. Developing areas such as Alamo Ranch or Stone Oak are rising in popularity but older neighborhoods in surrounding towns like Cibolo, Schertz, or Universal City have a lot to offer at very reasonable prices.
Weather
You can expect mild winters and extremely hot summers in this part of Texas. While tornadoes and wildfires are rare, the biggest threat of severe weather in Alamo City is flooding. When it rains hard in San Antonio downtown and several other areas are known to flood, making commutes treacherous. The coldest month is January with an overnight average temperature of 38°F. The highest temps occur in August with daily temperatures into the 100's.
Base Amenities
Randolph AFB amenities and facilities are well above average and are comparable to the quality available to civilians. There is the Randolph AFB Commissary, BX, Gym and more. You can also use amenities and attend events at any other local military base, such as Lackland AFB or Fort Sam Houston.
Area Attractions
The San Antonio Rodeo has events all year long. The Rodeo is sanctioned by the Professional Rodeo Cowboys Association (PRCA) and the Women's Professional Rodeo Association (WPRA) and kicks off in February.
In addition to the rodeo, there is Brickfest LIVE! – a LEGO Fan Experience built to inspire, educate, and entertain with LEGO bricks.
The Ultimate BMX Stunt Show Experience is an exciting show featuring one of the Best BMX Stunt Show Teams in the Nation!
Brad's World Reptiles includes some of the most beautiful and exotic animals in the world!
San Antonio's most famous attraction, the Alamo, is the home of the famous 1836 battle. It becomes a living history with special demonstrations and events all year long. This beautiful 300-year-old former Spanish mission turned fortress is open year-round and is free everyone. Missions National Historical Park is a chain of four Spanish colonial missions—Concepción, San José, San Juan, and Espada. It features eight miles of paved cycling and walking path. Canoes and kayaks can be paddled along sections of the Mission Reach. The visitor center is located at Mission San José.
San Antonio is home to some fabulous art and history museums. The McNay Art Museum is housed in a 1920's mansion and offers American and European art from medieval to contemporary. It also has beautiful grounds and a huge event every second Thursday all summer long. The San Antonio Museum of art houses international collections, ancient art, and a contemporary gallery. For the kids, there is the Witte Museum, dedicated to Texas history, prehistoric to modern and featuring the H-E-B Science Treehouse. There is also the excellent new children's museum the DoSeum. The DoSeum can easily be an all-day adventure, teaching kids about art and science through interactive exhibits and activities.
Have a toddler or preschooler? Make sure to check out the local chapter of Tiny Troops Soccer to help your little one PCS with fun, soccer, and friends! Local attractions to Randolph AFB include Sea World and Six Flags Fiesta Texas theme parks. The five-time NBA champion San Antonio Spurs also call San Antonio home.
The mild San Antonio climate allows for diverse outdoor activities year round. Open spaces provide ample opportunities for bicycle riding, hiking, and canoeing. Other popular locations include: The Riverwalk, the Alamo, Missions National Historic Park, Brackenridge Park, San Pedro Spring Park, and Phil Hardberger Park. Every spring, Fiesta San Antonio is a 10-day event.
Food and Drink
San Antonio is a foodie heaven. Home to some of the best Mexican food and Tex-Mex in the United States, locals consider themselves experts on Mexican faire, especially the taco. In San Antonio, there are three times eating tacos is not only acceptable but celebrated; breakfast, lunch, and dinner. San Antonio is the home of the breakfast taco, available all over town at different price points. For the best tacos head to the west side or the south side. Austin has claimed to have the best breakfast tacos but San Antonians say they are wrong.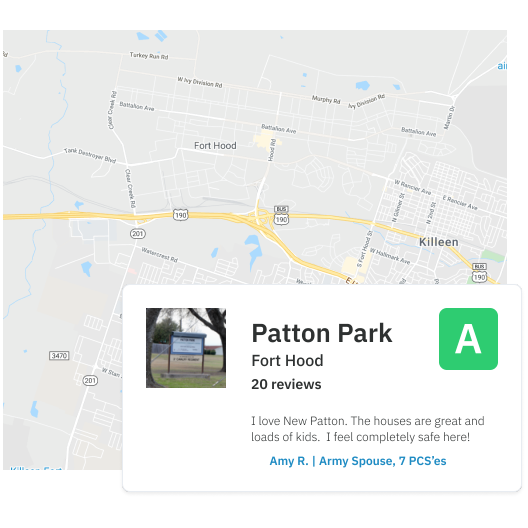 Research Your Area Before Your Move
Discover area guides and trusted reviews by and for the military and veteran community for local neighborhoods, base housing, moving companies, lenders, schools, and more.
Access Review