Peterson Air Force Base
Colorado's second largest city, Colorado Springs is located along the Front Range of the southern Rocky Mountains, in the shadow of magnificent Pikes Peak. The metro area has a population of around 670,000, with many of its residents being active or retired military. It is also home to five military installations, each with its own unique mission.
The remarkable beauty of the area, as well as the mild climate of Colorado Springs, make it a great place to experience a wide variety of outdoor activities. Skiing, hiking, camping, fishing, hunting and more are all within a short drive.
Peterson Air Force Base sits on the east side of Colorado Springs. Its runway is co-located with that of the Colorado Springs Airport. Additionally, it is home to the 21st Space Wing, North American Aerospace Defense Command (NORAD), U.S. Northern Command (NORTHCOM), Air Force Space Command (AFSPC), Space and Missile Defense Command/Army Strategic Command and the 302nd Airlift Wing (USAF Reserves).
Read More
Off-Base Neighborhoods
There are many housing options in the Colorado Springs area. Military families often choose to live in Monument, Manitou Springs, Widefield-Security, Fountain, or Woodland Park.
On Base Housing
Privatized Housing at Peterson AFB is provided by Tierra Vista Communities. They offer a wide variety of floor plans and provide upscale amenities including parks, playgrounds, and regular resident events.
Schools
Transportation is provided from Peterson to three Colorado Springs District 11 schools: McAuliffe Elementary, Jack Swigert Aerospace Academy Middle School, and Mitchell High School. Colorado is a Choice State, which means you can place your child in a school outside the district or zone you are assigned provided that the school has availability. Several school districts offer a variety of options from Charter Schools to specialty schools for the arts and sciences.
Cost of Living and BAH
Peterson AFB BAH should be adequate to give you several housing options in the area. You can live on base, or you can afford to buy or rent a place off base. Colorado Springs has a cost of living that is slightly above average, so depending on where you are coming from, you may see your BAH increase or decrease. Peterson Air Force Base BAH varies depending on rank and whether or not you have dependents. To determine your BAH at Peterson Air Force Base, use our BAH calculator.
BAH Calculator
Housing Costs
The median price of homes currently listed in the Colorado Springs area is $330,000. Colorado's property tax rates are some of the nation's lowest at just 0.63%. There's more good news. Property tax revenue goes directly to the county it is paid in and not to the state government. Colorado is a flat-tax state with an income tax rate of 4.63% regardless of income level. The base sales tax rate in Colorado is 2.9%, though many cities add their own sales taxes.
Rent in Colorado is more expensive than the U.S. average, with an average rent for a studio apartment at $1,039. Two-bedrooms carry an average rent of $1,396.
Weather
Colorado Springs has a mild, semi-arid year-round climate with an average high of 43˚F in January and an average high of 84˚F in August. It averages 37 inches of snow annually. The city has abundant sunshine year-round, averaging 243 sunny days per year. Snowfall is usually moderate. Knowledge of safe winter driving and good all-weather tires or all-wheel drive are also a must.
Dry weather generally prevails, but brief afternoon thunderstorms are common in July and August when the city receives the majority of its annual rainfall. Hail often occurs during thunderstorms. If large enough, hail can be quite damaging.
The city's altitude is 6,035 feet above sea level. Newcomers may experience slight fatigue and other symptoms of altitude sickness. You should allow time for your body to adjust to the elevation. Also, be sure to prepare for the low humidity by using lots of lip balm and skin moisturizer.
Base Amenities
The base clinic provides healthcare services. More extensive care is available at the USAFA Hospital and Evans Army Community Hospital on Fort Carson.
Recreational opportunities include a gun club, auto skills center, youth center, bowling, golf, sports and fitness centers, aquatic center, library and an Outdoor Recreation Center.
Area Attractions
Those lucky enough to be stationed at Fort Carson, Peterson AFB or any of the local military installations know Colorado Springs offers many cultural and art experiences. From mystery dinner shows and comedy clubs to orchestras and fine art displays, Colorado Springs has a lot to keep you entertained. A visit to the Pikes Peak Center to see the Colorado Springs Philharmonic, a Broadway show, or a comedian, is a great way to spend an afternoon. You can also take a stroll through one of the galleries at the Colorado Springs Fine Art Center or Cottonwood Center for the Arts downtown.
Living in Colorado Springs
The unparalleled beauty and mild climate of Colorado Springs make it a gateway to a wide variety of outdoor activities. There are many internationally known ski areas nearby. Furthermore, some of the nation's most scenic parks and finest hunting and fishing areas are located within a short drive. Locals enjoy activities such as ice climbing, snowmobiling, rock climbing, as well as white water rafting. A visit to the hot springs is also within an easy drive. Tour information and rental equipment are available at the Outdoor Recreation Centers at USAFA, Peterson, Schriever and Fort Carson.
Skiing and snowboarding
Colorado is 'THE' destination for skiing and snowboarding in the country. With its blue skies and abundant fresh, dry powder, it is a destination both for families as well as adventurous skiers looking for expert-only terrain.
Colorado's 25 ski resorts open earlier and stay open later (October to late April) than any others in the nation. Additionally, equipment to buy and rent, season passes, and daily lift tickets can be purchased at the Outdoor Recreation Centers at any of the military installations.
Hiking and camping
There is no better way to enjoy the mild climate and beautiful scenery of the Pikes Peak Region than a hike. Furthermore, from short hikes, to day-long backcountry hikes, the area has something to offer the beginner and the seasoned hiker. There are also many campgrounds, both primitive campsites as well as those with facilities.
Festivals and traditions in Colorado Springs
Territory Days – (Memorial Day weekend) – Celebrate the Old West in Old Colorado City.
USAFA Graduation – (May) -Watch the cadets toss their mortar boards in celebration.
Pikes Peak Hill International Climb – (Last weekend in June) – Grab a spot along the Pike Peaks Highway and watch the world's highest auto race and one of the most grueling events in all of motor racing.
Pikes Peak or Bust Rodeo and Parade – (Mid-July) – Watch rodeo action and enjoy lots of family fun, all while paying tribute to the local military and their families.
Colorado Springs Labor Day Lift Off – View the ascension of over 50 hot air balloons in the mornings and balloon glows in the evening at Memorial Park.
Oktoberfest – (September) – Enjoy traditional German food and beverages at the many Oktoberfests celebrated across Colorado.
All Colorado Beer Festival – (First weekend in November) – Over 80 Colorado brewers participate in this awesome beer festival. The Pikes Peak Region is home to over 30 microbreweries, and Colorado has 284 craft breweries. If you like beer, you are going to love Colorado!
Emma Crawford Coffin Race – (October) – Watch this wacky race in downtown Manitou
Colorado Springs attractions
Cave of the Winds
Cheyenne Mountain Zoo – Home to the largest herd of reticulated giraffes in North America!
Olympic Training Center – Headquarters for the U.S. Olympic Committee – offering tours daily.
Pikes Peak Cog Railway – Ride to the top of Pikes Peak. Pikes Peak Highway – Or take the 19-mile drive in your own vehicle.
Seven Falls – 224 steps up a series of waterfalls.
Cheyenne Mountain State Park – Enjoy the hiking trails or camp overnight.
Colorado Springs Pioneer Museum – Learn the cultural history of Colorado Springs.
Money Museum – A museum all about money!
North Pole – Santa's Workshop – Visit a Christmas-themed amusement park.
ProRodeo Hall of Fame – The only heritage center in the world devoted to professional rodeo.
Western Museum of Mining and Industry
Garden of the Gods Visitor and Nature Center – Voted TripAdvisor's Best Park in the country!
Manitou Incline – Located in Manitou Springs, a challenging hike up an old cog railway line gaining almost 2000 ft of elevation in about one mile.
Places to visit around Colorado Springs
Woodland Park (30 min) – Visit the Rocky Mountain Dinosaur Resource Center or enjoy food and beer along Main Street.
Denver (1 hr) – Colorado's capital – Enjoy great restaurants, shopping, the Denver Zoo, a Broncos or Rockies game, the Denver Botanical Gardens, Denver Museum of Art & Science or the Denver Art Museum.
Royal Gorge Bridge and Park (1 hr) – Visit one of the world's highest suspension bridges.
Cripple Creek (1 hr) – Cripple Creek is an historic gambling and mining town where you can visit the Mollie Kathleen Gold Mine or take a ride on the Cripple Creek & Narrow Gauge Railroad, as well as more than 15 casinos.
Red Rocks Amphitheatre (1.25 hr) – Take in a concert at this world-famous outdoor venue.
Golden (1.25 hr drive) – Visit the largest single-site brewery in the world, Coors Brewery, offering free tours daily. Check out the Colorado Railroad Museum.
Rocky Mountain National Park (2.75 hr drive) – Enjoy one of the most visited National Parks in the U.S. and take in the views of the majestic peaks and wildlife.
Great Sand Dunes National Park (2.75 hr) – The tallest sand dunes in North America are found in this National Park in south-central Colorado. Surf the dunes, camp, and hike or wade in Medano Creek in late May when the snow melt increases the stream flow.
Food and Drink
The Pikes Peak Region is home to over 30 microbreweries, and Colorado has 284 craft breweries. If you like beer, you are going to love Colorado!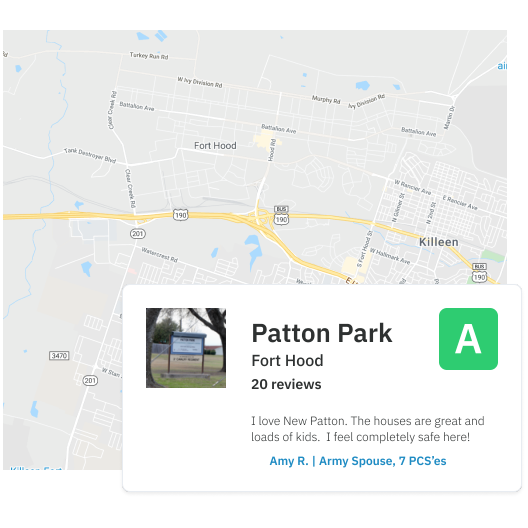 Research Your Area Before Your Move
Discover area guides and trusted reviews by and for the military and veteran community for local neighborhoods, base housing, moving companies, lenders, schools, and more.
Access Review