McChord Air Force Base (Joint Base Lewis-McChord)
Merged together in 2010, Joint Base Lewis–McChord is located in Pierce County 98433, just outside of Lakewood, about 9 miles away from Tacoma and an hour away from Seattle. The American- Canadian border is only around 4 hours away and Oregon is a short 2.5-hour drive. This part of the United States, the Pacific Northwest, is home to lush forest landscapes, beautiful beaches, and hip urban populations.
Joint Base Lewis–McChord (JBLM) was established by congressional legislation implementing the recommendations of the 2005 Base Realignment and Closure Commission, ordering the consolidation of Army Fort Lewis and McChord Air Force Base into Joint Base Lewis-McChord. JBLM is one of the most sought-after military installations to be stationed at, primarily due to the breathtaking, spectacular views of the Cascade Mountains, Olympia Mountains, and Mt. Rainier.
Read More
Off-Base Neighborhoods
Dupont, the closest city to the base, is accessible without getting on the highway and is rich with its own history, city council, and mayor. This quaint city, housing mostly active and retired military, is a neighborhood rich in community. Dupont loves showing off its pride with its tree-lined streets, American flags and alley garages. The "downtown" boasts a locally run general store, pharmacy, library and a small variety of restaurants. Like golf? Dupont is home to the Home Course Golf Course. This active community is connected by hiking trails, some even leading straight to the Puget Sound. You will see people running, biking, running, and more, rain or shine.
To the south toward Olympia, is Lacey and Hawks Prairie, also a trendy place for many families to live, as it's easily accessed in about 15-20 minutes from the base. Some families choose to live in Olympia for the city life and proximity to water. To the north, is Tacoma, but plan on it taking anywhere from 25-30 minutes to get to base. Tacoma, "the city of destiny," has its own slew of restaurants, nightlife and waterfront homes. It also offers the Tacoma Art Museum, History Museum, Museum of Glass and Children's Museum, all within walking distance to each other. Puyallup is to the east and hosts a large military population. The commute is around 25 minutes, but you will find a quaint downtown with historic restaurants, parks, quite a few shopping malls and more. Another popular housing area is Yelm, offering a lot more space and land for what you will get with your money. However, it is a bit of a drive, from 30-45 minutes depending on traffic.
On Base Housing
Joint Base Lewis McChord housing offers small duplexes and up to four bedroom homes, based on rank and availability. With 21 neighborhoods managed by Lincoln Military Housing, libraries, parks, schools and proximity to American Lake make living on post charming.
Schools
Washington state is ranked 19th in the country for elementary schools, but 2nd in the country for higher education. Military families have a number of districts from which to choose, so you won't find schools on every Pacific Northwest military base. Unlike some areas of the U.S., districts in Washington State do not necessarily coincide with local city, town, or county boundaries.
JBLM has elementary schools on base, while middle and high school students attend off base. Residents on NB Kitsap can choose to attend Central Kitsap School District, North Kitsap School District, and some qualify for Bremerton School District. Military families at NS Everett have a wide selection of school districts to choose from, depending where they live. NAS Whidbey Island is part of the Oak Harbor School district, which includes 5 elementary schools, 2 middle schools, and 1 high school.
Cost of Living and BAH
McChord BAH is calculated for Tacoma, Washington. This area has a high cost of living, and the BAH rates match. McChord Air Force Base BAH varies depending on rank and whether or not you have dependents. To determine your BAH at McChord Air Force Base, use our BAH calculator.
BAH Calculator
Housing Costs
With a median home cost of around $390,000, Washington State is one of the most expensive places in the United States to buy. With such a huge investment being made, you will for sure want to find a Real Estate Agent you can trust and that is experienced in working with VA loans and other mil-families just like yours.
Weather
Western Washington is characterized by plenty of rain, pocketed between the mountains and the Puget Sound, but as Washingtonians say, "there's no bad weather, just bad clothing." Seasons are mild, but the green landscape is consistent all year long. Springtime will bring an abundance of blooming flowers. Summer in Washington is the best around with sunshine, blue skies and temperatures rarely exceeding 85 degrees. Snow makes wintertime in Washington a blast. It may not stick around for long, but while it lasts, everyone enjoys snow sledding, building snowmen and skiing in the nearby passes. Colorful maple leaves blanket the trees and ground in the Autumn, making for picture perfect leaf fights.
Base Amenities
The McChord AFB BX has an indoor play place for kids as does the bowling alley making it a prime activity in the rainy season.
Outdoor fun can be had right here on base! Rent a boat at Northwest Adventure Center and launch into American Lake. You could even make it a stay-cation by staying at one of the lakeside cabins.
Area Attractions
Take the "Poor Man's Cruise." Hop the ferry for a day trip to Whidbey Island to visit the Pacific Northwest home of the Coast Guard and Navy. While you're there, pay a visit to two veteran-owned wineries, Holmes Harbor Cellars, and Comforts of Whidbey Winery.
Enjoy the history in Steilacoom, it's the oldest incorporated city in Washington, established in 1854! If soaking up history doesn't sound like fun to you, schedule some family (or solo) time at the beach or enjoy a 20-minute ferry ride to Anderson Island.
Have a toddler or preschooler? Make sure to check out the local chapter of Tiny Troops Soccer to help your little one PCS with fun, soccer, and friends!
Tacoma: Take off on the light rail and visit the Museum of Glass, the Museum of Art, or the Museum of History located in downtown Tacoma or root for the home team at a Ranier baseball game at Rainer Stadium.
There is so much to see and do in Seattle and it's only about an hour away. Spend your day exploring the birthplace of coffee culture and grunge and make sure to visit the famous Pikes Place Market or head to the waterfront to ride the Great Wheel or visit the Seattle Aquarium.
Mount Rainier is an active volcano that stands a whopping 14,410 feet above sea level. The Mountain and surrounding National Park makes for a perfect get-a-way with activities for everyone. Spend the day hiking, sledding, and snowboarding! Pay tribute at the Mount Rainier National Park Valor Memorial.
Canada! That's right Canada. Visit our northern neighbors easily by taking an Amtrak train to downtown Vancouver or riding the Clipper ferry from Seattle to Victoria B.C.
Food and Drink
With the Puget Sound around the base, fresh seafood can be found at most local restaurants around town. Clam chowder is the soup of choice. Asian cuisine like Thai and Vietnamese are also located on every corner. If you're feeling adventurous, put on your rain boots and head to the nearest beach to dig for clams.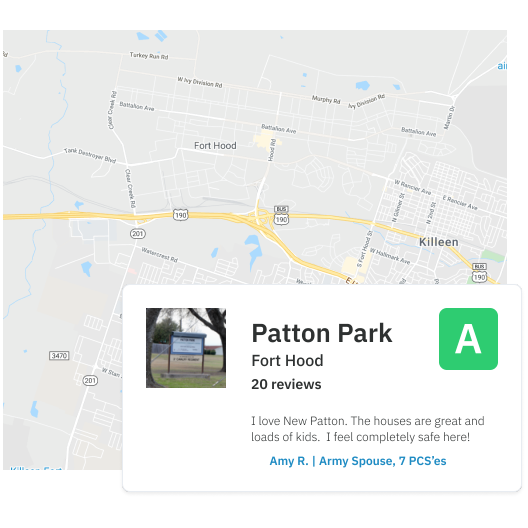 Research Your Area Before Your Move
Discover area guides and trusted reviews by and for the military and veteran community for local neighborhoods, base housing, moving companies, lenders, schools, and more.
Access Review